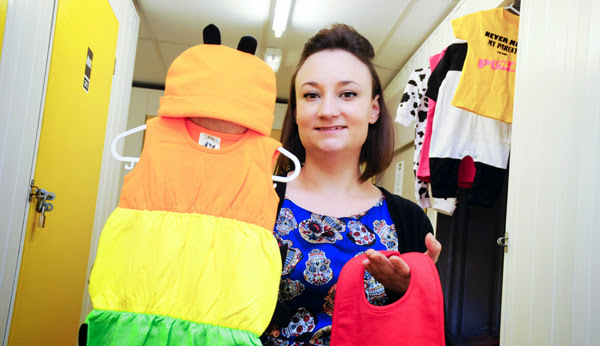 Tired of 'blue for boys, pink for girls', when mum of two, Anna-Lee Kewley from Bournemouth, couldn't find cool clothes for her own children, she decided to create her own fun range of snappy baby clothes. Five years on she's now boss of a booming online fashion outlet.
"One of my favourite Baby Moo's designs is a dinosaur dress with a spiked hood, inspired by my daughter Mia," says Anna-Lee. "She loves dinosaurs but it was really hard to find any dinosaur clothing that wasn't aimed at boys, so I designed some!"
In fact, the whole idea for
Baby Moo's
came about in a similar situation. "Shortly after I gave birth to my first child, Rhys, in 2010, I was scouring the shops looking for baby clothes but struggling to find anything I liked.
"I've never been a fan of gender stereotyping but it was all pastel colours and blue for boys, pink for girls. Anything a bit quirky or interesting tended to be really expensive. I knew if I was looking for
fun and affordable baby clothes
, plenty of other parents must be too, so I started to think about selling them online."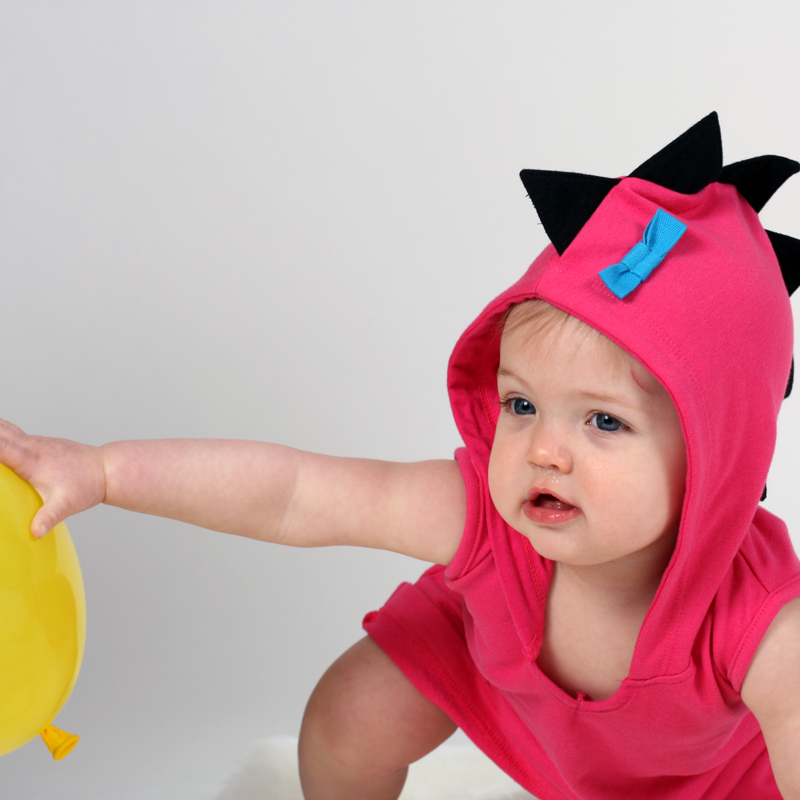 While Anna-Lee's idea was a bit of fun, it was also a practical solution. She'd been looking into the cost of childcare in preparation for returning to her full-time job in the Repossessions department at Nationwide. "It worked out, after childminder fees, I'd be taking home around £2 a day. Selling baby clothes seemed the ideal way to spend more time with Rhys and earn a bit of money to get by."

Anna-Lee managed to get together £230 by selling unwanted household items on eBay and used the money to import a small batch of animal baby onsies. "They were something a bit different," she says. "When I put them on eBay people seemed to love them, so I carried on importing small batches and reinvesting the money in new products."
Dabbling in Design

Baby Moo's really came into its own in 2011, however, when Anna-Lee won an Enterprise Nation business grant for just over £200. This was enough to buy printing equipment and start creating her own designs instead of buying in other peoples'.

"A lot of Baby Moo's clothing features fun slogans, animal print and unusual skull and crossbone motifs," she says. "People ask where I get the ideas, but they just tend to come to me. Usually in the middle of the night, when I should be sleeping!"

Anna-Lee had been creative at school, "I was always interested in the kind of plasticine animation used in Wallace and Gromit," she says, but this kind of design was completely new.

"Like everything with the business, I had to dip my toes in and learn. I wanted to push the boundaries of traditional baby clothing and, while it was scary at first, when you get good feedback from customers it makes everything worthwhile.

"The majority of my designs are unisex and I don't specify by gender on the site, which is something people appreciate. The most popular designs are a baby bib that says 'These fools put my cape on backwards' and a cow-print all in one – I've been obsessed with cow-print for years, which is where the brand's name comes from."
Working Around the Kids

By the time Anna-Lee started creating her own designs, she'd had her second child, Mia, and while working from home with two small children wasn't easy, she was lucky that they both napped at the same time for two hours in the afternoon. "It's amazing what you can cram into 120 minutes!" she laughs. "And it meant I had to learn to be organised and plan my week on Sunday evenings, something I still do now."

As the children have grown, Rhys is now 5 and Mia 4, Baby Moo's has adapted and grown with them. "They do most of the modelling for my range," says Anna-Lee, "and as they've got older I've increased the age range we offer – we'll soon be selling clothes up to age 6."

The business also fits neatly around the children's schedule. "I'll drop Rhys at school and Mia at the childminder's and then work until it's time to pick them up. Being my own boss means if I need to leave early to or go to sports day then I can, I don't have to miss out."

Baby Moo's has recently opened its first shop in Southbourne, Bournemouth, and there are big plans going forwards. "Alongside selling on eBay, over the next three years I'd like to open two more shops, one in Bristol and one in Camden," says Anna-Lee.

And the most interesting thing she's learnt running her own baby-clothing business? "I thought Christmas would be my busiest time but it's actually October. Exactly nine months after Valentine's Day!"