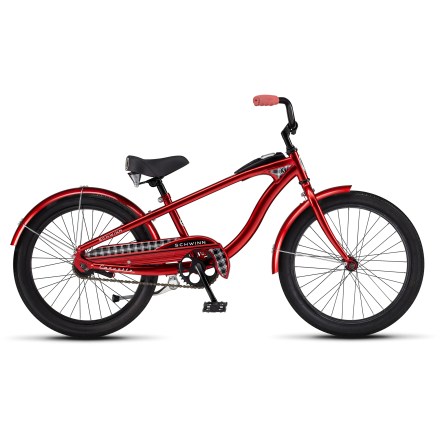 Cycling is something that is beneficial in a number of different ways. As a mode of transport it is very environmentally friendly. If you want to explore the countryside or enjoy the view on holiday it can be a pleasant way to do so. It is a method of exercise that requires less commitment than gym memberships or exercise classes and you can go on the road or the dirt track whenever you please. In order to be enthusiastic about cycling it is often said that you need to get children excited while they are young. If you want to get them excited about riding a bike but wish to get one at an affordable price then it is worth knowing how to buy a used kids bike on eBay.
Encouragement
One of the problems with buying a bike for kids is that when you buy one new from a store you pay the same amount as you would for a full sized adult bike. This then means a lot of parents may be put off buying for a long period of time.
The problem with this is that as children get older they are less likely to want to take up cycling. There is also the issue that they may not have the same level of confidence while riding than children who have learned to take it up at an earlier age and thus are more confident while riding.
Another good thing about buying a used bike for kids on eBay is that you can get leading brands at a more affordable price. If you can get a sleek looking model that looks attractive a child is more likely to want to ride it.
Avoid the trend
When looking to buy a bike for kids as a present the temptation may be to get a branded bike based on a cartoon or other current craze. The problem with this is that most cartoons have a very limited period of time in which they are popular. Even the most established ones will tend to have new series with different names in order to differentiate them from earlier series, making them out of date fairly quickly.
This is why you ought to consider a bike that is from a reliable manufacturer rather than one that is based on television series or crazes. This will mean your eBay purchase will be more suitable for the longer term rather than having to replace it every couple of years.
Versatility
For adults bikes are generally used for one individual purpose. They may be used as vehicles to help you get to work, something for going on dirt tracks at the weekend or something you have in your car when you go on holiday.
With children bikes these tend to be used for multiple purposes. This is the vehicle that gets them to school, the way to explore places with their friends and often something that gives them their first sense of freedom and independence. Therefore it is worth choosing a bike that covers all these requirements.
A mountain bike is often recommended for this as it can handle a variety of surfaces. A road bike is more suitable for children if they live in an urban area that is mostly flat road surfaces.
One of the major factors to consider is weight. A bike for children needs to be lightweight for the simple fact that children need to be strong enough to ride it and push it as necessary. You also need to remember that children are more likely to lean over while they are riding their bike so you have to make sure they can do so in a way that is safe and comfortable.
Different types
There are four main types of bike for kids and these can be divided according to the age of the child starting from pre school at age 4 going all the way up to ages 9 to 12 for the oldest children. Usually after the age of 12 children are grown up enough to ride smaller adult bikes.
| Age | Bike |
| --- | --- |
| Pre school under the age of 4 | Less than 16 inch wheels |
| Four to six | 16 inch wheels |
| Six to ten | 20 inch wheels |
| Nine to twelve | 24 inch wheels |
Height
The height of a child is also something to bear in mind when purchasing a bike. Children grow at different rates so sometimes they may not necessarily neatly fit the size categories of the manufacturer.
This is important because you do not want a seat that is too high for your child. While cranks can be adjusted and replaced it is better to accurately measure your child and get an appropriate sized crank so that they are comfortable and you do not have to unnecessarily spend money in order to make adjustments or get replacement parts.
Wheels
Smaller bikes need smaller wheels. This may sound obvious but it is important because the steering is not as responsive. You want to ensure that your child is confident while riding and it is best to choose a bike that gives them greater control.
Brakes
Brakes ought to be easy to reach and simple to operate. When looking at eBay pictures look closely at the brakes. You want to ensure that these are in the best possibly condition for the simple fact that you want to keep your children safe. Ideally you want brakes that a child could operate with their little finger.
Suspension
This is especially important if kids want to ride in rougher terrain such as wooded areas in holiday parks. Air sprung forks are especially recommended for children as they are lighter and can be adjusted as children grow.
Style
The look of a bike is important. Generally sleek is the best option, especially with older children. If you want to avoid replacing a bike as children get older it is best to start with a silver or black bike rather than one that is overly colourful.
Safety and security
One of the benefits of buying a used bike on eBay is that the seller may include additional extras alongside the bike included in the price. With children safety is vital and if you can include an adjustable helmet then this is ideal. It is also important to check that any helmet you purchase conforms to safety standards and is in suitable purchasable condition. If you are unsure about the quality then you may wish to consider purchasing these separately. While saving money is important safety is paramount.
One way of encouraging children to put on a helmet when riding their bike is to wear one yourself when you ride yours. This is especially important with younger children as it helps to establish a routine and makes them want to wear one themselves. You should always check that their helmets are safely put on and properly adjusted before they start riding so that the helmet does not come loose while riding.
Security is also something worth considering. Bikes are often a target for thieves and a secure lock can make it harder for them to steal it. A thick lock is recommended in order to make it harder for a thief to cut through and to secure a bike along a rack as necessary. As with the helmet you need to check that the lock is not worn out as this will be easier to cut through and will not provide adequate security for the bike. It is also important to show your children how to lock their bikes so that they do not forget when riding out on their own.
Checklist
Hopefully by now you have an idea of what you want to look for when searching through eBay product categories and seller profiles. With any product it is advisable to look through numerous different seller options on eBay. Look for sellers that have excellent feedback and especially the top sellers as these are often the people that offer quality products and send them out promptly.
You also need to double check the following things.
Appropriate size and weight
Appropriate look that suits your child
The right kind of brakes, wheels and suspension
Right for their particular environment
Additional safety and security features
Finding what you want
Buying a used bike on eBay does not mean that you compromise in terms of quality. A reliable seller will describe the condition of the bike that they are selling you. They also ought to show clear and accurate pictures of the bike so that you can check for yourself to see if the bike is suitable for your child.
What you must remember when considering How to Buy a Used Kids Bike on eBay is that you are buying it for your child. This means taking extra care in terms of inspecting the product and ensuring that is suitable. A seller ought to understand this and be willing to help with any enquiries you may have. It is also worth discussing this with eBay customer support before making a purchase in order to ensure you get the customer service you need and peace of mind when buying a bike for your child.
Conclusion
While purchasing a used kids bike on eBay can seem overwhelming at first due to the large number of options, with the knowledge presented here and awareness of both what you and your child are looking for in a bike, you'll soon be able to find the right option to you. While searching on eBay make sure to check out the various accessories available to ensure that your child has all the protection necessary.