sea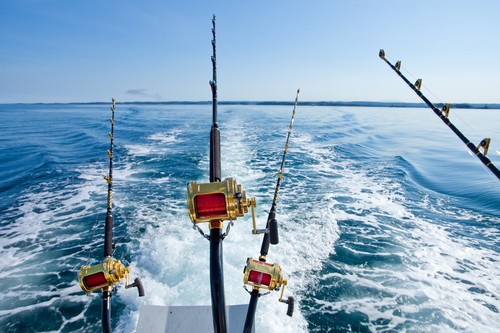 There are hundreds of types of sea fishing in so many different parts of the world and ultimately so many different types of fish, it is hard to cover every angle. Buying used fishing tackle for any specialism is a sensible move but the buyer must beware.
Whilst there will always be a bargain in buying used tackle and especially rods, the condition of the purchase is the most important consideration. Fishing is a hard sport carried out in some extreme conditions and rods do have to withstand these. Sea fishing is probably the most extreme. Big fish, hard weather and crucially salt water all serve to give tackle a very hard time.
That said there are some good sea fishing rods from great manufacturers that stand the test of time. If properly looked after, rods can last for a good few years.
In fact, a lot of damage is done to rods when they are not being used. Stacked in a cupboard with golf clubs and other equipment will often cause breakages and other damage just as much as the wild North Sea.
Buying sea fishing rods whether used or new is simpler than it first seems. The angler must ask the following questions:
What is the target fish?
What depth is the target fish?
What distance will be required in the cast?
What rig will need to be cast / fished?
What method of fishing is best suited when all the above factors are taken into account?
The other consideration is where is the fishing going to take place and this is probably the best place to start when wondering which rod to buy.
Shore Fishing
Types of rod for shore fishing
Beach Caster

Most powerful shore fishing rod. Designed to cast heavy weights into rolling surf in high winds. The tool of the dab or cod fisherman. Wide range and very strong. Calibrated by their beach casting weights and are always marked with this range. Best weight to cast with them is usually somewhere in the middle. So if a rod is rated in the 4-6 range the best casting weight will be 5.

A good all round Beach Caster will be around 11-12 feet long and have an optimum casting weight of around 150g.

Originally designed for fishing for sea bass, which hit the lure hard. Lighter than a beach caster with an optimum casting weight of about 50-100g. Soft action of the rod helps to absorb the strength at which fish take.

Spinning Rod

Probably the most common rod used for fishing off piers and rocks for smaller quarry and with lighter casting weights. Generally about 7-10 feet they will have an optimum casting weight of 10- 60g.

Really just a specialist spinning rod for float fishing for mullet or something of that sort.

Increasingly popular whether fishing on shore or off a boat. The bass is regularly caught on the fly and as game fishing for tarpon and bonefish becomes more popular the fly rod is becoming the tool of choice for even bigger quarry.
Boat Fishing
There are several different types of rods designed for fishing off boats.
| | |
| --- | --- |
| Down-tide | General-purpose rod used in all sorts of different conditions and for different sizes of fish. Normally they are about 6-8 feet long. They are usually rated by line class and not weight range. This means that the breaking strain of the nylon or line is the key factor. |
| Up-tide | Really just cut down Beach Casters designed to give the angler the best chance of casting a good way away from the boat. |
| Lure Casting | Lighter and designed to cast small spinning lures, pirks and leadheads with accuracy. |
| Multi-tip rods | Designed to give the angler flexibility when choosing bait weight, casting distance and taking sensitivity. They are generally found on competition and long match rods. |
| Stand-up Sticks | Used for massive fish with specialist harness, seat and butt pad. The rod is designed as much for leverage when fighting a big fish as for casting. |
There are many other types of sea fishing rig but these are the main categories.
Be certain that the rod is suitable for the sea
Before buying used sea fishing tackle, always make sure that it is just that. If the coatings and materials used in the making of the rod are not anti-corrosive, the rod will suffer in sea conditions.
Reels are particularly prone to malfunction if in saltwater but the rings and fittings on rods will also suffer if they are designed for freshwater fishing only.
Where this will be most prevalent is in the use of spinning rods, which are used in freshwater coarse angling as much as sea fishing. Rods,like spinning rods, which do have a number of different applications are generally made of good anti-corrosive elements but it is as well to check.
Match fish and bait to rod
The weight of fish and the weight of bait or lure to be cast is the greatest factor in choosing a sea rod. There is no point buying a stand up stick rig if you have to cast 60 yards to get to the fish. Equally, buying a long casting, spinning rig with a fixed spool reel to play a 200lb marlin is the wrong approach.
Take advice from the experts, local knowledge is a key factor in selecting the right gear and just taking careful note of what other anglers are using will help enormously.
Do not buy rods that look scratched or marked. A small mark may indicate some deeper flaws or damage to the rod through misuse or the trials of fishing in hard conditions.
Rods used for catching big fish or for fishing deep with heavy leads and weights are ones to be especially wary of. Although designed to do this hard work they will always be the most likely to be damaged.
Check the rings and quality of the whippings and finishes; cracks in these and in the joints are tell-tale signs of potentially deeper damage.
Brands to look out for
The range of rods, and the prices of them, is huge so try to select the best possible brand for the budget available.
At the high end of the market the specialist and professional rigs will come from brands like Shimano, Daiwa or Grey.
At the more mid-range to low end of the price range good rigs can be found for all disciplines from Abu Garcia, Penn, Shakespeare, Fish Eagle and TF Gear.
Saltwater fly rods are very much more expensive at the top of the range and brands like Sage, Hardy, Grey and Loop produce top quality, beautifully finished rods.
At the other end of the scale, Daiwa and Shakespeare produce a range of good and reliable rods for most saltwater fly fishing requirements.
Guarantees
Ask about warranties and guarantees, particularly on fly rods as they are often available and are sometimes lifetime offers. If the paperwork is available it is as well to take it as rods can be damaged so easily.
How to Buy Used Sea Fishing Rods on eBay
Now that you've worked out which sea fishing rod you want, find them quickly on eBay. While you shop, don't forget Line, and tackle. Click the Sporting Goods portal aand click fishing.
Categories: The Categories list on the left side of each page will help you narrow down your listings by item type. You'll find links for Clothing & Footwear,, Coarse Fishing,, DVDs,, Fly Fishing,, Sea Fishing, Tackle Boxes, Universal Accessories, Videos and Trophies as you refine your search you'll be able to narrow down your choice by subcategory.
Product Finder
Use the sea fishing rod Finder to quickly narrow down item listings by brand, model and condition. (new or used)
Keyword search
Search eBay listing titles for specific words. For example, if you want to find used sea fishing rods, type the keywords "sea fishing rods used" (without quotation marks) into the Search box. Click "Search title and description" to expand your results. Visit eBay's Search Tips ppage for more tips on searching with keywords.
If you can't find exactly what you want, try browsing eBay Stores or tell the eBay Community what you're looking for by creating a post on Want It Now, or save a search oon My eBay and eBay will email you when a matching item becomes available.
Buy used Sea Fishing Rods with Confidence
Make sure that you know exactly what you're buying and understand how eBay and PayPal protect you.
Know your item
Read the details in the item listing carefully.
Remember to add delivery costs to your final price. If you're buying a high value item, check that the seller will insure it until it is delivered to you.
If you want more information, click the "Ask seller a question" button on the seller's profile or the "Ask a question" link at the bottom of the item listing page.
Always complete your transaction on eBay (with a bid, Buy it Now or Best Offer) otherwise you will not be covered by eBay Buyer Protection.
Never pay for your eBay item using an instant cash wire transfer service like Western Union or MoneyGram. These are not safe ways of paying someone you do not know.
Know your seller
Research your seller so that you feel safe and positive about every transaction.
What is the seller's Feedback rating?
How many transactions have they completed?
How many positive responses do they have?
What do buyers say in their Feedback?
Are they positive about the seller?
Most top eBay sellers operate like retail shops and have a returns policy.
Do they offer a money-back guarantee?
What are their terms and conditions?
Buyer protection
In the very unlikely event that you do not receive your item or it is not as described, eBay Buyer Protection your purchase price plus original delivery cost.
Conclusion
Overall, buy the best that the budget will allow. Make sure the rods are not cracked or damaged in any way. But most importantly of all make sure the rod suits the type of angling and conditions most likely to be enjoyed. The right rod for the casting requirement, bait or lure weight and conditions is crucial.