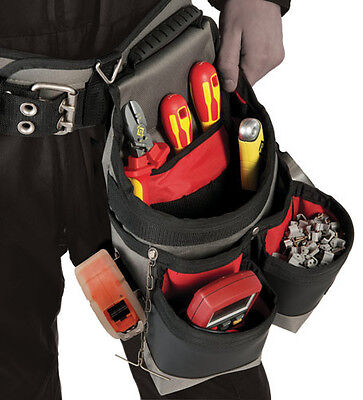 Tool venture have a huge range of quality
tool belts
,
tool aprons
,
tool holders
,
tool pouches
and tool rigs giving you a choice of tool storage to suit all the professional trades men and DIY enthusiasts.
"Wearing a tool belt means more time on task"
Deciding which tool belt solution is the right one for you all depends on the trade or task to be performed. With so many styles, sizes and specifications on offer from a wide range of leading brands including
McGuire Nicholas
,
CK Tools
,
Stanley
,
ToughBuilt
,
Connell of York
and
Plano
where do you start!
Things to consider when choosing your tool belt
An important consideration when you are choosing any type of tool belt is to ensure that the one you choose is of high quality and fit for purpose. It's important that your tool belt has room for all the most essential tools that you'll use on a regular basis with plenty of pockets and compartments so you can make sure all your chosen tools can easily be carried around with you while you work.
Capacity of the tool belt is also significant, if it is too heavy or bulky to wear it will be uncomfortable and chances are you won't use it, which means you've wasted your time and your money. You should choose a tool belt that offers good organization, makes the most of all the space and is comfortable to wear. Safety, durability and suitability are the obvious essential factors.
Other considerations when choosing a tool belt are:
Quality – material, seams, stitching and rivets
The capacity needed for the tools to be carried
The weight of tools
The size of tools
The price of the tool belt
Fit and finish
Comfort
Durability
Belt and buckle adjustability, material and comfort
Where the tool belt was manufactured
Pockets and tool holders, capacity, fixed or adjustable
Number of pockets, size and practicality
Hammer holders and location on tool belt
Which trade would best utilize the tool belt?
Working indoors
Working outdoors
Rig or apron?
Everyone wants to work more efficiently and the right specification tool belt will help you do just that. Take all the above in to consideration and check out our range of tool belts to choose one that is right for you.