WHY IS IT IMPORTANT TO CLEAN THE SOLAR PANEL?
The solar panel is responsible for absorbing the sun's rays in order to charge the batteries that power the solar light. Anything that obstructs the panel from receiving sunlight can negatively impact the amount of charge received and therefore the performance of the light. Dust and dirt can be one such obstruction and so it is important to clean the panel routinely.

HOW TO CLEAN THE PANEL
We recommend using a dry or damp cloth to gently wipe the panel clean. You could also use window or glass cleaner if the panel is particularly dirty.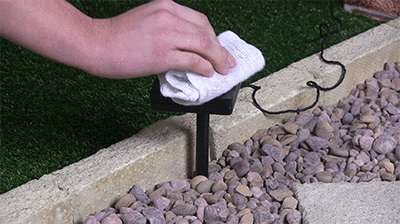 (Festive Lights Ltd)

WHERE TO POSITION THE SOLAR PANEL

An essential part of getting the best of your solar lights is the positioning of the external solar panel. Make sure the solar panel is unrestricted from receiving sunlight and no bushes, tables, garden features or any other objects are in the way. Some solar products have integrated solar panels which means the solar panel is part of the item itself. It is essential that the item is again in direct sunlight as some products such as spot lights maybe best situated in bushes which may restrict the amount of charge the solar product will receive.