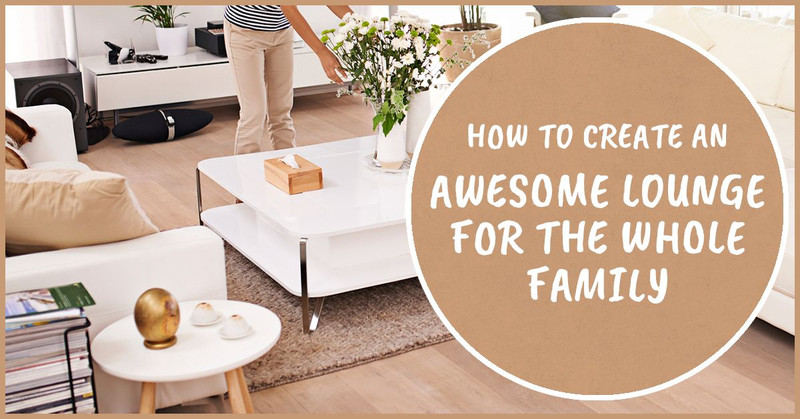 When you have young children and one main living space in your home, it's difficult to stop it turning into a perpetual playroom and a constantly messy one at that. With a bit of planning, however, you can create a space that works well for grown-ups and kids and is pretty easy to keep tidy (most of the time anyway!).
Keep the Floor Practical
Opt for a
porcelain tile
,
stone
or
wooden floor
. These surfaces will be easier to keep clean than a carpet. Spilt drinks, food, playdough and poster paint can be quickly wiped up or vacuumed and, as long as you're fast, none of this should leave a stain. If you're worried that a hard floor may look too sterile, warm it up with a large
thick pile rug
or a few
sheepskin pelts
. These will be much cheaper to clean or even replace than a carpet would if they get damaged.
Underfloor heating
, meanwhile, will keep the hard flooring feeling toasty underfoot.
Make the Walls Wipeable
Most of the major paint brands make heavy duty wall paint in a range of neutral and brighter colours that can be
wiped clean
when those inevitable splashes hit. There are rolls of
wipe down wallpaper
available too. What's more, the untrained eye would have no idea that you have gone for the practical solution, as these products look no different to their less family-friendly alternatives.
Go for Sturdy But Stylish Sofas
It doesn't matter whether you want a vast contemporary L-shaped sofa that the whole family plus the dog can pile on to, or an on-trend 1950s inspired sofa. The style doesn't matter, just make sure that the upholstery is hardwearing. Although expensive,
leather
is the obvious choice, but try to stick to the darker shades as these age gracefully. Otherwise, look for fabrics that are stain resistant or are
washable
. Darker shades and fabrics with a repetitive pattern will hide marks better than lighter, plainer versions.
Hidden Storage Is a Must
If your lounge room is doubling up as a playroom during your children's waking hours, you need to have as much hidden storage as possible to hide their toys, games and books. This will ensure that the room can be turned back into an uncluttered, adult space as night falls.
Baskets with lids
are perfect for those tiny toys, whilst built-in or freestanding units or a
coffee table - with drawers
concealed within - work best for board games and larger toys.
Make Room To Play
When the room is in playroom mode, try to ensure that there is a stretch of floor available for building a
train set
, constructing a
Lego
city or playing Twister. This will mean that there is less likelihood of furniture getting damaged when it's pushed aside to make room for playtime. Try to include a coffee table too, where you can enjoy a family game of Monopoly; a music system; large flat-screen
TV
and a
games' system
that everyone can have a turn on.