Why you may need your VIN
Knowing your motorcycle VIN is important, or at least the last 6 digits, because when it comes to purchasing accessories or parts for your bike you need to make sure that they are going to fit.

The Vehicle Identification Number is used by manufacturers like Triumph to find out when your model was made, what model of vehicle you have, what colour it is and much more. So when you find that flyscreen, belly pan or piece of chrome you have been looking for, knowing the last 6 digits of your VIN means you can find out whether or not that item will fit your motorcycle.
Headstock of the bike
One of the most convenient ways to find your motorcycles Vehicle Identification Number (VIN) is on the bikes headstock. The VIN is usually located on the right hand side of the bike, as you stand next to it looking towards the instrument panel.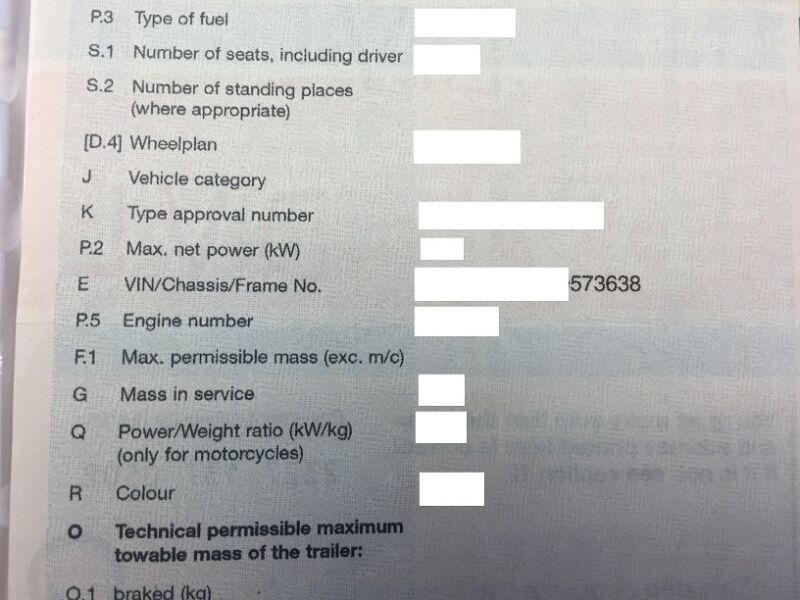 Add a caption
VIN/Chassis/Frame Number on your vehicles documentation
Vehicle documentation
The motorcycles Vehicle Identification Number can easily be found on your ownership documentation under section 4 of the current UK Registration Certificate.
VIN Specific Items
Many different parts and accessories will only fit models within a certain VIN range because as manufacturers update their bikes the parts they use may change and the accessories may fit differently as the styling changes.

For example the Triumph Street Triple launched in 2007 has 2 different VIN ranges, those bikes made from 2007 up to 2012 with the dual exhaust have a VIN range up to 560476 (referring to the last 6 digits), whilst those Street Triple's created afterwards, the 2013 model with the low boy exhaust, carry a VIN range of 560477 and higher (reffering to the last 6 digits).

TriumphWorld include a VIN range for all our motorcycle accessories listed on eBay, where applicable, so you can be confident that the part you are ordering will fit your motorcycle provided that you know your bikes VIN and have checked the applicable VIN range.