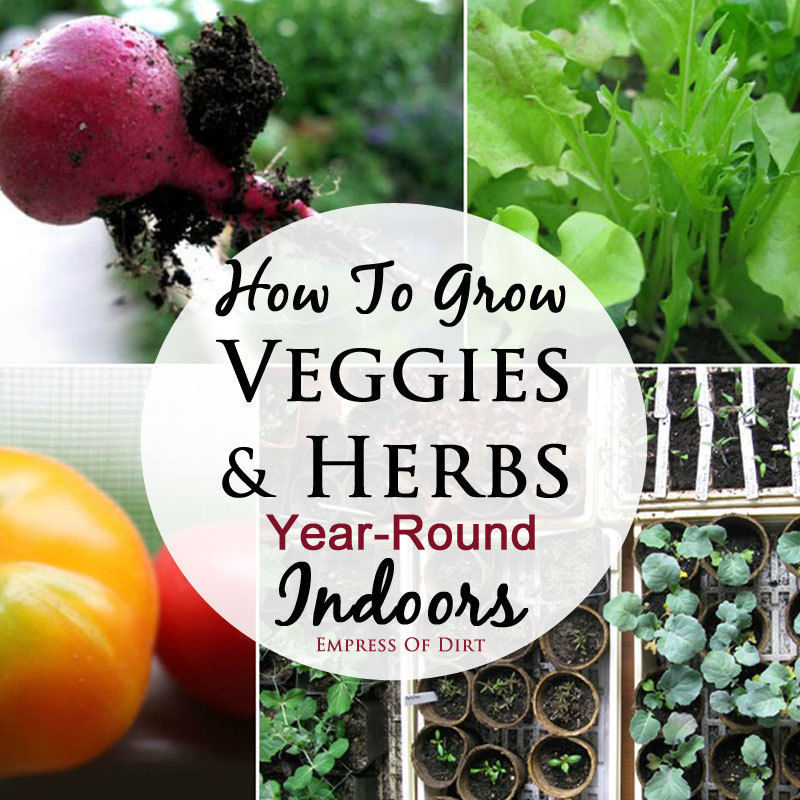 Add a caption
You can grow many herbs and vegetables year-round inside your home.
Year-Round Indoor Food Growing
Did you know you can grow a variety of vegetables and herbs indoors all year round?

It can be as simple as a few containers of herbs in the kitchen, or adding some plant shelves filled with salad greens and sprouts (and more!) wherever you have space.

While it will never replace a larger outdoor garden, just one tall shelving unit provides enough space to produce a continuous harvest of delicious fresh choices throughout the year. I've listed the possibilities below.

As with any new project, it's wise to start small-a container of salad greens, perhaps-and make sure it's something you enjoy doing and want to pursue before making any bigger purchases such as shelving and grow lights.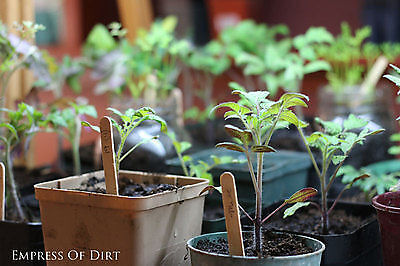 Growing Food In Your Home
Keep in mind that no growing environment-whether it's indoors or outdoors-is perfect for every type of plant.

Depending on conditions, some plants will do better than others and it will be different in every home and vary at different times of year.

The list (below) gives you an idea of what is possible. Choose foods you love and be willing to experiment and adapt.

It won't take long before you start to know which edible plants grow best in your home.

Start growing and you'll learn which plants like your home.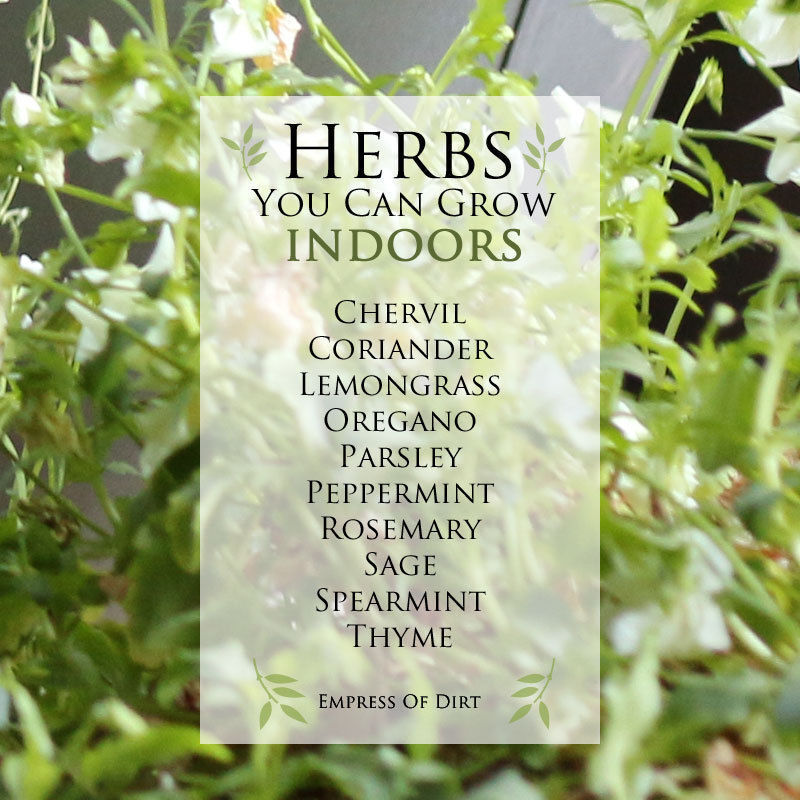 Add a caption
Keep a kitchen herb garden with fresh herbs for cooking
Herbs You Can Grow Indoors
Chervil
Coriander
Lemongrass
Oregano
Parsley
Peppermint
Rosemary
Sage
Spearmint
Thyme
Tip: Instead of trying to grow basil indoors (it's fussy), buy a bunch at the grocery store and keep it in a jar of fresh water with a plastic bag tented over it. Clip off what you need for cooking; the rest will continue to grow.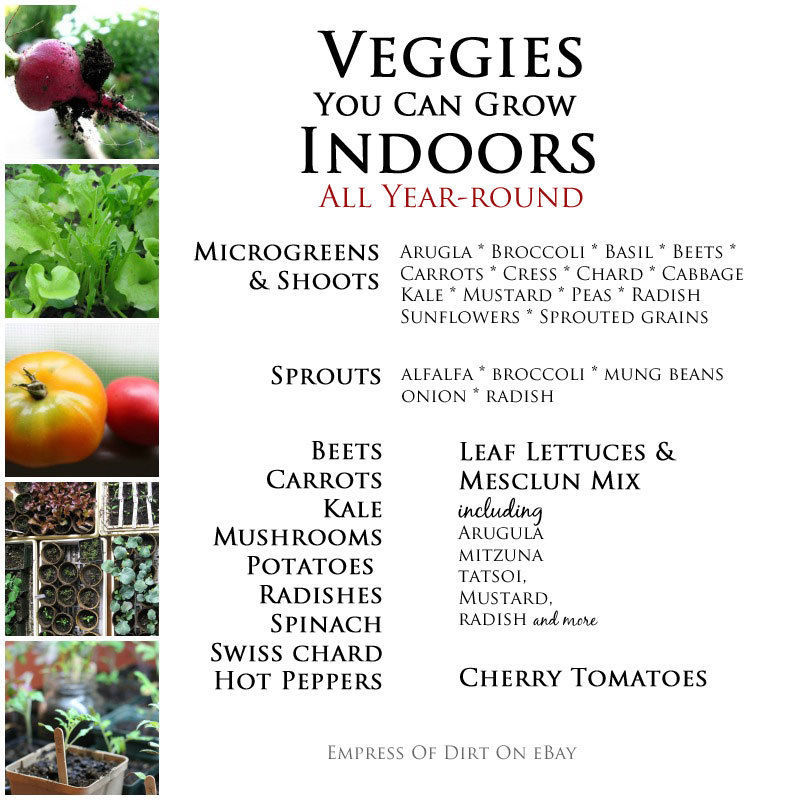 Add a caption
Some veggies are easy to grow indoors. Try a few varieties and see what works in your home.
Veggies You Can Grow Indoors
Microgreens, shoots and sprouts are all terms for edible plants we can harvest and eat in their early growth stages. Microgreens and shoots grow in soil. Sprouts grow in water. The flavours are delicious!
Microgreens - You can buy variety seed packs and choices may include mixtures of arugula, broccoli, basil, beets, carrots, cress, chard, cabbage, kale, mustard, radish seeds and more.
Shoots - peas, sunflowers (find varieties intended for human consumption), sprouted grains.
Sprouts -alfalfa, broccoli, mung beans, onion, radish….
More Veggies You Can Grow Indoors
Your success will depend on the growing conditions in your home. No matter what, it's fun to try and see what works.
Beetroot
Carrots (choose varieties that don't require deep soil)
Kale
Leafy greens (not head lettuces) and Mesclun Mix (variety of seeds including arugula, mitzuna, tatsoi, mustard, radish…).
Mushrooms (for more experienced growers)
Potatoes (just for fun: the harvest will be very small)
Radishes
Spinach
Swiss chard
Tomatoes (cherry tomatoes and other small varieties)
Hot Peppers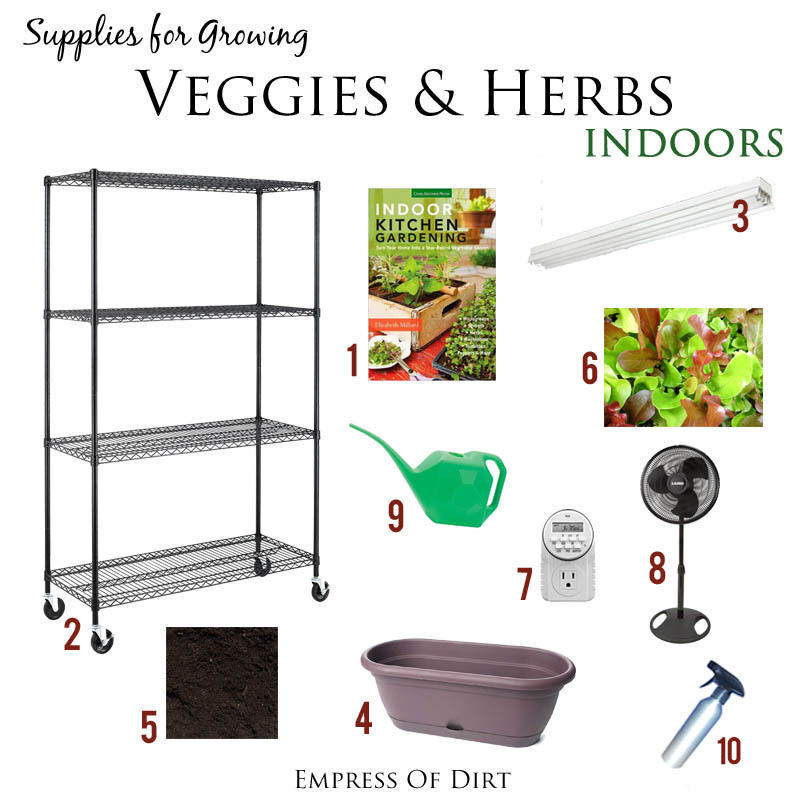 Indoor Food Growing Supplies & Resources
Before you invest in supplies, it's wise to try growing just a container or two of some favourites.
Radishes, leafy greens, and sprouts are easy choices to start with.
See if you enjoy it, then start expanding your little indoor farm.
1. Helpful Resources
Seed catalogues are an excellent reference for choosing seeds and discovering interesting varieties to try.
Also, this book is very helpful:
Indoor Kitchen Gardening: Turn Your Home Into A Year-Round Vegetable Garden by Elizabeth Millard (2014)
2. Shelving
Select a shelving unit that allows at least 2 feet between shelves with room to hang grow lights. Taller plants like tomatoes will need their own special setup.
See Wire Shelving
3. Lights
I use fluorescent shop lights with full spectrum T8 light bulbs. You can also use T5 bulbs.
You will need to be able to adjust the height of the hanging light fixtures as the plants grow. Many come with chains for this purpose.
4. Containers
While I love unusual, repurposed planters for ornamental plants, I suggest using standard, plastic plant containers with proper drainage and drip trays for edible crops. You want everything fully-functional, easy to clean, and food safe.
I recommend using one container for each type of plant so you can move them around as needed.
Microgreens are shallow growers because of their short life cycle and require a container just 3" deep.
See Garden trays for microgreens
Most veggies and herbs need containers about 6" deep.
Check the growing instructions on your seed packets for specific instructions.
See Plastic window boxes
5. Container Mix/Growing Medium
We tend to call it 'soil' but what you need is really a special container mix or growing medium intended specifically for growing edible plants in containers.
You cannot use garden soil (it's too dense) or container soil for flowers, as these mixtures often contain ingredients not safe for consumption.
It's worth the time to find a commercial veggie container mix you like and trust. Ingredients may include things like compost, peat, vermiculite, bone meal or coir fibre.
Read the fine print on the label to be sure you are buying the correct product or ask a knowledgeable garden friend.
6. Seeds
I prefer seeds that are organically-grown and like to support seed companies that focus on organic growing practices.
The term 'organic' is frequently misused to influence shoppers, so research seed companies first to be sure you are buying good quality seeds.
Before choosing seeds:
Check the growing requirements to make sure you can provide what's needed.
Check that the seeds are suitable for indoor growing in containers.
Check how long it will be from seed to harvest (number of days until maturity) so you know how long you'll be caring for the plants.
As mentioned, seed catalogues are a fabulous resource and many seed companies are extremely generous and enthusiastic when it comes to sharing their knowledge. They want you to succeed!
7. Timer
If you're not available to turn your grow lights (fluorescent lights) on and off each day, you'll want a timer to do it for you.
Generally, the lights should be on about 12 hours per day.
See Electric timers
8. Electric Fan
Veggies do best when there is some wind to push them about and help strengthen them. This also helps keep unwanted insects away. You can use an electric fan to mimic this effect with your indoor garden. The fan can also be put on a timer.
See Portable fans
9. Watering can
Watering cans used to water food crops should be made from food-safe material, not old metals that may contain lead.
See watering cans
10. Plant mister
See my collection of recommended supplies here:
Supplies for growing vegetables and herbs indoors.
I hope this has provided what you need for starting your own indoor kitchen garden. It's pretty cool the first time you taste a fresh salad grown right in your kitchen!
And, if you try indoor food growing, I'd love to hear about it.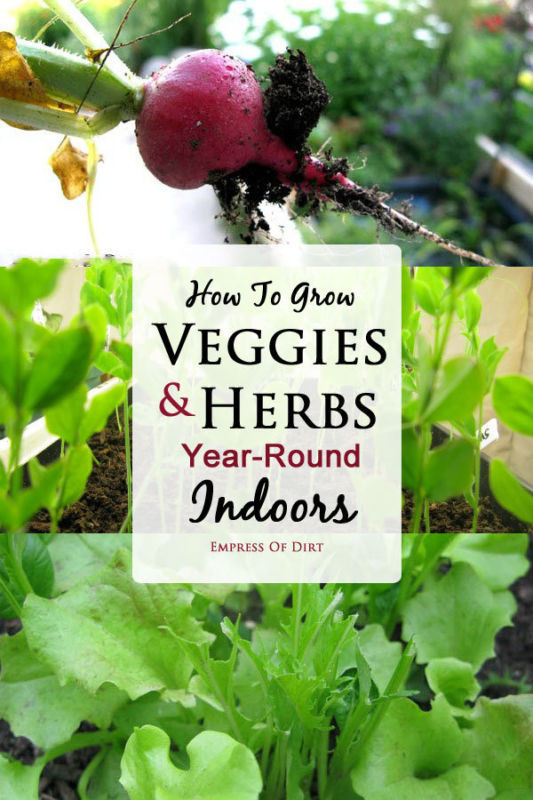 More Creative Gardening Ideas
The Only Gift List You'll Need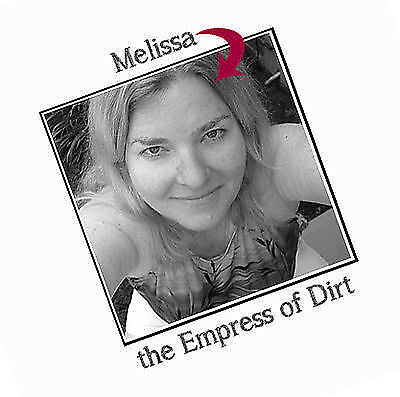 Join Me
Love creative gardening ideas?
Be sure to follow my
eBay guide
s.
And happy gardening to you!