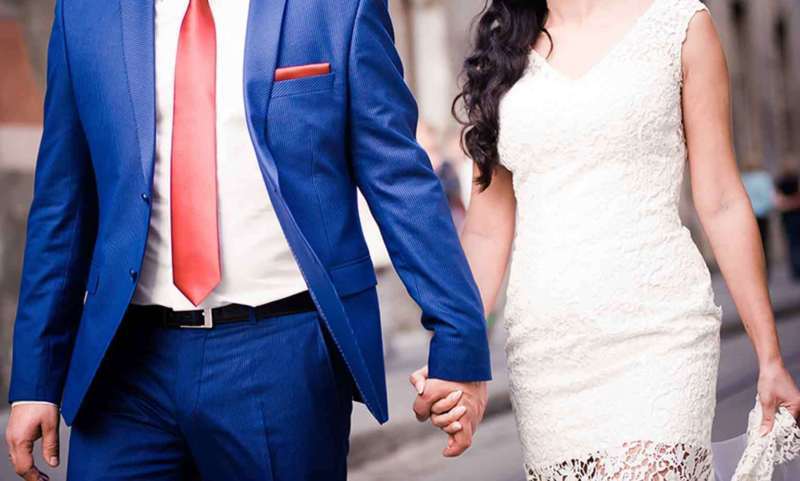 'Informal elegance' is the buzzword for Ladies Day at Goodwood – this is the coolest
day at
the races
in the calendar. King Edward VII once described Glorious Goodwood as a "garden party with racing tacked on", and today, the festival is one of the most photographed events of the British summer.
"Goodwood is about dressing up but expressing yourself at the same time; it's smart but never stuffy – take the joy of fashion and run with it," reads the official style guide.
So, though the style stakes are high, think relaxed luxury, even if you have tickets to the prestigious Richmond enclosure. The Gordon enclosure is mid-level – less formal than
wedding attire
, say. And in the Lennox enclosure, pretty much anything goes. Apart from
fancy dress
. And bare chests. But you knew that.
So with the dress code wide open, what will you wear to Goodwood?
Milinery Masterclass
This is just the place to experiment with headpieces, from flamboyant satellites to more
elegant pillboxes
. Race-goers have been donning a hat for seasons – it's time to join them.
Check out our hat selection here
.
Think big – you could wear a whole bouquet of flowers on your head! Or a storm of butterflies! But don't worry, headpieces don't have to be heavy. Even
elaborate fascinators
are particularly light, and fortunately etiquette says straw is appropriate after Easter and before September.
Brighten Up
Take a summer wedding as your starting point, then have some fun. Experiment with vibrant prints, bold colours or new shapes like a
fishtail skirt
or this season's ruffle trend.
There's no limit on hemlines or bossy rules about covering your shoulders, so you're free to choose whatever suits you.
The dress code encourages you to think beyond frocks – you could rock a
halterneck jumpsuit
that's equally at home in Studio 54, choose chic
tailored shorts
, or bust out a
fun playsuit
that would work just as well in an Ibiza beach club.
Treat Your Feet
The laid-back cool of Goodwood lends itself to
simple flat sandals
. Gladiators in tan, nude or metallics are the perfect complement to a show-stopping outfit.
Search for your shoe soulmate here
.
If you prefer
high heels
, try
wearing wedges
as they won't sink in to the grass. Raffia and espadrille styles fit the relaxed vibe of Goodwood, while still giving you valuable height so you can actually watch the races.
Tip: You could always tuck a pair of genius
fold-up ballet pumps
in your bag for the way home.
Handbags of Fun
Crossbody clutch bags
are the stylish solution to the not-enough-hands dilemma, as you can sling the strap over your shoulder as required. Traditionally it's believed that bags don't take centre stage; however, the new graphic handbags can add personality and pizzazz to the simplest of outfits. Consider
your new bag
a conversation starter.
Tip: Need a spare hand to hold your prosecco while you eat? Slip a plate clip into your handbag and the job is done.
Your Secret Style Weapon
Two words:
Dry shampoo
. The powder spray will give your hair extra volume to balance out your hat, and just enough extra hold – headpieces tend to slip about on shiny, freshly washed hair.
What's more, when you want to take your hat off, a quick spritz to the roots will nix any limpness or dampness. Pop a travel-size can in your handbag and you're good to go.
Get A-Head
A Panama Hat hits the style nail on the head –
find yours here
.
But how do you find the right size?
Simple: Loop a string around your head, just above your ear, across the middle of your forehead. Hold the string firm, but not tight. The measurement in inches is your hat size. Different brands use different sizing, but typically anything under 21 ½ is small, while 23 inches and above is large. If in doubt, ask the seller to double-check the size.
Suits You
A
jacket and tie
is required for the Richmond Enclosure. Though you could get away with chinos and a jacket, a
classic linen suit
rises to the occasion perfectly. You're the walking embodiment of relaxed yet stylish.
In the Lennox enclosure you're free to wear shorts, but be sure to choose a
smart tailored pair
– Goodwood channels the garden party vibe, not the beach.
Step Out In Style
A jacket and tie calls for a
smart pair of Oxfords
– pick yours from a soft palette of blue, tan, stone or sand. If you're dressed more casually, then you could wear
boat shoes
– again, stick to the neutral colour spectrum.
Both options can work with trousers or shorts, but if you're showing your legs, be sure you don't show your socks too.
Avoid
flip flops
and
laid-back espadrilles
(too casual) and
black dress shoes
(too formal).
Looking for More Race Day Inspiration?
Whether you're looking for the perfect top hat for Ascot or you're searching for the right summer dress to wow the crowds at Aintree, we've got everything you need. Visit
eBay's Day at the Races store
for all those race-day fashion essentials.