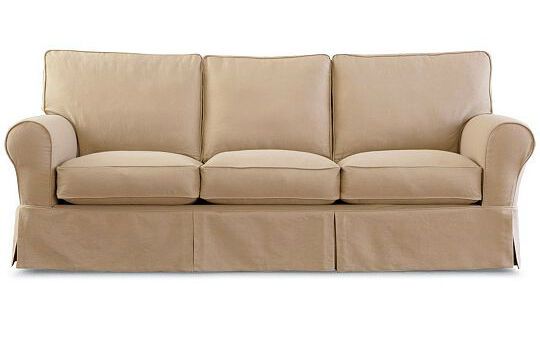 Buying a fitted cover for a sofa or loveseat is a good way to keep it safe from spills and other damage. It is also an easy way to change the colour of the furniture and this can be done to suit a newly decorated room. Sofa and loveseat covers are made from a range of materials, and come in a number of colours. However, it's very important to make sure that sofa or loveseat is measured correctly as even the slightest inaccuracy can lead to a cover being too tight to fit, or one that's loose and slightly sags.
All buyers should search for fitted sofa and loveseat covers on eBay, as the site has a large selection at much lower prices than those found in specialist stores or on rival websites. The following guide will explain how to correctly measure a sofa or loveseat for a fitted cover, and how to find a suitable cover on eBay.
Fitted Cover Materials
Fitted covers come in a range of materials and are available in a large variety of colours. Fitted covers are made from leather or some form of fabric.
Leather
Leather and faux leather are very popular materials used in the manufacturing of fitted covers. People have been using leather to cover and coat pieces of furniture for hundreds of years, and the benefits of using this material are its durability and the softness that be achieved by using it. Below are some of the most popular options for fitted leather covers.
| | |
| --- | --- |
| Aniline Leather | This is considered by many to be the most luxurious leather available, and is extremely soft to touch. The downside of using aniline is the price, and fitted covers made from this material are usually quite expensive. Aniline leather is practically untreated, and this makes it unsuitable for use in homes with small children and pets. Aniline is also very susceptible to staining and will tear and damage very easily. |
| Semi-Aniline Leather | This leather is quite soft, although not as soft as fully aniline leather. This leather is tougher than aniline but will still scratch and stain quite easily. Semi-aniline is less expensive than aniline leather and is suitable for households with older children but not those with pets. |
| Correct Grain Leather | This is one of the tougher leathers on the market today, and is a lot more resistant to stains and scratching than the above two. Another benefit of this leather is that it is less costly than aniline and semi-aniline, making it a popular option with young families across the world. However, this leather is not nearly as soft as the previous two and some people will find that it has a plastic feel. Correct grain leather covers are ideal to use in households with both pets and young children, and this material can be easily cleaned. |
| Split Leather | Split leather is the least expensive option in this table, but this is a direct reflection on the quality of the material. Split leather is quite thin and this makes it very prone to wear and tear. It is not recommended that split leather be used on a sofa or loveseat that is frequently sat on. |
Faux Leather
Faux leather is a popular option for sofa and loveseat covers as this material mimics the feel of top quality real leather at a fraction of the price. Faux leather fitted covers are durable and a lot tougher than aniline and semi-aniline leather, and are suitable in households with pets and children.
Fabric
There is a large range of fabrics used in the manufacturing of fitted covers, and people can find different materials in different colours at a range of prices. Below are some of the most common found on loveseats and sofas.
| | |
| --- | --- |
| Cotton | Cotton is very tough while remaining soft, making it an ideal choice for sofas and loveseats that are frequently used. Cotton is also quite easy to clean and fitted covers made from this material can be cold washed and dried at home. Fitted covers are available as both 100% cotton and blend cotton. |
| Faux Suede | Faux suede is a very popular option for fitted covers, and this material is soft, easy to clean and a lot less expensive than real suede. |
| Jacquard | Jacquard refers to a design or pattern that has been woven into a fabric as opposed to being printed onto it. Popular designs include floral and geometrics. Jacquard fitted covers are quite popular with older people, and can add a level of elegance to a sofa or loveseat. |
Measuring the Sofa or Loveseat for A Fitted Cover
To successfully and accurately measure the loveseat or sofa take the following steps.
· Measure the length of the furniture first, from arm to arm. This will be the longest length of the fitted cover.
· Measure the seat cushions. To do this correctly, make sure that the front cushions are measured in between the arms of the furniture. If measuring for a loveseat then measure from one side of the cushion to the other, and be sure to measure at the widest point, as this will ensure that the cover will not be too tight.
· Measure the outside edges and width of the loveseat or sofa, starting at the front edge of one arm, and working towards the back corner. Continue measuring along the back of the loveseat or sofa and complete the measurement at the outer edge of the far corner. The tape will need to be bent and kept in place to find the correct dimensions.
· Measure the height from the top of the seat cushion down to the floor. This will determine what the lower end height of the fitted cover will be.
· Measure the full height of the sofa or loveseat from the floor to the top most centre point of the back.
Most fitted covers for loveseats and sofas are measured in inches, but make sure to write down the measurements in both inches and centimetres. It is advised that buyers repeat the measuring process to ensure that they have the correct dimensions. Stretch fitted covers can be bought, and these use elasticity in the material. The benefit of using stretch fitted covers is that if the dimensions are slightly off, the cover will still fit.
Searching for Sofa or Loveseat Fitted Covers on eBay
To start a search for a sofa or a loveseat fitted cover take the following steps.
First, head to eBay.co.uk and click on the Furniture title found in the Home & Garden tab.
Scroll down to the Sofas, Armchairs and Suits and click on this title.
Click on the Slip Covers link found at the bottom of the Categories list.
Type in Sofa or Loveseat Cover into the search bar and press enter.
Listings and Item Page
· The listings page contains all the fitted covers for sale on eBay, and buyers should spend some time browsing through it.
· The Cover filter allows buyers to list covers for various pieces of furniture including 3-seater and 2-seater sofas.
· The Material filter allows buyers to search for covers made from specific materials including Cotton Blend, Jacquard and Polyester.
· Buyers should consider the condition of the fitted cover they are buying as it is possible to buy new and used covers on the site. If buying a used cover then it's advised that the buyer check any photographs of the item for damage or stains. Additional photographs can be requested by using the Ask A Question feature that is located below the Description box on the item page.
· The item page contains details about the auction as well as information about the price of postage and the item's location. All buyers should check the Description box before placing a bid, as sellers will often leave additional information here e.g. dimensions of the cover, condition.
· All buyers are advised to read over the seller's history to see what kind of feedback the seller has received from other eBay users. If the seller has a large number of negative comments then the buyer should abandon this listing and search for a fitted cover from a different seller.
· Buyers experiencing difficulty using or navigating the site should contact Customer Support.
· Buyers experiencing problems when dealing with a seller should contact the Resolution Centre, and the link to their page can be found in the Customer Support drop down menu.
Conclusion
Fitted covers for sofas and loveseats come in a range of colours and materials, and these covers are great at instantly transforming the look and feel of a piece of furniture. However, it's important that the furniture is measured correctly as if a cover is too tight then it will not fit, and if it is too loose then it will not sit correctly. Measuring the sofa or loveseat is fairly straightforward and requires only a measuring tape, but it's advised that buyers repeat the process so they can be confident that they have the right dimensions.
Searching for loveseat and sofa fitted covers on eBay is a great idea, and the site has a large selection at prices much lower than those found in furniture stores or on rival websites. Be careful if considering buying a used cover, and always inspect any photographs of the cover for damage or stains.