Tip! If you found this guide useful, please vote for it at the bottom of this page!
We're now going to make a PayPal payment link to insert into your index.html page.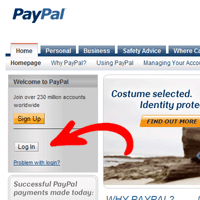 Log into PayPal with your username and password. If you don't already own a PayPal account, it's worth spending the time now to get it set up.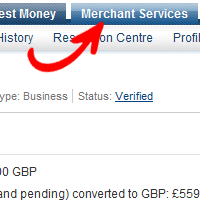 Locate the 'Merchant Services' tab at the top of the screen and click on it.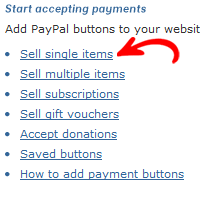 Towards the bottom left of the page you'll see a link that says ' Sell single items'. Click on this.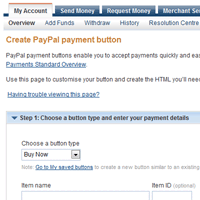 From here you can customize your payment button.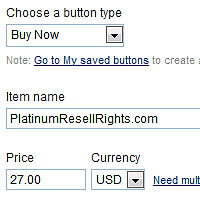 Select a 'Buy Now' button type, a name for the transaction, and a price.
You can choose from several currencies however the USD is by far the most popular even for people outside of the US.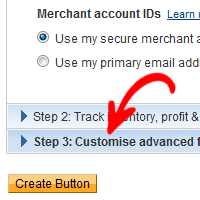 Scroll down the page and click on the 'Step 3' tab. This will open up more options.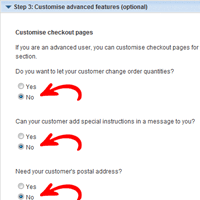 Because you'll be selling a digital product, the transaction will be straight forward.
There will be no need for your customer to change the quanity, add special instructions, or to add a shipping address.
Select No for all 3 options.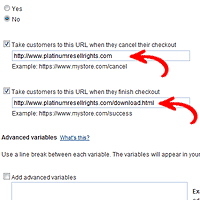 Now you can specify where to send your customer if they cancel their checkout and where to send them when they complete checkout.
Don't get the two mixed up!
In part 1 of this guide, we renamed our download.html file to download3h495g3f7h38gh.html.
Therefore the page we send your customers to after their purchase will be 'http://www.yourdomainname.com/download3h495g3f7h38gh.html'.
Replace yourdomainname.com with the domain you registered.
Now click the 'Create' button and you'll see the screen below...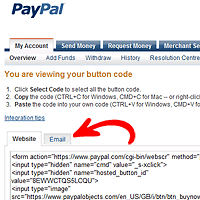 PayPal by default gives you the HTML web form.
This code looks messy and there's more chance for error and also I prefer to keep things simple, which is why you should collect the Email version of this code.
Click the 'Email' tab and you'll see the screenshot below...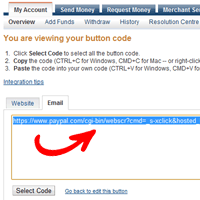 Now select and highlight that single line of code and copy it (Ctrl + C).
It's now time to add it to our sales page...
Tip! If you found this guide useful, please vote for it at the bottom of this page!
Copyright (c) 2011. eBayer tiptopmarketer. All Rights Reserved. No portion of this guide may be copied.