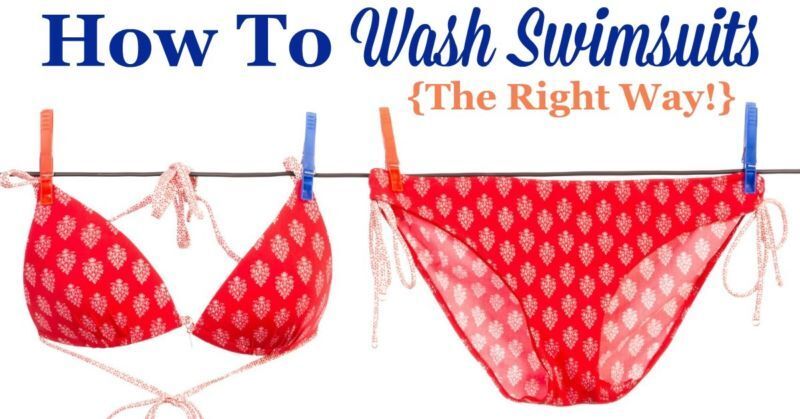 Summer's the time for swimming and having some fun outdoors and a lot of those activities require you to wear a swimsuit. If you're not careful and don't wash your swimsuits properly, they are more likely to fall apart easily, fade, stretch and can even begin to develop a smell that isn't so pleasant. And all that is no good, because you want to look good in your swimming costume, plus you paid a lot for it and want it to last. Fortunately, when you wash your swimsuit properly it can stay looking like new, so below are the steps you should take to keep your swimming suit clean, the right way.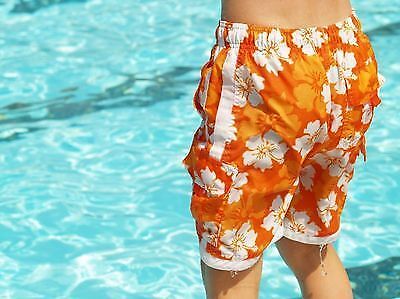 The Type of Fabric In Your Swimsuit Makes a Difference
Whenever you need to figure out the best way to wash something, you should check and see what the label says the clothing is made from. In the case of swimsuits they are made mostly from Lycra and spandex, at least for women's styles. Men's trunks also have some of these materials in them, but often much less and that makes a difference in how you keep them clean. The more spandex or Lycra present in the swimsuit, the gentler you need to be with washing and drying it, so it doesn't fade, stretch, lose elasticity or the fabric does not otherwise degrade.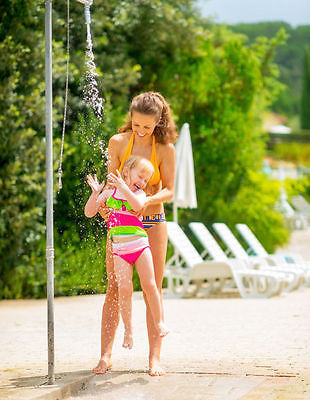 What To Do After You Wear Your Swimsuit, Each Time
After
each time you wear your swimsuit you should wash it
, even if you only sunbathe and don't go in the water. The reason for this is that both things in the water, such as chlorine, salt water, or even bacteria and algae in fresh water, as well as sweat and sun cream residue, can harm the delicate fabrics in your swimwear. The quicker you remove those residues from the fabric the better your swimsuit will look, because these residues fade your swimwear, or even begin to break down the fibres or make it lose elasticity.
I know, practically, it can be difficult to wash your swimsuit immediately after wearing, especially if you're on holiday. Therefore, at the very least, when you get finished wearing it you should immediately rinse your swimsuit off, such as in the shower, or better yet, let it soak in the sink or bath in cool water for about half an hour. This rinse or quick soak removes a lot of the residues from your swimwear that cause the damage, and then you can wash the swimsuit when you get home. (Make sure you properly dry it though, after the quick rinse or soak, even if you haven't washed it yet, so it doesn't develop a mildew smell. You can see the directions below for more information about how to dry your swimsuits.)
How To Wash Your Swimsuits
For the best results, that are least damaging to your swimsuit, you should always hand washing swimwear, using delicate washing liquid in cool water. This may sound like more work than using the washing machine, but your swimsuit will look much better and last much longer, using the hand washing technique I'll discuss below.
If you must wash your swimsuit in the washing machine, be sure to wash it separately, use cool water, put it into a
delicates wash bag
(to prevent snags), use the delicate cycle and still use delicate washing liquid. Please note, as well, that boys' and men's swimming trunks can typically be washed in the washing machine, as described above, because they have less spandex or Lycra within them and can therefore withstand the harsher washing technique.
Washing your swimsuit by hand isn't hard at all and really doesn't take much longer than all the steps above that I listed for washing it in the washing machine, but the results will make it worth your while.
Fill your sink, or a small washing tub, with cool water and then add a tablespoon of delicate washing liquid such as Woolite or something similar. You want to use a liquid that says it is safe for use on lingerie and bras and does not contain enzymes. Swirl the water with your hand to mix the liquid into the water and then submerge your swimsuit. Let it soak for at least 15 minutes within the soapy water and then gently squeeze and knead the swimsuit to make sure the soapy water thoroughly cleans it. Then, drain that soapy water and rinse your swimwear thoroughly to remove all soap residue. Again, only knead and gently squeeze the swimsuit, never wring it, because wringing can stretch out the swimwear so it won't fit as well in the future.
How To Dry Your Swimsuits
After your swimsuit has been washed, you'll need to make sure it dries thoroughly. Drying your swimwear is very important, because I think we've almost all experienced the 'smelly swimsuit' or swim towels that result when we throw a damp swimsuit or towel into a closed bag and forget about it. That smell is mildew, and it can linger within your swimwear if you're not careful. To avoid mildew growth is simple though, just make sure the swimsuit dries before you put it away.
You never want to put your swimsuits in the dryer, because heat is very bad for spandex and Lycra and can make them degrade and break down. The heat also harms the elasticity and can make your swimsuit lose its proper shape, looking saggy. As mentioned above, you also don't want to wring the water out of your swimwear. So instead, the proper way to dry swimsuits is to lay them flat on a towel to dry (turning them over at some point to allow both sides to dry), or to dry them on an
airer
. Swimsuits are a thin material, so they'll dry pretty quickly. If there is a lot of water in the swimsuit, instead of wringing it out, you can press some of that water out by putting the swimwear between two towels.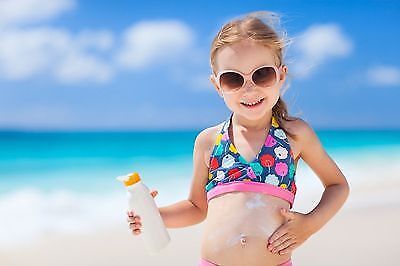 Tips for Dealing With Common Problems In Cleaning Bathing Suits
The two most common problems when keeping your swimwear clean are mildew smells and sun cream stains. Here's what to do to fix both of them.
The best tip I've got for mildew smells is to avoid them by properly drying your swimsuits before storing them, but I know that doesn't always happen. If your swimsuit has got a mildew smell you've got to balance the need to remove the smell versus potentially harming the fabric. Use warm water (but not hot) and soak the swimsuit for 15-30 minutes, in oxygen bleach, and then wash as instructed above. If the smell is still there you can add a few tablespoons of
vinegar
to the soapy water to help cut the smell as well. Vinegar, because of its
acidic nature
, can be harmful to spandex and Lycra with prolonged exposure though, so rinse relatively quickly.
The other common problem when washing swimsuits is sun cream stains. The chemicals within the sun cream which help protect your skin also interact with chemicals in water and can sometimes cause orangeish or brownish spots or stains. To remove these spots create a paste of
lemon juice
and
salt
, and then apply to the stained areas and let sit for 15-30 minutes. Then, rinse and wash the swimsuit as instructed above.
How do you like to wash your swimsuits? I'd love to hear your ideas and tips below, in the comments.
Here's another one of my guides below.