Wet look leggings are this season's latest craze. Everybody wants to own a pair.

And we get lots of questions from customers on what's the best way to style them.
So here's a few style tips on how to (or how NOT to) wear your new favorite wardrobe essential and what to match them with.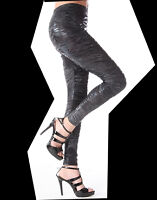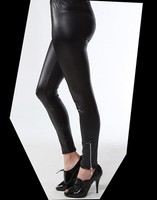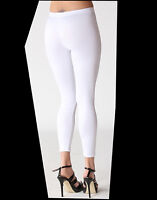 DO
Pair them with a loose-fitting top.
Oversized jersey tees are fine, and batwing tops will do just as good.
The trick is to match your leggings with a contrasting, relaxed top.
Loose, oversized, slouchy tops made from slinky, soft, fabric like viscose or jersey cotton that hangs in drapes - make the perfect contrasting pairing with the wet look leggings.


Refer to the image below:

a plunge neck batwing top matched with skin tight black leopard print wet look leggings .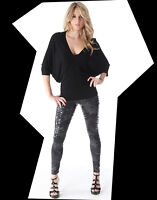 DO
Try matching your leggings with contrasting coloured tops.
Bright coloured slouch tops are must-haves this SS09 season and great with your leggings.


DONT
Show the crotch area. Nothing is worst than seeing the stretchy pulled bit in between your legs.


DO
If you're wearing your leggings pulled up, then wear it it with a short top.
Or if you choose to wear it with a long top, the hemline must reach midway at the thighs.
For shoes, try gladiator stilettoes, black prefably.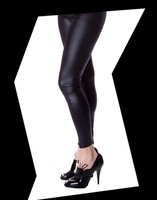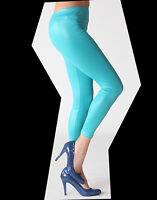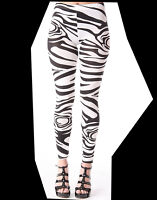 ---
We hope these style tips helps!
Feel free to contact us should you need more suggestions.
xx
Chiarafashion Style Team
visit our ebay store!
We are part of the eBay Verified Rights Owner (VeRO) Programme
PLEASE NOTE: All text used in descriptions, photography and design used in within our shop pages and listings in eBay are property of Chiara Fashion. We have a team of writers, designers and photographers who take extreme care and spend time and effort into creating and producing the descriptions and images that you see in our shop listings and website. DO NOT use them in any way without our authorised permission. We can and will report listings that infringe our intellectual property rights and this will result in the removal of the said listings.