Method 1
In this method I will tell you how to get the best price possible when buying. Firstly set the filter to Price + P+P Cheapest First. When you do this you will probably just get random nuts and bolts for £0.01. This way to fix this is to go to the left hand column and find the two price boxes. Set the minimum value to about £5, if you still find noting then take it up to £10, if you still can't find what you want then you should try to continue taking it up in lots of £5.

I hope this method worked for you.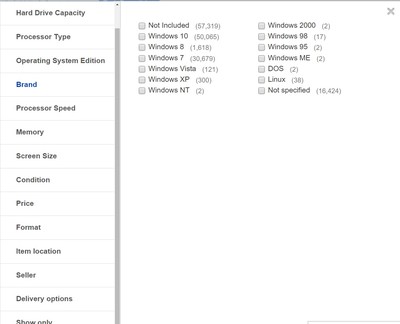 Method 2
This method is the slightly more time consuming method but you can get better results if do it correctly. Go to the left hand column and press see all. You will then see a menu come up, you can refine your search here by selecting the tbs on the left and then ticking all the boxes of the things you want, you may also set the Price + P+P to Lowest First.
Say for example you want a computer, you set the filter to lowest price first, you get computers with 1 GB of RAM, a 0.5GHz CPU and Windows 98 for 99p. But this might not be right foryou, in that case you should change some of the options. Firstly ou might change the operating system to Windows 10 or Windows 7, secondly you could change the processor speed in the filter menu.

I hope this method worked for you.