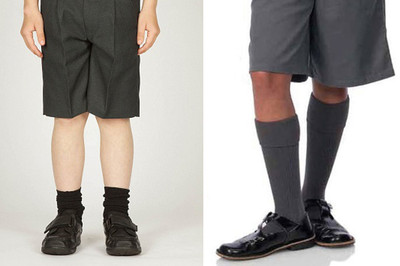 Your initial reaction might probably be 'Why, up of course; it's how I always wore them as a boy.'
If only today's reality was that simple. Sadly, children from polite society are constantly under attack from less privileged circles bent on deriding them for their elitist views and traditions. Such influence must obviously make it increasingly difficult for them to submit to those in authority, particularly their parents. Endeavouring to do their best by their children, these parents are struggling to maintain their standards and expectations. It must be disheartening when occasionally their efforts are met with disappointment and – in some cases – unpleasantness, with their offspring insisting they dress up like their favourite TV idols or chavs from the neighbouring estate, rather than complying with their conservative rules.
What do you do? Firstly, stick to your guns. It is no use you insisting on a rule one minute, only for you to deviate from it days later - or when the going gets tough. Better that your son recognises your unwavering values, than for him to suffer confusion over your indecisiveness.
Yet, the last thing you want is for him to rebel because of your incessant nagging.
I mean, you may encourage him to keep his socks pulled up, even going as far as providing him with garters to prevent them from falling down. Yet, please remember that children love to push the boundaries, which is why –
Irrespective of the laws governing your son's dress code – you will often find them bunched around his ankles the moment he enters those school gates in the morning, or leaves the house to visit a friend. It is their way of adopting an identity or succumbing to peer-pressure, as in the case of the much-loved fictional character, Just William.
Nevertheless, in William's case, his parents were continuously banging on about his sloppy attire which in turn culminated in a negative rather than a positive outcome. The more they insisted that he wore them neatly pulled up and turned over, the more he rebelled and did the opposite.
Just a gentle reminder here and there will suffice. In this way, you will have at least planted a standard and expectation in his mind for him to aim for and provided he understands the clear reasons behind it; exactly why we adopted the motto: 'dress smart, think smart!"
Here, the emphasis is on the psychology behind the reason, namely, how we dress can affect the way we behave.
Personally, as somebody once remarked, the time to worry is when you discover your son's long socks about his ankles at the school gate when you call to collect him at the end of the day. It would certainly cause me to question the school's attitude towards uniform and their general expectations of their pupils.
The time of year may also be a contributing factor. While a number of prep schools today boast both a summer and winter uniform, with long socks for the colder months and ankle socks for the warmer seasons, not all schools follow this rule. I know of at least a handful which has just the one uniform with knee socks worn throughout the year - irrespective of the weather.
You could understand it if your child is complaining of feeling too hot and is compromising by pushing down his socks to ward off the offending heat. In situations like these, it may be worth you approaching the school and asking for a uniform review to include ankle socks during the summer as your son is saying he is too hot.
Furthermore, even before contacting the school, you may want to solicit the opinions of other parents. You may find that you're not alone. In this way, you could then present a united front which may have more of an impact than if you approached it on your own.
However, if it is the case that your son's appearance seems unnecessarily careless at the end of the school day because of a lack of in-house discipline, then it is time for more decisive action.
In any event, I'd love to hear your suggestions and thoughts on the subject.
Meanwhile, thank you for reading.
Philip Francis-Anderson
http://www.ebay.co.uk/itm/121842427403?ssPageName=STRK:MESELX:IT&_trksid=p3984.m1558.l2649
http://www.ebay.co.uk/itm/121867209536?var=&ssPageName=STRK:MESELX:IT&_trksid=p3984.m1558.l2649
http://www.ebay.co.uk/itm/121843356728?ssPageName=STRK:MESELX:IT&_trksid=p3984.m1558.l2649