Wearing shoes unlike anyone else happens with just a little effort by adding Diamante products to your shoe's surface, whether sewing on individual crystals or sticking on rhinestone gems. Come alongside professionals who use these gems such as makeup artists or fashion and costume designers, and put your best foot forward showcasing your footwear by finding different ways to accessorise your shoes with Diamante.
Stick On Some Bling

Leave behind boring shoes when you purchase stick-on Diamantes, sold in sheets wrapped in a sealed bag containing clear, multicoloured, or black gems, to attach to your footwear. Put on the same size rhinestone or vary your design using a combination of 3 mm, 5 mm, or a larger diameter. The high-quality resin pieces have self-adhesive backs so that you simply lift them off the sheet and position them. Eye-catching stick-on Diamante hearts in numerous designs look great on your shoes when attending a Valentine's party or just for a romantic night on the town with your significant other. Diamante flowers dazzle at weddings and other formal occasions. Buy Diamante strips to add rows of sequins in black, purple, silver, iridescent, gold, or blue for the right amount of shimmer.
Cover Your Shoes in Crystal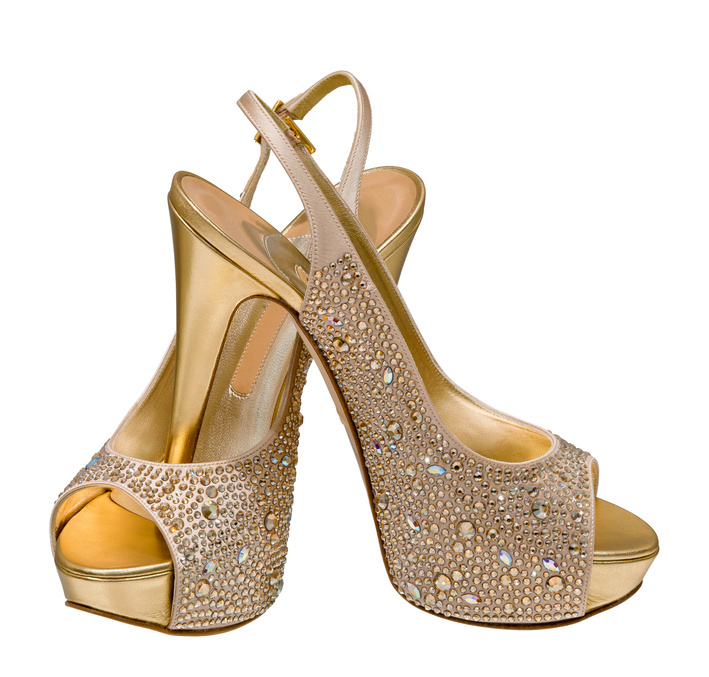 With patience, and a needle and thread, sew-on Diamantes make your shoes sparkle as the cut-glass pieces catch the light at every angle. The faceted cut also contributes to the ongoing twinkle right down to your toes, depending on where you sew each pear, teardrop, round, square rectangle, or other shaped rhinestone. Use individual pieces to spell out your name or any other message you decide to create.
Add a Rope Chain to Your Footwear
Sew a rope chain of these beauties sold as a unit containing hundreds of pieces assembled on a ribbon ready for attaching. Outline a shoe strap with the Diamantes or create a stunning diamond design in vertical or horizontal rows. Let your imagination go wild as you decorate only one or both shoes. Remember Michael Jackson had only one shiny glove.
Use Diamante Pins and Buttons Creatively
Be equally creative when using Diamante pins by grouping several together or outline the shoes by sticking them in select places. Position the pins, approximately 40 mm in length, where you prefer a flash of shine such as the holes in lace-up boots, which you simply remove after the party or festive occasion. Most sellers offer boxes of 50, 100, or more to supply that extra wow factor. Add a Diamante button in the shape of a butterfly, snowflake, swan, or other image to embellish your shoes or craft a focal point that glimmers. For a totally different look, choose a silver metal Diamante with a pearl centre.