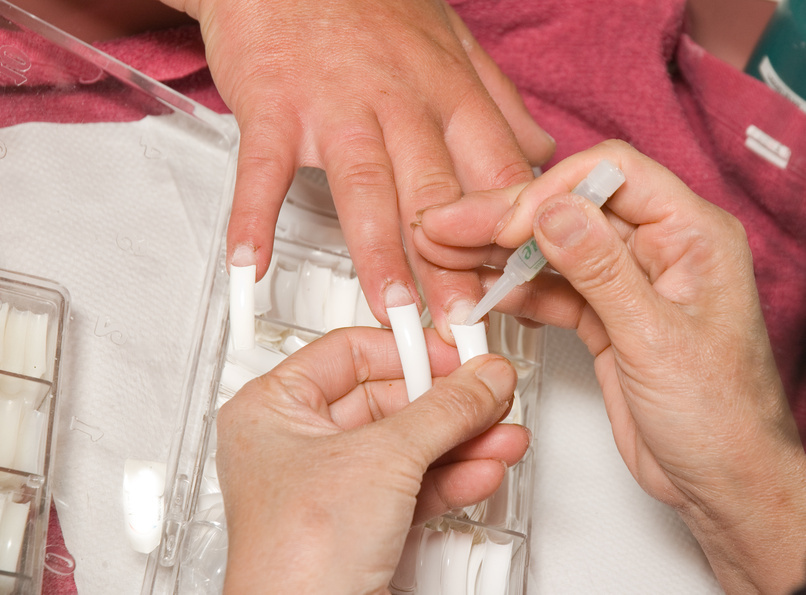 False nails have existed for centuries and have their roots in Ancient China. The first official modern artificial nail was invented in 1954 by a dentist. It wasn't until the late 20th Century that they became big business for the women's health and beauty industry and their popularity has extended beyond the salon.
Now false nails can be bought and used at home, it is important that buyers are fully aware exactly how to apply false nails to get the best, salon-like effect. There are almost an infinite number of designs and styles that can be applied to false nails with some already developed with a design attached. False nails are a way for wearers to exert their individual style.
The proper application of false nails is essential for the desired effect, and finding all the products required to keep false nails in their best condition is easy when you shop online. Using eBay to locate products is one of the most sensible options due to the wide range available.
Different Types of False Nails
There are three main types of false nails generally available on the market:
Acrylic Nails
Gel Nails
Silk Nails, usually known just as Silks or Silk Wraps.
Acrylic nails are probably the most popular and traditional of the three types. They can be bought with patterns and designs already on them or they can be bought plain, so any adornments can be added by the wearer.
Gel nails have been gaining in popularity recently and are applied by brush, creating a false nail extension which is no thicker than a coat of polish but has the same quality, durability and longevity as acrylics. The nails are hardened by being placed under UV light as this cures the mixture and causes the gel to turn into the false nail.
Silk nails can be made of silk or fibreglass and are intended to be temporary whilst a damaged natural nail grows or repairs. They are highly flexible and therefore need extra special care and maintenance to ensure they remain intact. They are slowly becoming a more popular choice for long-term wearers, but remain less so than the other types.
All these different types of false nail can be bought online and whilst they may have begun life in the salons application at home is more than achievable.
Applying Acrylic Nails
As the most popular and regularly applied form of false nails here first is a step-by-step guide to applying acrylic nails:
| Stage | Process |
| --- | --- |
| Stage One | Prepare the natural nails by cleaning, buffing and filing them down as far as possible. |
| Stage Two | Lay out the false nails in the order they are to be applied. |
| Stage Three | Push back the cuticles on each finger. |
| Stage Four | If non-adhesive apply a small amount of clue to the nail. |
| Stage Five | Place the false nail onto your natural nail pressing down on the nail bed and keeping pressure for approximately ten seconds to ensure no air is trapped under the new nail. |
| Stage Six | Use a cotton bud to remove any excess glue. |
| Stage Seven | Add any decoration or polish to the new nail to finish. |
The above actions can be repeated for all the nails to complete the look. As the most popular and original form of false nails, they are the most commonly applied at home.
Applying UV Gel Nails
Gel nails are the most popular alternative to acrylics and are popular due to their strength and the natural look they give. They were borne out of salons but can easily be applied from home with the right equipment. A step-by-step guide to applying UV gel nails follows.
| Stage | Process |
| --- | --- |
| Stage One | Shape the natural nails evenly and then buff them to remove natural shine. |
| Stage Two | Push back all nail cuticles using cuticle oil and a cuticle pusher. |
| Stage Three | Apply a prime layer and let it dry. |
| Stage Four | Brush the first coat of UV nail gel onto each nail in succession. When completed place them under a UV lamp to dry. |
| Stage Five | Repeat stage four twice to ensure an even and fully hardened gel nail. |
| Stage Six | Rebuff the nails and apply clear basecoat. They are now ready for adornment and styling. |
Gel Nails and their accessories including UV dyer lamps are readily available on eBay. Many of the leading brands in nail technology have invested heavily in UV gel technology and have released products into the market for home use as well as in salons.
Applying Silk Nails
The market for silk or fibreglass nail wraps is smaller than the other two main types of nail but they are still regularly in demand and can be applied with ease from home. They are made from thinner fibres than the other types of false nails but are preferred by some users as there is no risk of damage to the natural nail and they are much easier to remove. A step-by-step guide to applying these nails follows:
| Stage | Process |
| --- | --- |
| Stage One | Prepare the natural nails. Ensure they are stripped of all polish, filed neatly and clean. All nails need to be even. |
| Stage Two | Cut the chosen silk nails to the desire length with scissors or clippers if provided. Lay the un-glued nail against the natural nail to ensure it fits the base properly. |
| Stage Three | Apply the glue to the top of the silk wrap and spread it down across the nail. |
| Stage Four | Apply the silk wrap nail to the nail, slightly above the cuticle and press it down, holding it for 10-15 seconds and repeat across all other nails. |
| Stage Five | Let the nails dry and then use the clipper or scissors to remove any excess wrap. Nail polish can then be applied if required. |
Silk or fibreglass wraps can be found online with ease too. Although they were initially designed as a short-term yet stylish way of keeping natural nails protected it seems some wearers have decided they're a better option than alternatives on the market.
Budget-Friendly False Nails
There are false nail options for every size of budget and there are some deals on eBay which appeal to buyers looking for great value. The range of prices indicates demand and there are popular branded products as well as more generic ones, which may be more cost-effective.
Another way to ensure a budget friendly false nail purchase is to look for kits or preferred products which can be bought in bulk. Bulk buying is a great option if the buyer regularly uses false nails and therefore needs a constant supply of accessories such as glue or polish.
Buyers looking for a budget friendly shopping experience with a wide range of choice are best using eBay as opposed to the high street as the variety of options is much larger and it is possible to locate items which are much sought after or have been discontinued.
How to buy False Nails on eBay
Choosing to buy false nails on eBay gives consumers the widest range of items to choose from than most other places and it also gives sellers a ready customer base of buyers looking to purchase items in this area. Buying false nails on eBay is extremely straightforward and usually begins with some virtual window shopping and from there the buying can begin.
To locate false nails on eBay the buyer first needs to find the health and beauty category on the main homepage and then select the hand and foot care section. From this point it's possible to locate the false nails section, and the search can be further customised with price range, type of product and much more customisable. It's also possible to locate related accessories including nail art supplies and tools such as files and clippers from the general hand and foot care category.
Alternatively, buyers can use eBay's search function. This type of search requires a specific search term and once chosen and entered this term will reveal all items that meet it, not just those in specifically in the health and beauty section. General searches can be further narrowed down using the left-hand navigation panel to select specific relevant subcategories. For more detailed information about searching on eBay visit the Search Tips page.
Conclusion
False nails are much more than just a luxury accessory and have become a daily essential for many. No longer are they an item which is exclusively for people who visit their local beauty salon and some of the most creative and interesting designs have been created at home. Home application of false nails isn't difficult, and all the necessary tools and related paraphernalia can be found, competitively priced, on eBay.
Deciding to apply false nails from home is a sensible, cost-effective option and with the many different types of nail on the market as well as infinite design options on top of that it's possible for everybody who wears them to cultivate a wholly unique style.