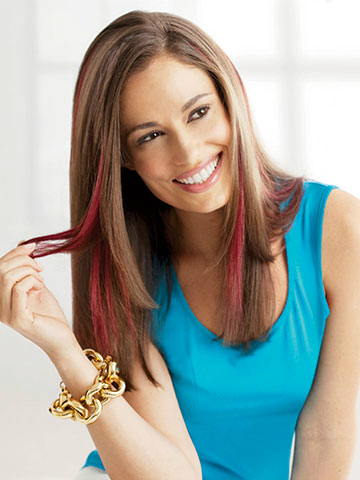 Hair extensions, also known as hair weaves, are often used in the realm of beauty to add length or volume to natural hair. The extensions may be made of natural or synthetic hair, each varying widely in cost. Hair extensions are available in a wide array of colours and hair types. They are usually applied near the scalp and are often designed to blend with the wearer's natural hair colour, making it difficult for others to notice the extensions. On the other hand, buyers may choose hair extensions in a different hue, to add highlights or lowlights to selected areas.
Hair extensions can be applied in numerous ways and for various durations of time, ranging from temporary clip ins to more permanent weaves. They can also vary in texture and can be found in both straight or curly varieties. In order for hair extensions to function correctly, wearers must have healthy hair at least three to five inches in length. When purchasing hair extensions, buyers should consider the various types, familiarise themselves with the different application techniques, and learn how to care for their extensions properly. Hair extensions can be found at hairdressers, hair care shops, and at online retailers, such as eBay (Health & Beauty).
Types of Hair Extensions
There are two basic types of hair extensions: natural and synthetic. Although both types come in a wide array of colours, textures, styles, and lengths, each offers wearers unique features.
Natural Hair Extensions
Natural hair extensions, commonly referred to as human hair extensions, are often more expensive than synthetic versions, and are considered to be of a higher quality. These hair extensions can be washed, conditioned, dried, and coloured. They offer wearers a greater amount of versatility when it comes to styling their hair. In addition, natural hair extensions can be subjected to high heat settings, while still maintaining their appearance.
Synthetic Hair Extensions
Synthetic hair extensions are made from chemically processed fibres and tend to vary widely in quality. The two most common types of fibres are Kanekalon and Toyokalon. Kanekalon fibres are more resilient to heat and can be styled using different tools such as curling tongs and hair straighteners at up to 230 degrees Celsius without causing damage to the extensions. On the other hand, Toyolaon fibres, although less heat resistant, are often preferred because they are easier to maintain and tend to tangle less easily. Toyolaon fibres are typically more affordable, although the low cost is often offset by several disadvantages. Synthetic hair extensions do not blend as well as natural hair extensions, often producing an artificial look. In addition, synthetic hair extensions are often more difficult to style.
Application Techniques for Hair Extensions
Hair extensions can be attached to the wearer's scalp in various ways. When choosing the best method, buyers should consider their type of hair, the amount of hair extensions being added, their budget, and their daily routine.
Clip In Hair Extensions
Clip in extensions are designed for wear on a temporary basis. These hair extensions can be self-applied, and are the most popular type because of their ease of application and low associated costs. When applying these extensions, buyers simply need to clip them onto existing hair at the roots. These extensions are ideal for infrequent use or for quick style changes. If well cared for, clip in extensions can be reused for multiple occasions.
Micro Links and Shrink Links for Hair Extensions
Micro links and shrink links are hair extensions designed for more permanent wear. They are attached to the wearer's natural hair with small metal rings or keratin tubing. This method of application is often preferred as it offers minimal damage to the wearer's natural hair. In addition, micro links and shrink links do not use adhesives or solvents during the application process. This minimises any potential irritation to sensitive skin. However, once applied, hair extensions that use this process are difficult to remove and may add weight to the wearer's hair. Stands tend to loosen and fall out with repeated hair washing. Micro links and shrink links are not recommended for buyers with fine hair.
Bonding for Hair Extensions
Bonding, or gluing, hair extensions to the wearer's natural hair usually requires longer wefts of hair, typically six inches in length. During this process, adhesive is first applied to the roots of the hair. The extensions are then applied to the adhesive. The adhesive is safe for use on both the scalp and natural hair. These hair extensions are quick and easy to apply. However, hair extensions applied through the bonding process usually do not last as long as other types.
Fusing for Hair Extensions
During the fusing process, hair extensions are applied to the wearer's natural hair with the use of a special adhesive. Unlike bonding, smaller pieces of hair can be attached through the fusing method. Buyers may choose to have extensions applied using hot or cold fusion. During the hot fusion process, the hair extensions are braided into the wearer's natural hair and then bonded together with a wax adhesive. Cold fusion may be used to avoid unnecessary damage to the wearer's hair caused by heat. However, this method is less common.
Those considering fusing should take into account the amount of time that the process takes. Several hours are needed to both apply and take out hair extensions when using this method. Fusing also tends to be more costly than other methods as the hair extensions often require fusing by a professional stylist. However, the duration of time they stay adhered to the wearer's head is thought to offset the high cost of application.
Weaving for Hair Extensions
As an alternative to other methods, some people choose to have their hair extensions sewn into their natural hair. This process requires wearers to first tightly braid their hair into cornrows. The extension pieces are then sewn into the braided regions. As with fusing, the weaving process is often both time consuming and expensive. When woven, hair extensions tend to last for a long time.
Caring for Hair Extensions
Whether using natural or synthetic hair extensions, it is important to be familiar with how to care for the extensions properly. Proper care helps to preserve their lifespan and ensures long lasting use. When washing hair extensions, buyers should use a high quality shampoo and conditioner. Buyers should always consult a hair stylist before washing their hair as some products may cause the bonds to break down prematurely.
Chemicals are considered to be harmful to the hair, so people who have hair extensions should avoid swimming without first taking precautionary measures. In order to protect the hair from chlorine, wearers should avoid getting their hair wet. If this is unavoidable, a swimming cap can be worn as a protective barrier. Immediately following swimming, wearers should wash their hair to remove any damaging chemicals.
How to Buy Hair Extensions on eBay
After determining the specific hair extensions needed, buyers should visit the eBay home page. From here, buyers are free to input keywords into the search box, such as "natural hair extensions&". For a more precise search, eBay's advanced search feature allows browsers to narrow down their options based on price and other features. Once on the search results page, buyers can filter their listings further using subheadings to find a specific product.
Buying with Confidence
When searching for hair extensions on eBay, buyers may see "Top-rated seller&" awards posted on a seller's listing page. This award is given to sellers who receive high levels of positive feedback from past buyers. In addition, Top-rated sellers are known for being reliable in their listings and for providing good quality products. Buyers can use eBay's advanced search feature to limit search results to items sold by Top-rated sellers. This allows buyers to shop with complete confidence.
Conclusion
Hair extensions are a versatile accessory. They are ideal for those hoping to lengthen or add volume to their hair. Before considering how to apply the extensions, buyers need to purchase the ideal product. Buyers should consider whether they want to use human or synthetic hair extensions. Both offer their own set of benefits and drawbacks. Human hair extensions allows wearers to style their hair with ease and provide a more natural look. However, these extensions tend to be more expensive. Synthetic hair extensions can be purchased at a low cost and are usually easier to maintain.
Buyers should also consider the colour of their hair. The colour of the extensions should match or complement the wearer's natural hair colour. This helps to give the wearer a natural look and prevents onlookers from noticing the hair pieces.
There are a number of ways that hair extensions can be applied to the wearer's natural hair. Clip ins are ideal for single day use, while bonding, fusing, and weaving methods tend to be used for more permanent styling. Hair extensions are delicate, so it is important to care for them properly in order to maintain their lifespan. With so many hair extension listings on eBay, buyers should be able to find the right style to match their preferred application method.