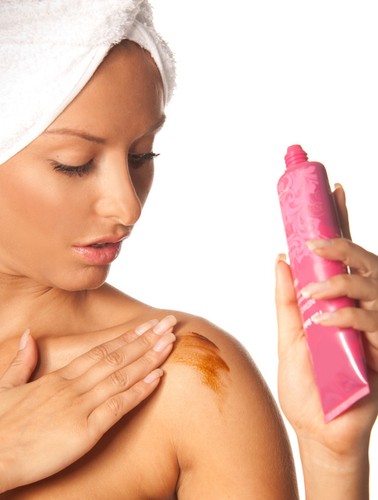 Fake tans are a convenient and safe way to tan, and many products can be used at home. Users of fake tans avoid the dangers associated with prolonged exposure to UV rays from the sun, as well as the detrimental effects posed by tanning beds. Of the many types of sunless tanners available, spray tans are one of the most popular and easy to use. Although these can provide an attractive and natural-looking tan any time of year, some users experience streaks, missed spots, and overly dark areas.
There are several things to keep in mind while applying a fake spray tan to ensure the best possible results. Skin should be clean and exfoliated prior to application of a spray tanner, and moisturising dry areas such as knees and elbows can help achieve a well-balanced look. It is also important to be in a dry as opposed to humid room when using spray tans.
Spray tan products are available from department stores, health and beauty retailers, and online sellers. Marketplaces like eBay have a high number of products available from both private and commercial sellers. When possible, read product reviews to choose the best spray tans available. Whether its used for a subtle tint or a dark tan, proper application of a spray fake tan can help buyers achieve desirable results.
Choose Spray Fake Tans
Buyers looking for a spray tan have several options available to them. Begin by deciding on the type of spray tan to use, as well as its colour.
Types of Spray Tans
There are three types of spray tans available, including retail self tanners, spray booths, and professional spray tans. These can each vary considerably in price and performance, so learn more about each one to choose the best option available.
Self Tanners
Self tanners are the least expensive and most widely used option available, and can be applied from the comfort of one's home. However, self tanners can be difficult to apply evenly, and often require help from a friend to reach areas of the back.
Spray Booths
Spray booths are available at many spray tan salons, and emit a steady spray that covers the entire body. These cover skin more uniformly than many self tanners, and are also faster. They cannot be performed at home, however, and are also more expensive than retail products.
Professional Spray Tans
The most expensive option available is the professional spray tan. These are applied manually by another person, and generally provide the best results. A professional spray tanner can even accent body shapes and musculature to enhance a person's natural appearance. However, these options can cost as much as 100 dollars per session, and generally do not last any longer than self tanners.
Colours
Spray tanning products are available in several different shades. Choose one that is realistic for the skin type it is used on. Avoid going for the darkest tan possible to ensure a skin remains attractive and natural-looking.
Apply Fake Spray Tans
There are several things users can do to enhance the appearance of their spray tans, including washing, exfoliating, and moisturising their skin. It is also important to wear appropriate clothing during a tan to achieve desirable tan lines and avoid potentially ruining clothing.
Bathe and Exfoliate
Washing skin is the first step in preparing for a spray tan. This helps the spray tan build evenly across the surface of the skin. Be sure to thoroughly wash off any make-up, lotion, or other substances that may be present.
Exfoliating should be done while bathing or showering. Use a loofah sponge or body brush to gently rub all dry skin off the body. It is also useful when applying exfoliators and scrubs. This process should not be overlooked, as it prepares skin for a smooth, even covering, and helps resist streaks. Exfoliating daily for at least three or four days prior to tanning can help eliminate noticeable imperfections in a spray tan.
Shave
Shaving is also important, as it helps prevent the spray from clumping or building up around hairs. Be aware that some spray tans may cause irritation on freshly shaven skin. If irritation occurs, try shaving at least three or four hours before being sprayed.
Moisturise Skin
Some areas on the body are dryer than others, and because spray tans appear darker when applied to dry skin, these areas can become noticeably different. To prevent this, try applying a moisturising lotion to areas like elbows, knees, and any other dry areas. Use a light moisturiser, as thick creams can prevent the spray tan from working effectively.
Dress Appropriately
Depending on the desires of the user and the location of the spray tan, it is probably best to be nude while applying a spray tan. If a tan line is desired, be sure to wear dark, preferably black swimwear. It may even be worth purchasing a swimsuit or two that are used only for spray tanning. Also, be sure to pull hair back and out of the way once the spray is ready to be applied. The tanner should be able to easily reach all areas of the neck and face.
Apply in a Dry Room
For best results, spray tans should be applied in a dry room. Never use sprays in a humid bathroom, or immediately after taking a shower, as the excess moisture can cause the spray to run and create streaks.
Apply in Coats
Heavy coats of spray tan increase the likelihood of dark spots, streaks, and other complications. To avoid this, work lightly. Allow each layer to dry, and apply another only if the first is not dark enough. This helps ensure an even, natural-looking tan. If possible, ask a friend to help.
Wash Hands or Wear Gloves
If a self tanner is being applied, be sure to wash hands after application. This helps keep hands from appearing darker than the rest of the body. Latex or vinyl gloves can also be worn. Always apply a self spray tanner to hands last, after they have dried, to keep them in balance with the rest of the body.
Read Product Reviews
Dozens of self spray tanners are available on the market, and most cities and towns have salons that perform spray tanning. To help ensure a positive experience, take the time to research products and services before making a purchase. Many websites are devoted to beauty tips and products, and these often have information about spray tans. It is also possible to see customer ratings of self tanning sprays on shopping sites. In some cases, dozens of ratings and reviews can be found for a single product.
How to Buy Fake Tan Sprays on eBay
Fake spray tans can be purchased from sellers on eBay. There are two easy ways to navigate the eBay website, including keywords and category links. Both can be found on the home page, and can also be used to narrow searches. In many cases, a combination of keywords and category links can provide the best search results. For example, to begin shopping for fake spray tans, type "fake spray tan" into the search field on the home page. A list of category links are shown on the search results page. These can be used to shop by brand, price range, and other details. You may also add new keywords at any time to continue refining the search.
Examine listings by clicking on the name or image of an item in search results. In a full listing, you can find details about the product provided by the seller or manufacturer. Compare this information with all available photographs to be clear on the specific item being sold. Note the price and shipping charges, and verify the seller's accepted payment methods. Contact the seller for more information or images.
Before committing to a purchase, take the time to research eBay users. Item listings show a seller's positive feedback rating and number of completed transactions. This information can be used to quickly ascertain the user's experience and reliability. For more information, click on the seller's name. In full profiles, you can find comments left by previous buyers, as well as average ratings based on aspects of the seller's performance like communication, shipping speeds, and accuracy of item descriptions.
Conclusion
Spray tans are one of the most popular types of tanning in the UK. They are safer than sun tanning and tanning beds, and retail products are also available to help users achieve a tan from the comfort of their home. Begin by deciding between professional spray tans, spray booths, and self tanning sprays. Buyers should also choose an appropriate shade to ensure a natural look.
Once a type of spray tan is selected, it is important to prepare. Shower or bathe and exfoliate the skin using scrubs and a loofah or brush. Apply moisturisers to dry areas like elbows and knees, and dress appropriately. Apply the spray in a dry room, and be sure to let the fake tan dry completely before putting on clothes or sitting on furniture.
Spray tan products are available from cosmetics and beauty product retailers, as well as department stores. eBay and other online marketplaces have a high number of listings for spray fake tans, and can be used to quickly compare prices between multiple sellers. When possible, look for reviews and customer ratings on a spray tanner. With the proper products and preparation, a spray tan can help users look great all year long.