First You will need the Network Access Disc and Network Adaptor !!
PlayStation 2 Network Adaptors are sometimes available on eBay and you will need your Original Network Adaptor Disc that came with your Network Adaptor when you bought it !
This is a quick Guide of how to get the Netscape Navigator 4 Internet Browser on your PlayStation 2
Whilst the Central Station Network Adaptor disc is in your machine, (pictures for your Reference) "my own pictures !"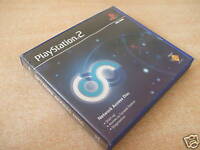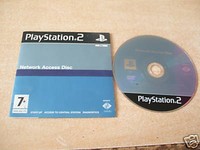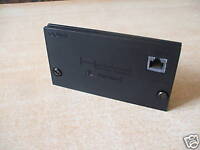 Please Read this Entire Guide before beginning as it contains button configuration !
Also I am Under the Impression that Sony Doesn't want anyone to be able to do this!
I guess it is something they didn't want you to know about OR actually be able to do !
I'm afraid that i cant guarantee that this method or any of these Instructions will still work
as it was a method I learnt years ago from a Chap I met on the PS2 game SSX 3
He explained how this is done, and this is the best way I can re-write my old notes that I've kept Scribbled down in the disc box for quite a few years.
I have written this as a step by step Guide of which thing to select on the Network Access Disc Menu,
So Start with making sure your PlayStation 2 is connected to the Internet via the Network Adaptor and Ethernet cable Modem etc. insert your Network Access Disc
Then move the left analogue stick left to - Get Connected -
then make the following selections.
Go to :-
Get Connected, Advanced Options, Configure External Device, Network Device, Do you want to save (either Yes or NO doesn't mater)
Enter the IP Address (as follows) 217 12 3 11, do this by pressing X to highlight the box then moving the left analogue stick to move up and down through the numbers or a USB keyboard to key in the numbers, move right to highlight each box, press X when finished
A USB Keyboard will also come in Handy whilst browsing ! (not sure if it would support a USB Mouse though)
then press Submit......
"(Says Connecting)"
Cursor/Arrow then appears on a blank screen "moves with analogue Stick"
Use the Analogue stick (or mouse if it works) to navigate and select the search bar etc. by pressing X on the search bar
Yahoo.com appears with a Search Bar, if not Yahoo in a foreign language website appears so redirect yourself using the search bar to MSN or Google Home Page etc. you should be able to recognise the search bar in that Yahoo Page even if it is in a foreign language
"and off you go" type in what you want to look at
(press L1 for a virtual Keyboard, if you do not have a USB Keyboard connected)
Whilst you are looking at the Web Pages, you move the page around with the left analogue stick
(press R1 to bring up the Menu, press X to select)
Please note that this system of viewing the Internet is a very old method and is very slow... so you will have to be patient throughout the whole process, and also it will not let you download ANYTHING or use Flash Player or Adobe or Advertisements or anything like that certainly not things like YouTube
It is just for viewing pictures and script so is only suitable for pages like eBay, Face Book or Auto Trader, "pages like that"
because those Websites just contain writing and pictures and many Web pages will not display correctly or display all of their information
Please also note that it may not be a secure Web Browser for entering PASSWORDS, though I believe the PlayStation 2 has some sort of secure firewall installed seeing as it uses the Internet for On Line game play
In fact it is very similar to the PSP's Web Browser if you have used that before
This guide has been written for use with the original large PS2 with a separate Network Adaptor added to it
I have never tried to get it to work on the newer slim model of the PS2
I hope that you have found this Guide useful "(if it still works!!!)"
And don't forget to Rate it !!
Thanks
Any questions to:- thestu92
Please DO NOT copy this and post it on the net anywhere as I have written this myself !