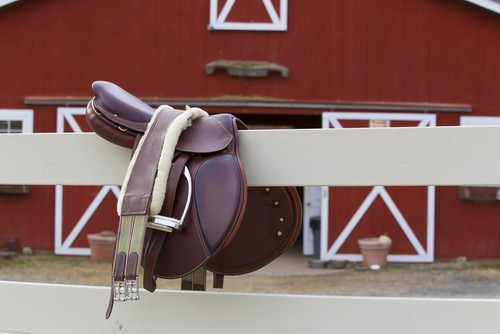 There are a number of costs involved with riding horses. You may own your own horse in a stable or you may go to a riding school. Whatever your circumstances it is worth considering what you are riding on in order to maintain a level of comfort while riding. If you are looking for something solid and hard wearing but also affordable then it is worth considering a used leather saddle. Knowing how to buy a used vintage leather saddle on eBay will allow you to get top quality at an affordable price.
Vintage
You may have heard the term vintage before and not be entirely sure what it means. The broad definition is something that is less than a hundred years old. Anything older than a hundred years old is generally classified as an antique.
Confusingly the term vintage can also be used to describe the look or style of an item as well. This is where an item is made to look an item from an earlier era. This is not to be confused with shabby chic in which an item is made to look worn and older.
If you are concerned about this it is recommended that you contact a seller directly in order to clarify the age of the item so you can ascertain its quality in the context of the amount it costs.
Vintage style items can still be quality especially if they are made from a suitable material. However a seller may not necessarily be aware of this distinction so it is appropriate to ask them for more information.
| Style | Definition |
| --- | --- |
| Antique | Item is over a hundred years old |
| Vintage | Item is less than a hundred years old |
| Vintage style | The item has been produced to evoke an older vintage style |
| Shabby chic | An item has been made with a deliberate worn down effect |
Leather
You may be wondering why leather is a suitable material for a horse saddle. Leather is often a popular choice for horse riders. One of the main reasons that is often used is because if someone takes care of their leather horse saddle it ought to remain in a usable condition for years to come.
Another reason is that in terms of look and feel a lot of riders prefer leather to a synthetic equivalent. On eBay it is worth closely looking at the pictures that accompany product descriptions in order to find a suitable one for your requirements and your personal style preference.
In order to maintain a usable condition leather saddles need to be continually looked after. There are various things you need to check before you make your purchase.
Look at the photos to see if it looks clean. Leather that has been cleaned on a regular basis is more likely to be in a usable condition. When you purchase a saddle make sure you keep them clean as well in order to ensure that they remain ready for riding.
A saddle must not look wet. If a leather saddle gets wet then it is likely to get damaged. There are alternative synthetic materials that you can get wet but these are not likely to be as hard wearing as genuine leather.
Temperature is also important. You must not leave a saddle in conditions that are too hot or the leather will crack. Fortunately with conditioner it can be possible to reverse this dryness to some extent.
Different types of saddle
It is worth remembering that there are various events and disciplines involved with horse riding. As with bicycles or cars there are different types of saddle to suit these various disciplines.
The jumping saddle is designed to offer support for horses that need to do a lot of jumps. These offer more support around the knees and have been designed to allow riders to maintain a natural jumping position.
The dressage saddle is made with both rider and horse in mind. Given that dressage requires a rider to be in close communication with their horse there is less padding than a jumping saddle or standard riding saddle in order to emphasise this and maintain a closer connection.
A general purpose saddle is a compromise between both these styles of saddle and is appropriate for a wide range of riding disciplines.
Treed or treeless
One thing you ought to ask a seller on eBay is if the saddle is treed or treeless. A tree is a bit of wood or fibreglass that is positioned down the middle of a saddle and it is this that makes a saddle rigid. A treeless saddle has additional padding and some riders believe that this provides additional comfort to the horse around the spine. However others maintain that it is the rigidity of the tree that is most appropriate for the horse.
It is also an issue of personal preference. Some people prefer a rigid saddle while others desire more flexibility. If you are unsure of this you may wish to consider going to a riding school and testing different types of saddle to see what you personally prefer before looking at the various options available on eBay.
You need to check the condition of the tree before you purchase as this can be expensive to repair and replace.
Checking the saddle
When looking for used vintage leather saddles on eBay the simplest thing to do is look at the sporting goods category and specifically search for the item you want. Additional details such as whether you want a treed or treeless saddle or whether you specifically require it for dressage or jumping can also narrow down the options and allow you to create a shortlist of items that you want.
Product specifications also allow you to compare the size of the saddle to the horse that you own or ride regularly. While you may not own your own horse if you go to a riding school on a regular basis you may wish to consider having your own saddle in order to provide comfort for both yourself and the horse.
It is also worth remembering that vintage is also a style choice. In some respects the look of a vintage saddle is equally important as the feel. Remember to look for profiles with a number of pictures from a number of angles in order to ensure that they are what you're looking for. If you want to know more about a product you may wish to consider contacting the seller to see if they have additional pictures that you can compare.
After this it then becomes a matter of deciding what type of items you wish to bid for. In some cases a seller may include a buy it now option so that you can purchase straight away. In both instances it is still advisable to talk to the sellers in order to get more information on the products before you purchase them.
There are numerous things you need to consider asking before purchasing a saddle or placing a bid on one.
Make sure you have measured your horse in order to get a saddle that will fit.
The product specification ought to indicate if the saddle is designed for a specialist purpose such as jumping or dressage.
Ask if it is in the English or American style as these are both significantly different in terms of how the seat is positioned and its rigidity.
The pictures also ought to provide a close up so you can check the condition. The stitching should be in place and the billets that hold the saddle together should not be pulled apart.
The panels at the side of the saddle can break down over time. However it is worth remembering that these can be replaced and restuffed so this may factor into your thinking when comparing prices as you consider how much these additional repair jobs will cost.
Ask the seller about how to maintain the condition of the saddle. If they are knowledgeable then they should be able to offer advice for you. Equally this is also the sign of a reputable seller as they will be well informed about their product and willing to discuss it with you.
Check the shipping costs and return policy. A product specification should clearly indicate how much shipping costs in addition to the purchase price or if it is included. Furthermore they also ought to inform you if they have a return policy and if so how long you have to return an item should it prove to be faulty.
Conclusion
In simple terms the appropriate way to know how to buy a used vintage leather saddle on eBay is to be aware of how the seller defines vintage, the quality of the material and whether it is suitable for your particular riding requirements. Comparing the items available on eBay and asking appropriate questions will help you get the ideal saddle at an affordable price. It is also worth checking out any accessories that you might need at the same time, to ensure you have everything that you need for your rides.