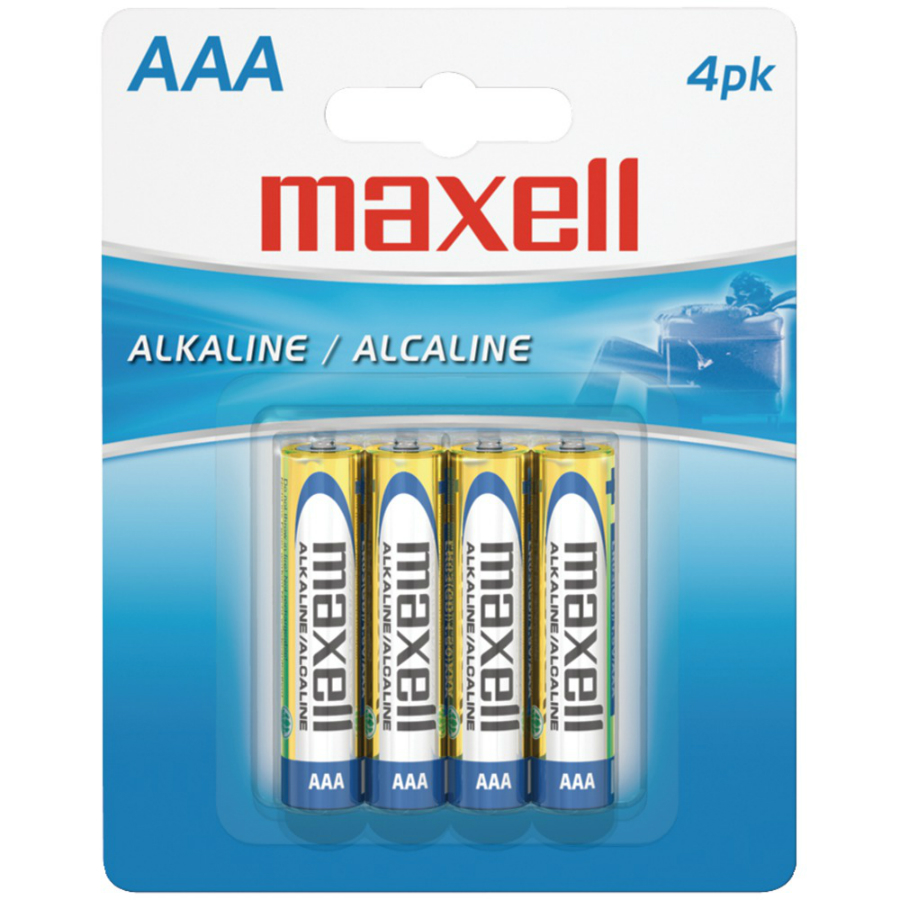 Batteries are an easy, convenient way to power MP3 players, remote controls, digital cameras, and many more electronics. AAA batteries are becoming increasingly popular. Although AA batteries used to be the size to use for small handheld electronics, the trend of manufacturing smaller electronics make AAA batteries more useful. AAA batteries come in either disposable or rechargeable options.
While there is an initial investment for purchasing rechargeable batteries, the money saved in the long run and the production of less waste make these batteries both worth the price and eco-friendly. Although all AAA batteries are the same size and typically deliver between 1.2 and 1.5 volts of power, there are several different types, each with their advantages and disadvantages. Customers have many options available when it comes to selecting AAA batteries and should consider the pros and cons of each to find the best suited to their needs.
Disposable AAA Batteries
Before the invention of rechargeable batteries, disposables were the only option available. AAA disposable batteries are typically the less expensive option, but once they have been used, they must be discarded and replaced. Disposable batteries are sufficient for people who need batteries intermittently or for low drain electronics, such as remote controls. In the end for such people, buying a charger and rechargeable batteries are not worth the money. Alkaline, lithium, and carbon zinc are the three most widely used types of disposable batteries. Shoppers should choose a battery based on the amount of power provided. Carbon zinc is the weakest of the disposable batteries, followed by alkaline. Lithium ones are the most powerful.
Rechargeable AAA Batteries
Rechargeable batteries, also called storage batteries or accumulators, have the ability to be reused even after they have been drained. Instead of tossing them out, users place them in a charging station for several hours to give the batteries new life. Because they can be reused, rechargeable AAA batteries are more expensive than disposables, but the money spent upfront is made up after several uses. Charging units for batteries can be sold with a set of batteries or by themselves. If purchasing a charging station, shoppers should make sure it functions with the right type of battery.
Eco-conscious shoppers prefer rechargeables over disposables because there is less to throw out as trash. Rechargeable AAA batteries are ideal for MP3 players, remote controls, and digital cameras. Because not all AAA batteries deliver the same amount of power, customers should research which batteries provide the most and least amount of power. There are several types of rechargeables available on the market: nickel cadmium, nickel metal hydride, lithium ion, nickel zinc, and alkaline.
Types of AAA Batteries
People needing AAA batteries have more options to choose from than just disposable or rechargeable. With so many types of AAA batteries, shoppers should know the advantages and disadvantages of each type and buy batteries based on the frequency of use and types of electronics used.
Some alkaline batteries are rechargeable, and others can be thrown away. Carbon zinc has a reputation for being the least expensive type of AAA battery; however, they are also the weakest. Lithium and lithium ion are powerful AAA batteries and can last up to seven times longer than alkalines. Nickel cadmium is not the most eco-friendly option, nor are they particularly efficient. Nickel metal hydride is a favoured rechargeable, and nickel zinc batteries must be bought with care. The sections below should help battery buyers become acquainted with the various types of batteries and help them make more informed decisions about future purchases.
Alkaline
Alkaline batteries have been the tried and true battery, powering small electronic devices since the 1960s. They have a long shelf life, function in a wide range of temperatures, are cheap, and work best with low drain devices. Alkaline AAA batteries are available in both disposable and rechargeable options, with Energizer, Duracell, and Rayovac as three popular brands. Disposable AAA batteries are offered in standard and high drain models. High drain batteries are often a bit more expensive and can last up to two and a half times longer than their standard counterparts. Depending on the brand, alkaline rechargeables can be reused between 25 and 100 times before being discarded. One disadvantage of having alkaline batteries is they can potentially leak toxic battery acid.
Carbon Zinc
Carbon zinc batteries may not be as widely used as alkaline batteries, but they are often the disposable no-name brand that comes with remote controls and alarm clocks. They are weak and should only be used in conjunction with low drain devices. Carbon zinc batteries work poorly with all high drain devices and should be avoided if the user does not want to deal with constantly changing out batteries. One noteworthy characteristic, it is the only type of battery that can work at full capacity in below freezing temperatures.
Lithium
Lithium batteries first debuted in the 1990s, and since then, they have outperformed traditional alkalines when it comes to performance and longevity. An all-around solid choice for powering high drain electronics, this disposable battery can even function well in freezing temperatures. Lithium AAA batteries can last up to seven years in low drain devices, making them the ideal candidate for smoke detectors. However, some eco-conscious individuals prefer not to use lithiums because once they are discarded, the substances inside toxins can damage the environment.
Lithium Ion
Lithium ion batteries, often called LIBs or Li-ions, are one of the best kept secret amongst electronics savvy people. They have all the properties of a lithium battery, such as longer life and optimum performance with high drain electronics, and they are rechargeable. LIBs are well worth the investment for high drain electronics, and because they are so powerful, they require a specialised charging station.
Nickel Cadmium
There is a lot of controversy surrounding the use of the rechargeable nickel cadmium battery. While some people find these batteries a waste of money, others believe they may be worth it for low drain electronics since they can be recharged hundreds of times before being thrown away. Another reason people tend not to use nickel cadmium batteries is because they have a reputation for being extremely toxic.
Nickel Metal Hydride
Maha and Lenmar are pioneers in the nickel metal hydride battery market. This rechargeable AAA battery is renowned for being eco-friendly and all-around high quality batteries. They work well in conjunction with digital cameras and other types of frequently used electronics because they can be recharged hundreds of times. People can even slow the batteries' self-discharge rate by keeping them in the freezer or refrigerator. Like most rechargeable batteries, there is a higher upfront cost, but considering that it is like purchasing hundreds of batteries at once, they are a sound investment for those who find themselves constantly needing batteries.
Nickel Zinc
Nickel zinc AAA batteries are another rechargeable option. What sets them apart from the rest is that instead of delivering between 1.2 and 1.5 volts, they can up to deliver 1.6, and 1.85 when first used. While this is good news for people who have high drain electronics, nickel zinc batteries should not be used with low drain devices because the extra voltage could fry them.
Choosing AAA Batteries Based on Voltage
AAA batteries come in a universal size, but that does not mean they all deliver the same amount of power. The chart below gives the average voltage that each type of battery delivers.
| Battery | Volts |
| --- | --- |
| Alkaline | 1.5 |
| Carbon Zinc | 1.2 |
| Lithium | 1.5-1.8 |
| Lithium Ion | 1.5-1.8 |
| Nickel Cadmium | 1.2 |
| Nickel Metal Hydride | 1.2 |
| Nickel Zinc | 1.65-1.85 |
Low drain devices work best with AAA batteries that deliver lower voltage. Similarly, high drain devices work best with AAAs that have higher voltage, such as lithiums and nickel metal hydrides. Buying AAA batteries based on voltage optimises the use of the electronics.
How to Buy AAA Batteries on eBay
Finding the right AAA batteries for your electronics is easy if you know which ones you want to power and the type needed. Simply type in "AAA batteries" to see eBay's large selection. Include keywords in your search if you have a specific type of battery in mind. For example, "rechargeable AAA batteries" is a good search, and "rechargeable alkaline AAA batteries" is even better. For more help optimising results, have a look at eBay's Search Tips page.
Customise your search results by what matters most to you. Arrange items from highest to lowest price to see eBay's best deals, and eBay has a setting to add in shipping to ensure you are getting the absolute lowest price. If buying AAA batteries in bulk or if you want rechargeables with a charging station, sort from highest to lowest price. Customers can also sort AAA batteries by distance from seller, new and used condition, and time left in auction.
Once you have found a listing that suits your budget and AAA battery needs, remember to read the entire listing to get a handle on what you will be bidding on or buying. Find out if the seller offers a money back guarantee for any items that arrive damaged or not in working condition. Buyers should also take a minute to review the seller's eBay history to determine how past business transactions were completed. Look at the approval rating and feedback from previous buyers, and only buy from sellers with a high rating and positive comments.
Conclusion
As handheld electronics become smaller and are designed to be more energy efficient, AAA batteries are more frequently used. Disposable batteries may be cheaper and easier to come by, but rechargeable batteries are better in the long run. Regular alkaline batteries are inexpensive and sufficient for low-drain devices, and there are also rechargeable options available. Customers who want a disposable battery should consider purchasing lithium AAA batteries. All buyers should shy away from nickel cadmium batteries since they are both toxic and relatively weak. Rechargeable nickel zinc should only be used in electronics that require some extra voltage; low voltage gadgets, such as remote controls, may be overpowered and short out. Instead, remote controls work well with carbon zinc AAAs. No matter what type of AAA batteries shoppers are searching for, they can find a wide variety at convenience stores, websites like eBay, and wherever small electronics are sold. Knowing the details of each type of battery ensures a smart purchase.