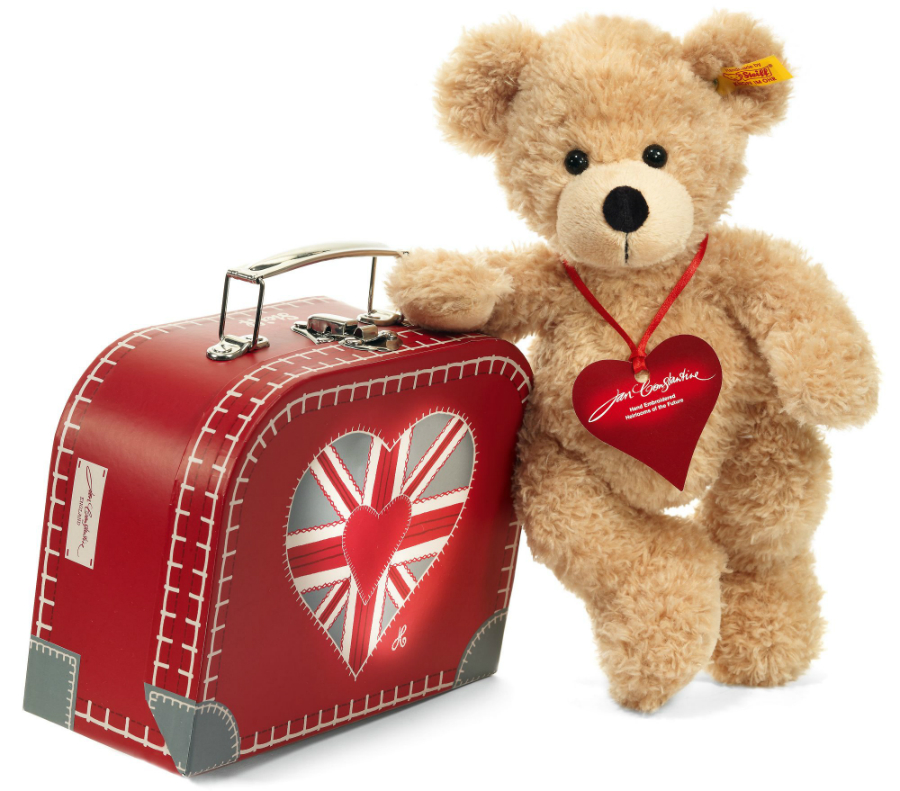 From clothes to costumes, stands to backpacks; the amount of accessories you can use to decorate, display and care for your Steiff bear are incredible. With a range of brands, types of items and care advice, this guide will assist you, the buyer, in identifying what items there are available, what is needed and how to buy on eBay, the site with the biggest market around.
Accessories for Steiff Bears
Steiff bears come in a huge range of sizes, from modern limited editions to antique collectables to machine washable baby-friendly bears. With this in mind, buying accessories can become a complicated business, with various sizes, multiple-part outfits, and bear-specific decorations available. The buyer should consider:
Price – with the amount of items available, costs can add up quickly particularly with high-quality Steiff items. Setting a budget beforehand is an ideal way to search for items, with search results able to be tailored to suit the buyer.
Bear Type – is the bear for display or for play? Deciding beforehand can guide the search for accessories as some are more for display purposes, for example delicate or pale coloured clothing.
Size – Steiff bears range in size from 8'' to 20'' and above, and some accessories, particularly clothing, are designed for a particular size.
Brand – with a range of brands available, the buyer must decide if they would like to mix and match items or if Steiff-only accessories are what they would want. The buyer should bear in mind that Steiff accessories tend to be more costly than other brands, because of the high quality of the items.
With these points in mind, the buyer will be able to find a whole range of accessories to suit every kind of design theme or child's imagination. Accessories come in various types, including, but not limited to:
Clothes – clothing comes in a wide variety including hats, shoes and small backpacks.
Outfits – outfits ranging from 2-piece matching top and bottoms to full costumes.
Bows – bows are usually ribbon or elastic and tied around the ear, and often come with a set.
Furniture – wooden chairs, deckchairs, beds.
The eBay market is wide and finding outfits, small accessories and furniture is easy under the Bears and Accessories sections of eBay. The buyer can choose to search the search options to search through the many items and see what catches their eye, or they may wish to search for a specific item – in which case the search bar is there and will even provide suggestions on popular items.
However there are also accessories for buyers to use with bears, for protection or display purposes:
Carry Case – usually large enough to fit a 15'' bear at least.
Traveling Box – particularly associated with Steiff, boxes are suitcases associated with each bear. Checking against Steiff's online catalogue to find the name of the Steiff bear can assist in the search for relevant items.
Storage Bag – a drawstring bag used to keep bears safe from moths when not on display.
Stands – used to display bears, these stands usually have a ring for the neck of the bear to stand it upright.
Personalised Bear Accessories
Popular accessory items on eBay are actually services offering personalised bear accessories – most often T-shirts and hoodies. Buyers can purchase items and include a message in the Notes to Seller section or using the eBay messaging service saying what they would like to be written on the item. The letters are usually iron-on or printed.
Personalised accessories are a wonderful way to decorate a bear, though this service naturally costs more than normal clothing items due to the labour involved. Personalised accessories come in a range of prices, with various different printing styles, colours and level of service so it is up to the buyer to decide if the price is worth the value of service.
When deciding to engage a service, it is always a good idea for the buyer to check the seller reviews either through the listing itself or the seller's homepage to get a general opinion and consensus about the service. Personalised clothing is also offered in different sizes so if it is needed for a particular bear the buyer should check the listing or ask the seller to make sure that the clothing will fit the bear they have in mind.
Bear Accessory Brands
Bears come in a huge range of brands, so naturally the accessory brands are just as vast. The main brand on eBay is Build a Bear, though that is not to say that's all there is. Bear Factory also has a presence of eBay, and both brands produce anything from traditional dresses and costumes to pop culture referencing hoodies and T-shirts. Bear accessory brands also frequently produce items belonging to other brands, for example Disney character costumes are available through Build a Bear.
Steiff produces its own accessories for bears, and they are usually associated with a particular bear though it is up to the buyer whether they want to get matching accessories or if they are happy to accessorize the bear as they like. If looking for Steiff items it is important to check the authenticity of the items. The buyer should check for a Steiff tag and the famous gold button on photographs, or ask the seller to check and provide evidence. Steiff also keeps online catalogues of its bears and it is easy to verify the items being sold are Steiff products.
Choosing brands for your bear is entirely a matter of personal taste, whether wishing to stick to traditional accessories or electing for a more modern take, there is something for everyone in every price bracket.
Mixed Lots of Bear Accessories
A great way to get a whole range of accessories and outfits to pick from is to look for mixed lots or bundles of items on eBay. With these many items are available as a bundle for far less than they would be individually at a traditional brick and mortar store, and this is a quick way to build up a collection of items.
When looking at mixed lots on eBay, the buyer should check the photographs and description to make sure they know what is being sold, and if in any doubt they should ask the seller to provide a list of the items on sale.
Buying Steiff Bear Accessories on eBay
eBay has one of the widest range of accessories for bears available, with something to suit every taste and with competitive pricing and an online list that can be tailored to suit every buyer. Accessories can be costly, particularly those that use higher quality material or those items that are hand-made or require a detailed and delicate manufacturing process, but on eBay any kind of item can be found at an affordable price. When searching, the buyer should consider:
Price – if the buyer has decided on a maximum or minimum they would like to spend, the online search can be adjusted to reflect this, eliminating the need to search through items out of budget range. There are items available for both Auction and Buy It Now purchase, giving the buyer full flexibility with their purchases.
Size – most sellers will include the size of Steiff bear the accessory is intended for – this is particularly important in the case of clothing – but if uncertain the buyer should message the seller requesting a measurement.
Condition – with items available both New and Used, the buyer should decide whether they would like entirely new items or used or even vintage items. New items will be likely more costly than used ones, though older items may be subject to marks or tears.
Brand – if branding is an important aspect of buying the accessories, then searches can be tailored by brand either in the search bar or in search options. Prices will vary by brand.
Local Sellers – looking for local sellers is the best way to keep costs down, as buying locally will cut shipping costs as well as shipping times.
For more guidance on searching eBay please go to the Search Tips page, with detailed advice on search options, search results and shortcuts to finding exactly what is needed on eBay. If the buyer is unsure about any items advertised, or they would like more details then they should always remember to Ask the Seller any questions they may have.
Conclusion
Whether buying accessories to decorate a child's toy or a precious collectable, the extensive range available both online and in-store can be a complicated and time-consuming task. Choosing eBay to search for the ideal item, whether it be clothing, furniture or storage, is a great way to find exactly what is needed. With the aid of this guide the buyer should be able to locate the perfect item at a price that suits them.
When using eBay, the buyer should keep in mind the added security benefits of using PayPal, the preferred method of payment on eBay – with eBay Buyer Protection as well as a quick and reliable way to pay.