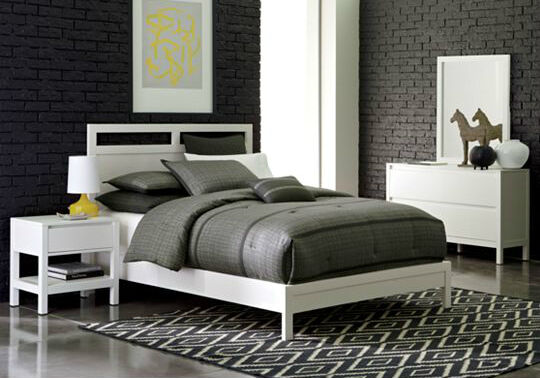 For most people, it is important to make sure that their home is a pleasant environment, filled with attractive furniture and features that will make it comfortable and inviting. This is particularly true of the bedroom, where most people spend a great deal of their time, mainly just for sleeping, but also for other forms of rest and relaxation. Many people take pride in the design of their bedroom, even though guests may not ever see much of it. A bedroom is a sanctuary within the home, hopefully a place of peace. It is for these reasons that a bedroom should be well decorated, with nice, aesthetically pleasing furniture.
Of course, this may be an expensive proposition and many people may not be able to simply walk into a furniture store, and walk out with a full set of pricy bedroom furniture. There are alternatives, such as shopping on eBay, that can allow users to find affordable bedroom furniture as long as they keep a few tips in mind. These tips include things like knowing how much furniture will fit inside a bedroom, understanding what materials will complement an individual's style without costing too much, and finding ways to create a look, even without a specially designed set of furniture.
Bedroom Sets vs. Individual Pieces of Furniture
While some bedroom sets can be quite expensive and may contain a number of items a buyer may consider unnecessary, there are many sizes of bedroom sets available in many variations. Some may be fairly basic and include only a bed, a end table or two, and a dresser. Others may also include a multiple wardrobes, mirrors, and vanities. A small bedroom set can be quite affordable and can reduce the headache of trying to find individual pieces of furniture that go together. At the same time, a buyer taking the time to gather together an eclectic collection of items together into a cohesive whole, may find that it is less expensive than any bedroom set and rewarding as well. There is no clear winner in the debate between bedroom sets and individual pieces of furniture, but each method can be used to cut costs if they are approached properly.
Understand Space Limitations
Not all bedrooms are created equally. Some may be large enough to contain a complete set of bedroom furniture, including a large wardrobe, as well as a sitting area complete with couches. Others may be small, and it may be a trial simply to fit a large bed inside of the room. The first thing that anyone may want to do before making any furniture purchasing decisions is to measure the room itself. This may determine what kind of furniture may fit, and might even eliminate some pieces of furniture thus reducing costs. This can inspire buyers to find alternatives to traditional furniture that are less costly and take up less floor space in a bedroom.
Beds
The bed is the centrepiece of the bedroom, and will most likely take up the most space. A bed can also be quite costly, especially if it is made from expensive materials. Headboards and footboards increase the size of a bed, and can be easily eliminated in the name of saving space. It is helpful to understand common bed sizes in order to determine what will and will not fit in a bedroom.
| Bed Size | Bed Measurements Length x Width (cm) |
| --- | --- |
| Single | 190 x 90 |
| Small Double | 190 x 120 |
| Double | 190 x 135 |
| King | 200 x 150 |
| Super King | 200 x 180 |
It is unlikely that a bed would be eliminated entirely from a list of bedroom furniture, but there are alternatives to the traditional bed that may enable buyers to save money and space at the same time.
Futons
Depending on what or whom a bedroom is intended for, a futon may be a viable option as a bed alternative. Not only can a futon serve as both a bed and a couch, it saves space in the process. A futon does not require a traditional mattress, so the buyer is not required to purchase an expensive mattress and box spring combination. Futons can also be made from a wood, or other materials, that can easily match other bedroom furniture.
Day Beds/Trundle Beds
A day bed, combined with a trundle bed, can be a very effective way to allow two people to sleep in a room without taking up a lot of space. Day beds and trundle beds, also have the added benefit of not requiring a box spring mattress, which also saves money. Of course, this is generally not going to be an option for a couple, but for a child's room or guest room, it may be a wonderful fit.
Dressers/Clothing Storage
Dressers, and other pieces of furniture used to store clothing, are a necessary part of any bedroom, but space may cause them to be awkward and difficult to use. While a large closet is an obvious solution to this problem, there are other pieces of furniture that can perform the same function while taking up much less space.
Nightstands
A nightstand is a great place to put a book or a glass of water, making it is easily accessible to a person in bed. Nightstands, however, can also double as a place to store clothing. Many of them have a drawer or set of drawers that, while not large, are ideal for certain clothing items such as socks or underwear. In many cases, simply removing one drawer's worth of clothing may allow users to buy a smaller and more affordable dresser.
Lingerie Chests
A lingerie chest is a tall, narrow chest of drawers, that is a traditional place to store lingerie. Of course, anyone can use a lingerie chest for any kind of clothing, regardless of gender or how large their lingerie collection might be. A lingerie chest is a useful alternative to a large dresser because they take up much less space and in many cases are quite affordable. They do not usually come as part of a bedroom set, but are usually made of wood that can easily match well with other furniture.
Mirrors
Many dressers come with a mirror attached; this is also generally true of a vanity. While having a mirror is very desirable in a bedroom, it does not need to be attached to a dresser, as this can drive up costs and make moving and shipping any furniture very difficult. A solution is to purchase a smaller, more affordable dresser along with a wall mirror. Together, these two items can serve the same purpose as something far more expensive.
Understand Bedroom Furniture Materials
For the most part, bedroom furniture is typically made from wood. This is because wood is easy to work with, and can be easy to move. Items made from wood, are also easy to match to other furniture. In some cases, furniture is made from faux wood that has the appearance of wood without the higher price. Faux wood, is often made from composite materials that are relatively inexpensive. Wood is not, however, the only thing that bedroom furniture can be made from. Along with faux wood, alternatives include metal, plastic, and glass, which may all be less expensive than wooden furniture although this is not always the case.
Plastic
Plastic may be quite stylish, especially for a nightstand, dresser, or vanity, while being far less expensive than a wooden equivalent. Plastic furniture may not be as durable as something made from wood, and might not hold up as well in the long run, but in terms of immediate price consideration is a solid choice. Plastic may also be useful in a child's room, where furniture is more likely to be damaged, and replacements pieces may be required more frequently.
Metal
Metal bedroom furniture is not as common as it once was, being that beds were often made with a metal frame. They still exist, however, and many modern beds and other furniture such as end tables, incorporate metal and glass in very elegant ways. Metal is very durable and can be used to create long lasting furniture. Metal can be easily painted in order to match it to other furniture, making it highly versatile.
Glass
Occasionally, bedroom furniture may be made from glass, especially mirrored glass. This can create, delicate, lovely furniture, and is mostly found in end tables and dressers rather than beds. Such precise work is usually more expensive, so the budget-minded furniture buyer may look elsewhere for a combination of metal and glass, or wood.
Create a Unique Style
While it is important to have bedroom furniture that looks like a cohesive whole, this does not mean that all of the furniture has to match exactly. Beds, for example, are usually covered in a comforter or blanket, and in many cases, a number of pillows. These pillows can be used to obscure a headboard that might not perfectly match other furniture. Likewise, it may be easier and less expensive, to match other furniture and bedroom decor to the bed comforter rather than to the bed itself. This is particularly true in cases where the bed is a neutral colour. Most bedroom furniture can be dealt with in a similar manner, meaning that various items can look good together in a bedroom with the help of complementing decor.
Buying Affordable Bedroom Furniture on eBay
Bedroom furniture ,in many shapes and styles, is readily available on eBay. Not only is there a wide selection of items available at any given time, there are also new items added on a daily basis. As a result, buyers can find new items as well as used ones in various conditions, allowing them to view a wide spectrum of bedroom furniture options. The term, "bedroom furniture" is very inclusive, but entering that term into the search bar on the eBay home page, will provide a number of items available for purchase. In order to find more specific items, additional keywords can be added, or the search itself can be done using the name of a particular piece of furniture such as "bed frame", or "lingerie chest". With a few careful searches, a buyer can find exactly what they are looking for in a short amount of time, saving energy and resources, as well as money.
Conclusion
Buying bedroom furniture can be a daunting and expensive process, so much so that many people may dismiss it altogether and make due with furniture of lesser quality. It is possible, however, to find and purchase, bedroom furniture that is not only attractive, but affordable as well. When buying bedroom furniture, it is important to determine what kind of space the furniture will fill. It can be frustrating to buy furniture only to discover that it will not fit properly into a bedroom. At the same time, it is helpful to examine what material the furniture is made from, as this can affect cost as well as style. Finally, buyers can use bedroom decor in creative and clever ways, to make certain that separate pieces of furniture work together in a pleasing way. Taking all of these factors into consideration, will allow buyers to make an informed purchase, transforming their bedrooms into a comfortable, wonderful place to be.