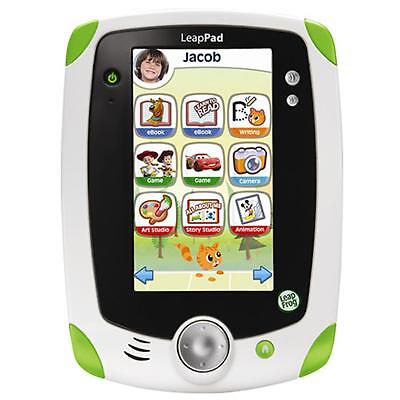 LeapFrog toys are a range of educational toys, electronic games and books which can help teach children from a number of different age ranges about a variety of subjects, which help children learn about different subjects in an entertaining way.
These toys can include interactive plush soft toy, touchscreen pads and electronic games consoles, and are sometimes themed with popular children's TV and film characters, and these are all available on eBay.
LeapFrog Product Types
There are a number of different Leapfrog learning platforms, which feature different characteristics and can be suitable for different age ranges. By comparing the features and suitability of a product with the needs of the child, the right LeapFrog product can be found.
Tag Reading System
Tag readers makes the use of the tag reading system, where a talking pen can read out words and letters on a tag reader book through the use of an infra-red camera. Tag readers and suitable books are primarily aimed at children learning to read.
A number of games can be played through the use of this system, and it can be used to teach both word recognition and full reading, offering a great deal of versatility.
A wide selection of tag reader books are available for use with the tag reading system, covering many different subjects and often featuring popular characters from television and film.
The tag reader is aimed at children aged 4 to 8 who are learning to read. Tag Junior offers a smaller sized talking pen and is aimed at children of 1 to 4 years old. This system is designed to get young children interested in reading, and reads a whole page when it is touched by the pen.
LeapPad
The LeapPad is a handheld tablet computer designed specifically for young children.
Different books and cartridge add-ons can be used with the LeapPad tablet, and can help children learn about subjects such as reading, writing, mathematics and other core skills.
Over the lifetime of the range, a number of different models of LeapPad have become available, offering a variety of different features, often including additional parts such as microphones.
LeapPad tablets are aimed at children aged 4 to 7, with some models available more suited for younger audiences.
These include products such as My First LeapPad, which was designed for pre-schoolers and featured books which opened upwards, and a school bus shaped design. The Little Touch LeapPad, meanwhile, bears a marked deviation from the design of other LeapPads. The Little Touch LeapPad has a touch screen which does not require the use of a stylus to operate, and a soft pad to make use more comfortable.
Like many of the LeapFrog toys, a wide range of cartridges which offer different games and other accessories are available for the different models of LeapPad.
LeapPad 2/LeapPad Explorer
The LeapPad 2 and LeapPad Explorer tablet computers mark a significant change in the LeapPad range of toys, and these systems offer a number of new features and additional capabilities than the older LeapPad systems.
Game cartridges, similar to those used with older LeapPads, are available for use with LeapPad2 and LeapPad Explorer tablets, and can offer a wide choice of games and activities. In addition, downloadable apps are also available which can be used with these tablets.
The LeapPad Explorer also features a built-in 1.2 megapixel camera, a 5" touch screen and 2 gigabytes of storage.
The LeapPad 2, released in 2012, features two 2.0 megapixel cameras on the front and back of the tablet, as well as a larger 4 gigabytes of built in storage and a longer battery life.
These tablets are suitable for children aged 3 to 9 years old.
Leapster
The Leapster is a handheld educational console for children, and offers a number of different features, and helps children to learn skills such as reading and mathematics, as well as, facts about history, art, animals and other subjects.
The Leapster features a directional pad and buttons for use in gameplay, as well as a touch screen and stylus which allows children to interact directly with the screen.
Games cartridges are available for use with the Leapster, while later models feature capabilities which allow the use of downloadable and online games.
Leapster games also include a 'hint' feature, which brings up audio or animated information to help the children during an activity.
Other models include the Leapster TV, a screen- less version which connects to a television for play. The Leapster 2 includes a USB port and an SD card slot, which add the ability to store data and download games.
The Leapster consoles are suitable for children aged 3 to 8 years.
Infant Toys
As well as educational computers, consoles and tablets, a selection of LeapFrog interactive toys are also available, and offer wide range of activities. These include:
The Peek a Shoe Talking Octopus is designed to help very young children develop motor skills, and includes ball-drop play along with educational counting and colour recognition games.
My Pal Scout is a customizable plush toy aimed at very young children, and can be programmed with different songs as well as the owners name and preferences.
Other toys for very young children include the Counting Pal, which helps with learning basic arithmetic, and the Learn and Groove activity stations which offer children a choice of music based activities.
Learning with LeapFrog Toys
Many different subjects can be covered with LeapFrog toys, computers and consoles, as well as with the books and cartridges that they can be used with. These can include basic skill such as reading and writing and mathematics, for which a huge range of toys and accessories are available. Leapfrog toys are also available which can help children learn to tell the time, as well as develop interest and learn about subjects such as science, geography, music and art.
In addition, a range of themed LeapFrog games, books and toys are available which are based upon the characters of children's television and film. Popular themes include books and games based upon Dora the Explorer, and Toy Story, and can help to encourage interest and make educational games more entertaining for the children.
LeapFrog Accessories
There are many accessories available for use with LeapFrog Toys, which can offer enhanced capabilities as well as additional activities and increased durability. Books featuring a wide range of characters and stories are available for use with the tag reading system, while game cartridges offering new games and activities can also be found.
Cases can also be useful, both for storing LeapFrog toys and protecting them from damage during any rough play. Headphones specifically designed for use with LeapFrog products are also available, and these are often designed with the young age of the user in mind. Replacement stylus pens can also be purchased, and are available for use with many of the LeapFrog electronic products.
How to Buy LeapFrog Toys on eBay
A wide range of LeapFrog toys, including consoles, tablets, tag readers and accessories, can be easily found on eBay. The full listing of available LeapFrog toys can be found in the Toys & Games category. LeapFrog toys can be found under LeapFrog & Leapster, in the Educational Toys section. Items can be arranged by categories such as price, condition, distance to seller, TV/Film character and type. The Auction and Buy it Now buying options are also available, offering flexibility in how LeapFrog toys and accessories can be bought.
Key information about a LeapFrog item, such as the type and model of a particular console or tablet, is generally prominently displayed in the item listing. Further information about an item can be accessed on the item page, along with information about the seller such as item reviews and feedback ratings. This helps to ensure a purchase can be made in confidence. It is also possible to ask the seller a question here.
If a particular LeapFrog toy is required, it may be easier and more effective to make use of the search function available at the top of every page. Searches can be made to return results from across the entire site, or from within specific categories. Further information on getting the most out of the search function can be found on the Search Tips page.
Conclusion
A huge range of LeapFrog toys are available, suitable for a wide range of different age ranges and needs. These can range from plush toys and activities aimed at toddlers and very young children, to the more complex LeapFrog LeapPads, which feature a range of games, activities and include online functionality.
LeapFrog toys are also available which can help children with a wide range of subjects, from learning the alphabet to wider subjects such as geography and history.
A wide variety of LeapFrog toys can be found on eBay to suit every taste and budget. eBay is one of the most recognisable and distinctive names in ecommerce and offers a safe and secure marketplace to purchase your LeapFrog toys.