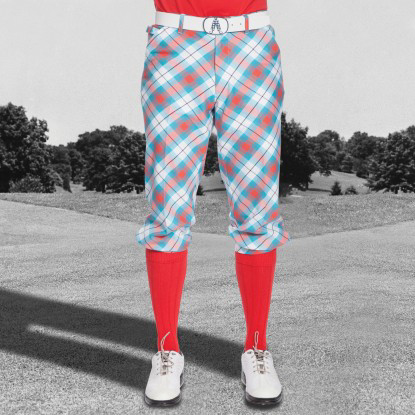 Golf is a sport that has traditionally been associated with richer people or people enjoying their retirement. However in recent years with younger champions there seems to be a wider range of people enjoying the sport. While it may appear to be a costly sport it does not have to be the case if you know where to get the right things. For example thanks to eBay it is possible to learn how to buy affordable mens golf clothes on eBay to suit you at a fraction of the price you would pay in the high street for quality goods.
Dress code
Different clubs and ranges will have different views on what constitutes acceptable clothing according to their own individual dress codes. With public courses they are more willing to accept a broader range of clothing but even then there may be certain restrictions such as ensuring that people do not play while shirtless in the summer. Therefore before you go to a club it is recommended you look at their guidelines before you purchase any clothes. This will help to avoid any embarrassment and to ensure that you can tee off without getting any odd looks.
There are often seasonally specific dress codes as well. Winter wear tends to be less formal for the simple fact that you need to protect yourself against the elements. You can wear tops such as fleeces and rain protective clothing during this time.
However it is generally felt more appropriate to wear clothing that has been specifically designed for playing golf. As well as fitting into a club dress code there are also issues of practicality and comfort, making sure that what you wear does not affect your swing. For example while wearing jeans may be frowned upon at some golf clubs there is also the practical problem that tighter trousers make it harder to get a consistent swing.
Checklist
Here are the following things that you should look out for when choosing golf clothes for men:
Shirts
The ideal shirts ought to be lightweight and breathable, especially during summer. Lycra is often added because it can stretch and this additional flexibility is said to help with the swing. Cotton and polyester fabric are also appropriate materials for lighter and more breathable shirts.
Trousers
In hot weather you need to consider how to keep your legs cool. Cotton is a useful fabric in this respect and ensures more breathability. As with the shirt a little extra flexibility is useful in order to help with the swing so you should consider lycra and other materials that can stretch when considering the golf trousers you want to purchase. Some also have sun protection built into the trousers for additional comfort in hotter climates.
Socks
Lightweight cotton socks are recommended to keep feet cool while you are playing golf. Specialist golf socks cover the foot and do not fold around the ankle. In winter time it is advisable to wear thicker socks.
Shoes
Some courses do not allow specialist golf shoes due to potential damage caused by the cleats. Fortunately you can buy golf shoes that have softer cleats that most courses will allow. Soft nylon is suitable for keeping your feet cool in the summertime while some golfers use hiking style boots in winter for increased traction on more slippery surfaces.
Hats and visors
You may have wondered why golfers often wear baseball caps or visors while on the golf course. The reason is simple and that is to cover your head while you are playing so that the sun does not get in your eyes and you can concentrate on your swing. Lightweight golf hats with string to hold them on while you are doing your swing are ideal as you do not need to worry about your hat falling off.
Some golfers buy less expensive visors because some may get damaged or dirty while out on the course. This means they can be easily replaced. Fortunately on eBay getting more affordable visors is relatively straight forward and if you can find someone who can ship them to you quickly you should not have to wait too long to get replacements.
Gloves
The most common material for gloves are what is known as calfskin. This is because the material is soft and can stretch making it suitable for a variety of hand sizes. Mesh backed gloves are also recommended for additional breathability in summer. You can also get rain and winter gloves designed for harsher conditions.
You may also have noticed golfers wearing only one glove while playing. Some golfers find this is suitable for them while taking a swing. When on a course talk to other golfers and try for yourself to see what works for your game.
Rain protection
There are numerous options when it comes to protecting yourself from the rain. A simple transparent waterproof is often used to cover golf clothes and because they are relatively thin it means they should not affect the swing too much. Some golfers avoid wearing coats because they might affect their swing while others buy coats that are a couple of sizes larger so that they can have weather protection and additional manoeuvrability.
Things to consider
It seems that there are two major factors to consider when buying golf clothes. One aspect is how it affects your game and the other side are more practical concerns. When considering the clothes you are going to buy it is a balance between the two.
| Game concern | Practical concern |
| --- | --- |
| How the clothes affect your swing | Clothes are suitable for the dress code |
| Being able to see your swing without the sun getting in the way | Staying warm in winter and cool in summer |
| Being able to move around the course with clothes that are not too tight | Ensuring your clothes are comfortable, especially making sure that they are not too tight |
| Increased traction so that you do not fall over mid swing | Not falling over and injuring yourself, especially with the kind of footwear you wear on the course. |
The fit
How clothes fit is an important aspect when buying golf clothes. Manoeuvrability is a key part of the game and you need to be able to swing. Therefore you need trousers that fit and that also allow you to swing naturally. Equally the clothing should not be so light that it rips mid swing.
It is also worth remembering that where you purchase your clothes from can make a difference. European and American sizes are different so it is worth getting a comparison guide while looking at the various options available on eBay.
Admittedly size is not the only guide you may have. The fit of clothing can vary from manufacturer to manufacturer with some feeling tighter than others. Therefore it is advisable to check eBay reviews and feedback before you make purchases so that you can get the golfing garments most suitable for your needs.
Keep it consistent
If you can look for sellers that are offering a set of clothes or try to get them from a recommended manufacturer. Ideally you want to have a set of clothes that is of a similar consistent quality in order to get the benefit. As with any sport the tiniest detail can make a difference and this is certainly the case with golf.
Feedback
The final tip to help you know How to Buy Affordable Mens Golf Clothes is to look for the sellers that deliver promptly and have high ratings and positive feedback. It is also worth contacting them directly even if you are bidding for items. While it can be tempting to get involved in the bidding it is important to check that the item you are bidding for is something you need to help your game. Equally there are also sellers who can allow you to buy goods straight away on eBay. In short if you are prepared to shop carefully on eBay you can get quality golf garments at an affordable price.
Conclusion
What you need to remember is each item can have an effect on how you play the game. Think carefully about whether you are more likely to play in the summer or the winter as this will affect the type of items you buy and the kind of qualities you are looking for. Unsuitable items that do not suit the conditions you are golfing in can make the experience very uncomfortable. The product specifications ought to clarify what clothing is suitable for winter and summer.
More breathable materials are more appropriate in summer while thicker layers and weatherproofing are more suitable for winter golfing. It may sound obvious but if you are on a budget you ought to consider carefully what you want and what you intend to use it for in order to avoid spending on something that you do not really need or is not suitable for your requirements. By using the filters available on eBay you'll be able to find the right items for you in no time.