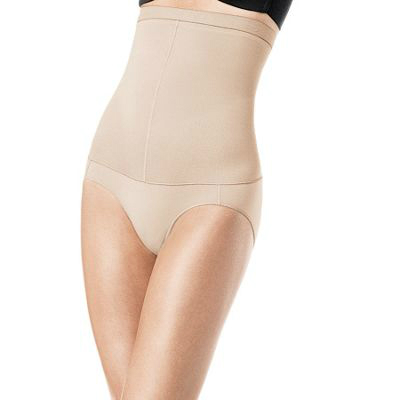 Shapewear for women has been around for centuries: the corset was first made popular in the early 1800s. Modern examples are more comfortable, versatile, and stylish, and offer a quick nip and tuck to smooth problem areas. Shapewear can slim the wearer up to two inches by condensing excess body mass and redirecting it to neighbouring areas that need to look fuller. In addition, shapewear eliminates visible panty lines and unsightly bulges that would be caused by other underwear.
When shopping for shapewear, a number of factors should be considered. An understanding of shapewear, as well as the styles and levels of control available, is required to make an informed buying decision. Shapewear should fit well in order to be comfortable and effective, and the wearer's measurements should be available while shopping. This guide also offers five tips on sensible shopping and buying affordable control underwear. Shapewear is available from department and clothing stores, and from online sources such as eBay.
What is Shapewear?
Shapewear is shaping underwear that changes the wearer's body shape temporarily in order to enhance the figure. It is designed to smooth and control, and includes items such as control pants, bras, bodysuits, tights, corsets, slips, and girdles. The levels of control offered vary from light to extra firm. Shapewear for the upper body often features a low cut neckline and scoop back to accommodate a range of clothing styles. Popular materials used in the manufacture of control underwear include lycra and stretch cotton.
Shapewear Styles
Shapewear is available in a range of styles, with each style targeting different problem areas. Body shapers provide control for the whole body and often include integrated bras. Where a bra is included, this type of shapewear is sized according to bust size. Bust shapewear enhances the bust and is sized according to bra size. Waist shapewear offers control in the waist area and is usually brief-style knickers with a waistband that reaches the bottom of the bra. Tummy control briefs are a popular type of shapewear. These garments look like briefs with an additional support panel in front to smooth the tummy. Thigh shapewear often includes a tummy control panel and a band to grip the leg in order to stop the garment from rolling up.
Levels of Control Offered by Shapewear
In addition to being available in a variety of styles, shapewear has a number of levels of control. Light control shapewear offers the least amount of control. Garments are not overly restrictive or uncomfortable. Medium control shapewear can be worn for added smoothness. These items generally feature more lycra and may have light control panels built in. If the shapewear fits properly it can be worn comfortably for up to eight hours. Firm control is the most popular control level. If the shapewear is a good fit it will be comfortable, but not to the extent that it can be worn for a full day. Extra firm control shapewear offers the highest level of control available. These garments feature reinforced panels and may include boning. They are not as comfortable as items with lower levels of control and cannot be worn all day.
How to Choose Shapewear that Fits
Shapewear should fit well, otherwise it becomes uncomfortable and may be harmful. When trying items on, the shapewear should be gathered at the sides and ungathered gradually, like putting on a pair of tights. This means less wriggling is required to get into it, and the seams will be straight and in place. The shapewear garment should be tested by sitting down; an uncomfortably tight feeling around the legs or torso is an indication of a poor fit. If the shapewear does not fit properly, the garment's waist does not stay in place when the wearer moves and the legs feel constricted. In addition, the gusset may be positioned uncomfortably, sitting too low or too high, and bulges or wrinkles are visible on the garment. Although tempting, never buy shapewear in a smaller size for additional support. Instead, choose a higher level of control.
How to Measure for Shapewear
Shapewear sizes may differ from one manufacturer to the next as UK sizes are not standardised. When buying shapewear, keep the wearer's measurements to hand. It is best to try shapewear on for the best fit, or to compare body measurements to garment measurements where the wearer is unable to do so. Shapewear sizing is generally determined by waist, hip, and bust measurements. In addition, sellers are able to give more accurate sizing advice if height and weight measurements are included. Measurements should be taken with a tailor's measuring tape. The tape should never be pulled too tight and should be held parallel to the ground at all times. For more accurate measurements, measure against the skin.
How to Take Accurate Hip Measurements
Hip measurements are taken around the seat at the widest part of the hips, not where the hip bones are located. Measuring too high yields inaccurate results.
How to Take Accurate Waist Measurements
Waist measurements are taken at the narrowest part of the waist. This is usually above the navel, but below the ribcage. Ask the wearer to bend to the side while standing. The natural waistline is located where the body bends.
How to Take Accurate Bust Measurements
Taking accurate bust measurements and determining corresponding bra sizes is more complicated. While it is easiest and safest to get measured by a professional, this is not always possible or practical. Band and cup size measurements need to be in inches in order to calculate the correct bra size.
Band size measurements are taken around the torso, right underneath the breasts. The measuring tape should be snug, but not tight against the skin. The resulting measurement should be rounded up or down to the nearest inch. For example, a measurement of 29.5 inches should be rounded up to 30 inches, while a measurement of 29.4 inches should be rounded down to 29 inches. If the measurement is converted from centimetres to inches, round up or down after converting it. Add five inches to the rounded measurement to calculate the band size. In other words, a rounded band measurement of 30 inches gives a 35 band size, while a measurement of 29 inches gives a 34 band size.
Since bra band sizes run in even numbers, the measurement must be retaken where the result is an odd number. This is done by measuring around the back and chest, directly under the arms. The closest evenly-numbered band size result is used, and the new size should be one inch above or below the odd-numbered band size obtained originally. For example, where the original measurement was 29 inches, the second measurement should be 28 or 30 inches.
Cup size is measured around the back and across the fullest part of the breasts, with the measuring tape held parallel to the floor and not pulled tight. The result, in inches, must be rounded up or down to the nearest whole number. Subtract the band size from this number and use the table below to find the corresponding alphabetic cup size.
| | | | | | | |
| --- | --- | --- | --- | --- | --- | --- |
| Difference Between Band Size and Measurement | 1 | 2 | 3 | 4 | 5 | 6 |
| Cup Size | A | B | C | D | DD | E |
Bras come in a selection of cup and band sizes. It is possible for a woman to find that her bra size is different for brands made by different manufacturer's due to differences in sizing policies and cuts. For example, a person who wears a size 34B in one brand may also fit into a 32C in another. It is best to consult the seller about the fit of different shapewear styles.
Shapewear Size Guide
Although sizes differ from one manufacturer to the next, a size guide can be used to find the approximate range or size required. The table below gives approximate sizes according to waist and hip measurements.
| | | | | | | | | |
| --- | --- | --- | --- | --- | --- | --- | --- | --- |
| Size | | | | | | | | |
| Waist (cm) | 63.5 - 66 | 67 - 73 | 74 - 78 | 79 - 84 | 84 - 94 | 94 - 99 | 99 - 104 | 104 - 109 |
| Hips (cm) | 89 - 94 | 94 - 99 | 99 - 104 | 104 - 109 | 109 - 119 | 119 - 124 | 124 - 129 | 130 - 134 |
It is important to note that these sizes may not be accurate for all brands. Shapewear is also available in dress sizes, but since clothing sizes are not standardised either these sizes should be used as a guide only.
The following table lists approximate sizes for shapewear tops.
| Bra Size | Top Size |
| --- | --- |
| 34B to 34C | |
| 36B to 36C | |
| 38C to 38D | |
| 40C to 40D | |
These sizes may vary and are intended as a guide only. It is always best to confirm sizing with the seller before buying an item.
How to Buy Affordable Shapewear
Follow these five tips for sensible shapewear shopping. In some cases, buying one good piece that is slightly more expensive is less costly than buying several cheaper, less durable alternatives.
Research Shapewear Brands Before Buying
As with all clothing, some brands and items are more expensive than others. It is not necessary to buy the most expensive shapewear available. Read customer and expert reviews to find less costly alternatives to big name brands, such as own brands sold by high street retailers. In addition, some own brands are designed and made by well-known manufacturers and simply repackaged.
Invest in One or Two Items that Cover a Multitude of Sins
Instead of buying three items that target different parts of the body, invest in one or two shapewear pieces that offer control for more than one area. For example, consider a bodysuit to shape the thighs, waist, tummy, and bottom, or thigh control items with an added tummy control panel.
Choose a Versatile Colour
Shapewear is generally available in white, beige, or black. Choosing a neutral colour, like beige, will mean that the item can be worn with most outfits. White tends to show through light clothing.
Choose the Most Practical Level of Control
Shapewear with higher levels of control tends to be uncomfortable if worn for longer than a few hours, while light control shapewear smooths, but offers little control. If the shapewear is being bought for work, opt for lighter control. However, if it is intended for evening wear, choose a higher level of control, if necessary.
Have Realistic Expectations About Results
While wearing shapewear is often described as a cheaper, less painful alternative to plastic surgery, body mass does not disappear. Instead, it is compressed and can be shaped only up to a point. These garments often yield wonderful results, but the wearer should be realistic about the expected effect. Although one should experiment with brands and styles, buying more expensive shapewear may not solve the problem if expectations are unrealistic.
How to Find Affordable Shapewear on eBay
Finding affordable shapewear on eBay is easy. Simply type a search word or phrase (for example "firm control bodysuit") into the search box located on any page to see the listings available. Narrow your selection by choosing the most appropriate category and characteristics. Alternatively, use the advanced search feature to narrow or expand your selection.
Before You Buy on eBay
Before you buy on eBay, take a moment to get to know the seller and the product. eBay's seller feedback feature and item listing page makes it easy for you to shop with confidence.
Check the Seller's Feedback
eBay's seller feedback system allows you to see what other buyers have said about a specific seller's products and customer service. Detailed seller ratings offer additional information about aspects like the seller's communication, the reasonableness of postage and packaging fees, how long it took for items to be dispatched by the seller, and the accuracy of the item description on the seller's listing page. To access this information, click on the number next to the seller's username.
Check the Seller's Listing Page
The seller's listing page contains information such as the item description, postage and packaging fees, the seller's accepted payment methods, the seller's feedback and contact information, and the terms and conditions of the seller's return policy. If you have any questions about a listing, use the "Ask a Question" link to contact the seller.
Conclusion
Shapewear has been available in one form or another for centuries. However, modern materials and construction methods mean that these items are more comfortable, stylish, and versatile. Shapewear can be used to change the shape of the body, smoothing problem areas and enhancing others, or simply to eliminate visible panty lines or lines and bulges that would be created by other underwear. A wide range of shapewear garments are available, targeting common problem areas like the thighs, tummy, waist, and breasts. Some are designed to control more than one area, and this type of shapewear should be considered due to its versatility in order to save money.
Shapewear offers varying levels of control, from light to extra firm, and the item or items chosen should offer an appropriate amount of control. It is important to bear in mind that items that offer high levels of control are not comfortable when worn for extended periods. It is essential to buy shapewear in the right size as garments that are too small are uncomfortable, restrictive, and cause unsightly lumps and bumps. In contrast, shapewear that is too big is not as effective as shapewear that fits well. It is best to have the wearer's measurements to hand while shopping. Doing research and making sensible buying decisions makes these items more affordable. eBay sellers stock a wide variety of shapewear to fit any pocket.