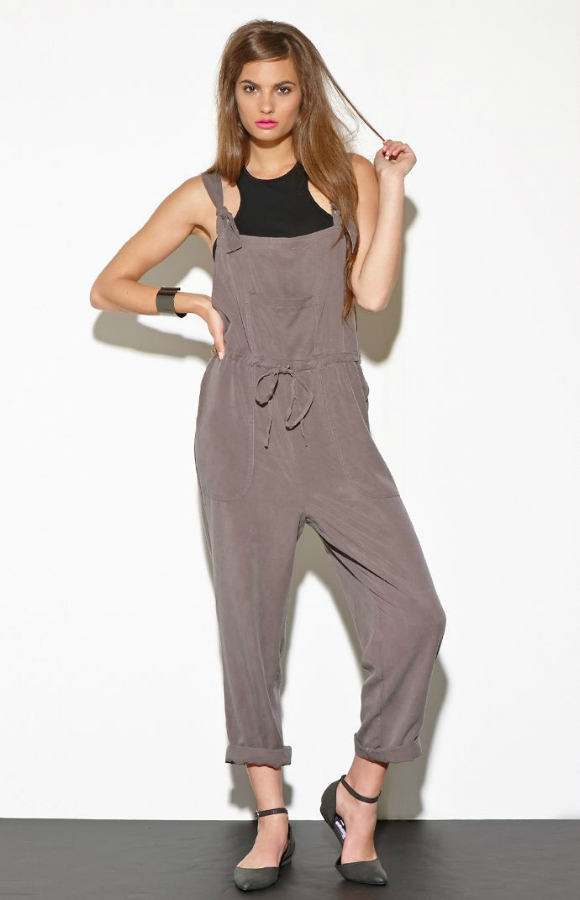 Women's jumpers are knit or woven garments that cover the wearer's torso and, often, the arms. Most jumpers are considered pullovers. However, they can also be found in cardigan styles. Jumpers are versatile and can be worn with a wide array of outfits, ranging from casual to formal. They can be worn alone or over a shirt, blouse, or other top. Women's jumpers can be found in various colours, patterns, and fibre blends. Traditionally made of wool, jumpers are now also made of cotton, synthetic fibres, or a combination of yarns. Their necklines vary from crew neck to polo neck.
Jumpers usually fall at the hip or slightly below, but some can reach to the knees. The sleeve length of jumpers vary and include sleeveless, short sleeve, cap sleeve, three quarter sleeve and long sleeve. Jumper dresses have also made their way into the fashion industry. When purchasing an affordable women's jumper at retailers such as eBay, buyers should consider the various types, patterns, and materials, as well as how to care for the jumper properly.
Types of Women's Jumpers
Jumpers come in an array of styles. Determining the best fit is often a matter of personal preference and the level of warmth required.
Standard Jumper
The most familiar type of jumper is a pullover style that is closed at the front and has long sleeves. It has a variety of necklines and can be anything from form fitting to baggy.
Cardigans
Cardigans are jumpers that open and fasten at the front, similar to a jacket. These jumpers usually do not have a collar. Most cardigans are long sleeve, but short and cap sleeve variations can be found.
Polo Neck Jumpers
Polo neck jumpers have a tube of fabric that extends up the wearer's neck. This tube can be between seven and eight inches long, and is usually folded down around the neck. Other polo necks only extend to one or two inches. The longer lengths typically provide more warmth.
Tank Tops
Tank tops are sleeveless jumpers typically found in V-neck styles. Some may open down at front, similar in style to cardigans. However, most of them are pullovers.
Women's Jumper Patterns
Women's jumpers can be found in both colour and knit patterns. One popular colour pattern is the argyle, which has alternating diamonds that are typically multi-coloured. Cable knit is another popular pattern type, which resembles intertwining cables or long, alternating braids.
Women's Jumper Materials
The highest quality jumpers are made of natural fibres or a fibre blend which helps to improve the stretch and to make it more wearable. For more affordable options, buyers should consider cotton, or a cotton and sheep's wool blend.
Wool for Women's Jumpers
Wool jumpers are known for their warmth and are often knitted. The fabric blends well with other materials. Wool is a great insulator and is breathable. It also repels water and can be found in many types, each type having its own unique characteristics.
Sheep's Wool
Sheep's wool is one of the most commonly used wools for jumpers. There are many different types of sheep, so they produce many different types of wool. Merino sheep produce a soft wool. Shetland sheep produce wool that is reserved for less affordable cable knit jumpers. Loden wool is greasy and repels water. Lambswool is the most expensive and one of the softest types of sheep's wool.
Camel Hair Wool
Wool made from the hair of a camel is expensive to manufacture, so it is generally blended with another type of wool to create jumpers. Camel hair wool is heavy, so it is very warm and most popular in cold climates. Most jumpers made of this wool retain the natural tan colour of the camel hair.
Cashmere Wool
Cashmere wool is lightweight and is made from the hair of a Kashmir goat. When it is woven into jumpers, the wool remains plush and soft. Cashmere wool is extremely durable, luxurious, and silky. The fabric does not wrinkle and the garment works well in both warm and cool seasons depending on its gauge, which is the number of stitches that can be counted in an inch of the knitted fabric. Cashmere jumpers vary in style, colour, weight, weave, and blend. The weight is often described in plys, with two-ply being a finer yarn and three-ply and higher being chunkier or heavier. Fine-grade cashmere rarely pills. These jumpers tend to be expensive, so a more affordable option would be to find a second hand garment.
Angora Wool
Angora wool is made from the Angora rabbit. The fabric is extremely soft, thin, fluffy, and fragile. Angora wool is able to retain heat well and repel moisture. This wool is expensive to manufacture. To make it more affordable, it is often woven with sheep's wool.
Alpaca Wool
Alpaca wool is made from the hair of an alpaca, a mountain dwelling mammal from South America. These mammals closely resemble large goats and have long, heavy hair, which shields them from the cold temperatures. This fabric successfully repels moisture and is known for its softness, lightweight feel, and strength. Alpaca wool is not prone to pilling when worn and is an affordable option for women's jumpers.
Cotton for Women's Jumpers
Cotton jumpers are easy to care for. They can be dressed up or down depending on how they are styled. This fabric comes in a wide array of colours and patterns. Cotton jumpers are ideal for warmer climates because of the lightness of their material. They are also affordable.
Caring for a Women's Jumper
Before laundering a jumper it is always best to consult and follow the manufacturer's care label. Wool and cashmere jumpers can be cared for in the same way. They should be hand washed or dry cleaned in order to prevent felting and shrinking. Buyers who do not wish to hand wash, or prefer a more affordable option to dry cleaning, should invest in cotton jumpers as they are machine washable. When machine washing, it is best to turn the jumper inside out to avoid pilling and snagging. Jumpers should then be laid flat to dry. Proper jumper maintenance ensures long lasting wear.
Most jumpers, especially cashmere, should be folded rather than placed on a hanger. Hanging the jumper can cause the fabric to stretch or can create permanent indentations. If hanging the jumper is the only option, then buyers should use a padded hanger. The padding helps the shoulder areas of the jumper to maintain their shape.
Finding Affordable Women's Jumpers on eBay
Once you have decided on the type of women's jumper that you are looking for and the condition that you want it to be in, you will find a huge selection on eBay. To shop for women's jumpers, simply go to the homepage, and enter "women's jumper" into the search box. This will give a wide selection. A more limited selection of search results comes from entering more specific terms into the search box, such as "women's black polo neck jumper".
Searching by Condition on eBay
Many buyers look for women's jumpers in a particular condition, especially when considering affordable options. While new jumpers are widely available for purchase, some women may opt for a used jumper as a cheaper alternative. To search for a used jumper, either perform a general search and then filter by the "Used" condition, or include the term in the search phrase, such as "used women's blue long sleeve jumper".
Buy Women's Jumpers with Confidence
Before making a purchase, buyers should always examine the listing images for signs of wear and tear to the jumper, especially if it is used. The photos in the item listing can provide a helpful insight and let the buyer know exactly what they are bidding for. If additional photos or information is desired, then ask the seller. Sellers will usually be happy to provide more information to promote a positive transaction.
However, it is possible to end up with a jumper that is not as expected. To prevent being left with an unreturnable item, buyers should purchase jumpers from sellers that accept returns. It is also important to remember that postage, packaging, and insurance costs are typically non-refundable. Information regarding returns and exchanges are usually included within the item's description. If the description does not discuss the seller's returns policy, buyers should contact the seller directly using the "Ask a question" link.
Conclusion
Finding the perfect affordable women's jumper is more than possible on eBay. Women's jumpers come in various styles, colours, and sizes. Choosing the right jumper is based on both personal taste and on the warmth that the garment provides. If looking for a women's jumper that is moderately priced, it is always a good idea to be familiar with the different types of material that are available. Many materials are climate specific and come from animals that produce low quantities of wool, therefore, they are usually more expensive in their pure form. While cotton and sheep's wool are relatively inexpensive, cashmere and other types of wool are on the pricier end. To bring down the cost, many pricier wools are often blended with sheep's wool.
Caring for the jumper properly often entails hand washing the garment and laying it flat to dry, or dry cleaning. When considering affordability, it may be worth buying a machine washable jumper. By following the care label, buyers can keep their jumpers in an excellent condition, helping to keep future replacement costs to a minimum.