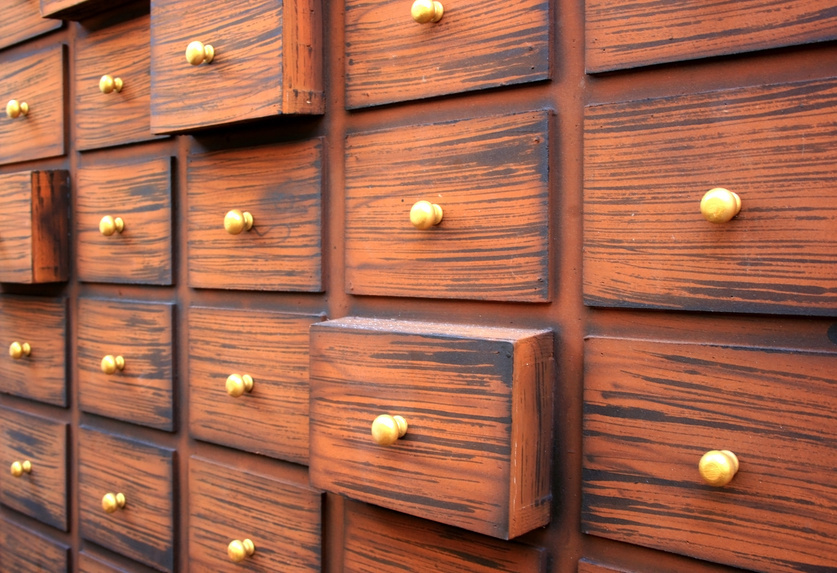 As curiosities, interesting decor, and symbols of professional tradition, apothecary drawers and scales have found their way into many homes and offices. An apothecary cabinet has many small drawers that are useful for keeping small items organised, even in modern times. Apothecary antique tools, jars, and bottles also add fascinating touches in 21st century environments.
Different Types of Apothecary Drawers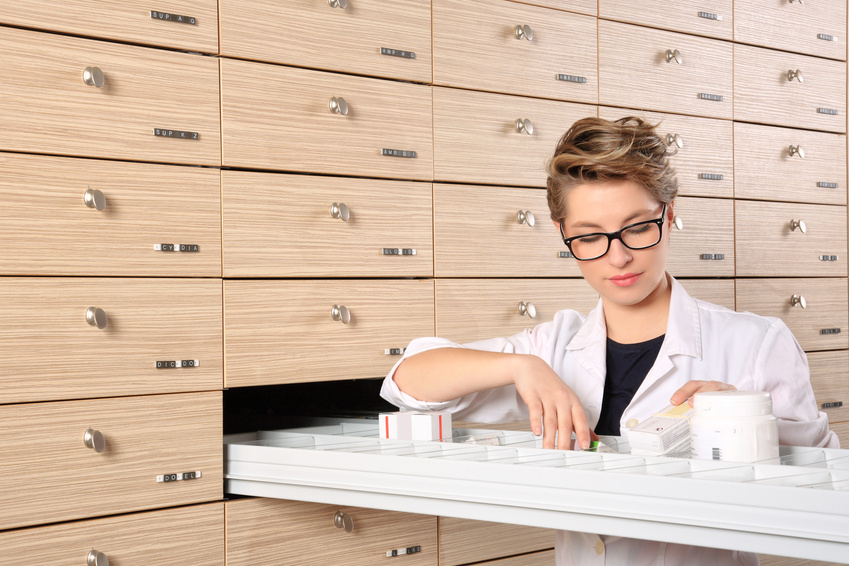 When people think about apothecary drawers, they usually think of a bank of drawers consisting of at least a dozen square-fronted, deep drawers that are perfect for storing small office supplies and other small items. An apothecary cabinet combines drawers with shelves or bins suitable for holding bottled medicines. Travelling physicians in the early 19th century packed medicines in apothecary boxes. These boxes were often wood with space for a few medicine bottles, although they sometimes featured compartmented drawers, drawers for weights and scales, bins for bottles, and even secret compartments for poisons.
Antique Apothecary Collectables

A growing number of doctors and chemists enjoy collecting items related to the history of their professions, and apothecary-related antiques are great gifts for these professionals. In home decor, the elegant designs of vintage apothecary jars look stunning on bathroom counters and vanity tables.
Condition of Antique Apothecary Drawers
Wooden apothecary drawers are often oak or elm with dovetailed or mortise and tenon joints. Some antique apothecary drawers are more than 200 years old. The best antiques consist of fine woods such as mahogany with intact original finishes. Excessive wear reduces the monetary value but not necessarily the sentimental value of a piece. Some cabinets have numbering that often indicates a handmade piece. Labelling provides clues about the most recent use. For example, labels for farm animal medicines indicate a veterinarian owned an apothecary cabinet. Pieces that include antique apothecary bottles and apothecary scales with the related apothecary weights are highly sought collectables.
Other Useful Antique Drawer Sets
Buyers with a taste for antique drawer sets for home or office decor may also want to consider haberdashery drawers for wardrobes, bed linens, or table linens. These cabinets vary significantly in width and sometimes perfectly fill odd spaces in rooms. They can hold fresh shirts, socks, and undergarments. Vintage architect drawers in oak or pine often separate into sets of three drawers. These make unusual coffee tables and are great for storing placemats, napkins, and other table linens.