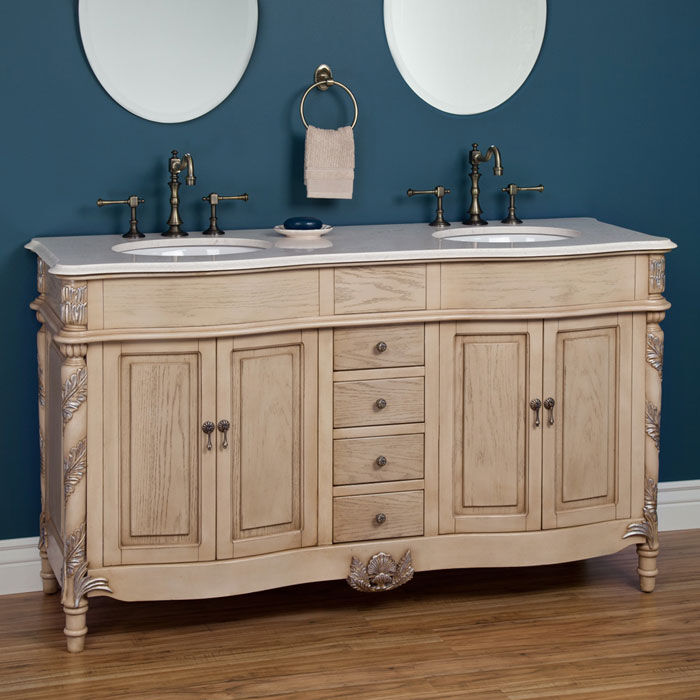 The vintage style is one that is popular, and when mixed with more contemporary household items, a vintage piece of furniture can give a room a unique look. One way to create a vintage environment is to buy an antique bathroom cabinet. In particular, look for Edwardian or Victorian style furniture. While furniture from these eras may be a little more difficult to find than most antiques, an antique bathroom cabinet with a mirror encased into a dark wood finish can decorate a bathroom beautifully. Edwardian cabinets were produced in pastel shades and had feminine lines, while Victorian cabinets were darker and had a gothic feel. This guide aims to help the buyer to learn more about what to look for when buying an antique bathroom cabinet and how best to care for one once a purchase has been completed.
History of Antique Bathroom Cabinets
An antique piece of furniture is an eco-friendly item that can be passed down through generations of a family. In the past, antique furniture usually adorned only the homes of the very wealthy because handmade items were very expensive. But, in the 17th century, as the demand for antique cabinets rose, more affordable pieces were produced allowing the middle classes to now have this aspirational furniture in their homes too. Master craftsmen were responsible for the production of many early antique cabinets; these pieces will often be signed and dated by the cabinet-maker, which adds authenticity. Renowned furniture designers include Thomas Chippendale whose antique bathroom cabinets can be worth a significant value in the modern market.
Discover Antique Bathroom Cabinets
A piece of antique furniture can bring a different style to a home than that offered by contemporary furniture. An antique bathroom cabinet can add a special type of elegance. The item is likely to be admired by guests, and if the cabinet is well cared for its value is likely to improve.
Materials Used in Antique Bathroom Cabinets
Master craftsman usually made antique bathroom cabinets using wood. Detailed below are some of the common types of wood that were used.
| Part | Description |
| --- | --- |
| Satinwood | A lot of craftsmen used this type of wood in the 17th century. It was usually chosen for veneers, its pale shade made it a suitable wood to paint on. |
| Bird's eye maple | During the Regency period, bird's eye maple was chosen for veneers. The wood has a distinctive speckle, and it polishes well. |
| Calamander | From the ebony family of wood, this light brown wood has black speckles and is commonly used for banding and veneers. |
| | The colour varies from dark brown to red, often with a mottled effect. It is popularly used for table tops, due to its wide girth. |
| Rosewood | A dark brown wood with a distinctive black, wavy grain effect. It gets its name because it releases a scent when it is cut. |
| | Oak is a solid, slow maturing wood that is pale in colour, but with age and maintenance, the shade will darken to a rich brown. |
| Elm | A durable, golden brown shaded wood that polishes well, Elm was used during the Georgian period. |
Types of Antique Bathroom Cabinets
An antique bathroom cabinet can add personality and style to a home. From space-saving towel cabinets to traditional vanity units, there are various types of design. Listed below are some popular types of antique bathroom cabinet.
| Type | Description | Advantages | Considerations |
| --- | --- | --- | --- |
| Antique Cabinet Washroom Sink Unit | A mahogany cabinet with sink and fittings. | Luxury travelling item, dates back to 1870. | Would be filled with water from a tap or well. |
| Antique oak hanging cupboard | 19th century Victorian hanging cupboard. | Has an internal set of shelves that can be used to display items. | Dates back to 1880. Has an original brass securing catch. |
| Rhone Valley curio cabinet | Has a traditional medium wood finish. | Internally there are two glass shelves that can be easily adjusted. | Stores towels and personal products. |
| Verona towel cabinet | Finished in oak. | It has three lower drawers. It also has a set of double doors, which open to reveal two shelves. | Space saving towel cabinet. |
Factors to Consider When Buying Antique Bathroom Cabinets
Before the purchase of an antique bathroom cabinet there are several factors that should be taken into account.
Original material – Older antique cabinets may demand a high price if they are still in their original condition. A poor renovation can reduce an item's value. A blemish may not reduce an item's value, and dependent on the age of the item, it may actually improve its value. Antique bathroom cabinets were usually made using oak, although walnut and mahogany were also popular
Markings – Before furniture was mass-produced furniture designers carved a mark onto the piece of furniture that they were making, indicating the manufacturer or craftsman. If this information is on an antique bathroom cabinet it can help to accurately date the item.
Original finish – An antique item will often have a thin finish. One cost saving technique that was used to preserve wood was to apply a dark stain over oak, which gave it a mahogany-like appearance. Furniture is classed into three conditions—mint, excellent and good.
Production quality – A hand carved piece of furniture will be of more value than a mass-produced item that may look the same.
Hand carvings – An antique bathroom cabinet that has been hand engraved will hold a higher monetary value. Many pieces of Edwardian furniture featured hand painted floral designs. Any item of furniture that was made for royalty, or a movie star, is considered to be a sought after collectable.
Typical Features of Antique Bathroom Cabinets
1. Patina
Over time, an antique cabinet will develop a patina, which will, depending on how frequently the cabinet has been exposed to air and sunlight, be brown or black.
2. Antique drawers
A pre-1850 antique cabinet will include drawers that are hand made. It was not until 1860 when machine cut furniture grew in popularity.
3. Symmetry
A real antique bathroom cabinet will not be exactly symmetrical. The dimensions of handmade furniture are not always exactly matching.
4. Wood finish
A shellac finish indicates that the antique bathroom cabinet is a genuine antique. Varnish and lacquer were not manufactured until the mid 1800s.
Popular Antique Bathroom Cabinet Manufacturer
Gillows of Lancaster
Edward and Roberts
Howard and Sons
Robert H and James Simpson
Thomas Chippendale
Samuel Bennett
William Kent
John Mayhew and William Ince
William Moore
Thomas Sheraton
George Hepplewhite
George Seddon
Accessories and Add-ons for Antique Bathroom Cabinets
Antique bathroom cabinets must be well cared for if they are to maintain their value. There are certain accessories and items that a buyer of an antique bathroom cabinet should consider getting. Avoid using furniture polish, as this can penetrate to the surface and damage the patina, and instead use beeswax, applied with a cheese-cloth.
Beeswax
Cheesecloth
Dust cloth
Soft brush
Dehumidifier
Curtains or blinds
Cotton gloves
Finding Antique Bathroom Cabinets on eBay
Once you determine the type of antique bathroom cabinet you want to purchase, visit the Antiques portal on eBay, click on 'Antique Furniture' then 'Cabinets' and start searching item listings. The Categories list on the left-hand side of the eBay page helps to narrow the search.
Searching forAntique Bathroom Cabinetson eBay
Search eBay listing titles for specific words when shopping for antique bathroom cabinets. For example, to find a linen press hand painted antique Georgian glazed display cupboard, type 'Georgian Antique Bathroom Cabinets' into the search box, and then click the Advanced button to customise the results. Also visit eBay's Search Tips page for more advice on searching for antique bathroom cabinets with keywords. If you can't find the exact antique bathroom cabinet you want, try shopping eBay Stores.
Conclusion
Buying an antique bathroom cabinet can give a room personality and elegance. Towel cabinets are space saving and a vintage medicine cabinet can be the perfect place to store all of your toiletries. However, it is important to know what to look for when buying an antique bathroom cabinet. Oak, walnut and mahogany were the popular woods used. A piece that has been initialled by its craftsman may be considered to be a more collectable item than one that has not been marked by its creator. It is important to remember that aged wood antique cabinets will have developed a patina. Antique bathroom cabinets were hand crafted and prior to 1860, there were no tools invented that allowed for a precise symmetrical cut. This means that the dimensions of an antique bathroom cabinet built before 1860 are not likely to be exactly the same. Giving the correct care to an antique bathroom cabinet is important. It is advised that you avoid using furniture polish and instead use beeswax. Gathering as much information as is possible about antique bathroom cabinets will help to ensure that the process of buying one is fun and informative. Once you have collected all of the relevant information, you can buy an antique bathroom cabinet safely and securely on eBay.