When looking to build or renovate a bathroom, many people like to create luxury antique style bathrooms. Elegant and stylish, while also very practical, an antique bathtub makes the perfect centrepiece to a beautifully finished antique bathroom. Buyers have the choice of a few different types of tubs, various styles, and with different tap mounting options. These days, one can also choose between an authentic and a reproduction antique bathtub.
Types of Antique Bathtubs

Authentic antique bathtubs are made from either cast iron or copper. Cast iron antique bathtubs are more popular and usually have a porcelain lining. Cast iron bathtubs are heavy and quite expensive. Very durable, a cast iron antique bathtub is not easy to scratch, dent, or damage, is easy to clean, and lasts many years. Another great benefit of cast iron is it holds heat very well, so the water stays warm for longer. Alternatively, some antique bathtubs are made from copper. Antique copper bathtubs are very expensive and were found in luxury homes of the wealthy. Copper bathtubs are very durable, easy to clean, and last for many years. They create a very unique look to any bathroom.
Antique Bathtub Styles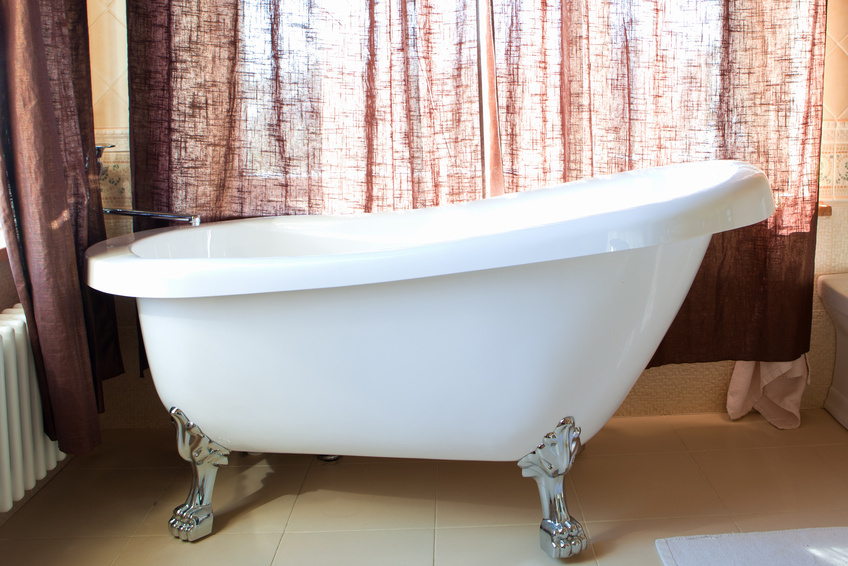 The majority of antique bathtubs are clawfoot baths. These are floor-standing bathtubs that sit on four small claw feet. Five main styles of antique bathtubs are available. A roll-top bathtub is the most common and features a rim that is rolled. A slipper bathtub is higher and more sloped at one end than the other, making it more comfortable to recline in. A double slipper tub is higher and sloped at both ends. Double ended bathtubs are rounded at both ends. Each of these feature claw feet. The fifth antique bathtub style is a pedestal bathtub. This freestanding bathtub style does not have claw feet. Instead, it has a flat base that sits on the floor surface.
Antique Bathtub Taps
When looking to buy an antique bathtub, it is important to consider what taps one would like. Bathtubs vary in where the taps are mounted. Some bathtubs have traditional bath wall-mounted taps that sit on the inside wall of the bathtub. Bathtubs with deck-mounted taps have them sitting on the rim of the bathtub. Some antique bathtubs have no taps mounted in or on them and are used with freestanding taps. Freestanding taps plumb from the floor and the spouts are positioned over the edge of the bathtub. Wall-mounted taps are an alternative option to freestanding taps for baths with no tap mounts.
Authentic or Reproduction Antique Bathtubs
Antique bathtubs are expensive, heavy, and can be hard to find, especially one in top condition. For those who like the look of an antique bathtub, but want something new and less expensive, a reproduction antique bathtub is ideal. Made from lightweight acrylic, fibreglass or steel, reproduction antique tubs look just like authentic antique tubs.