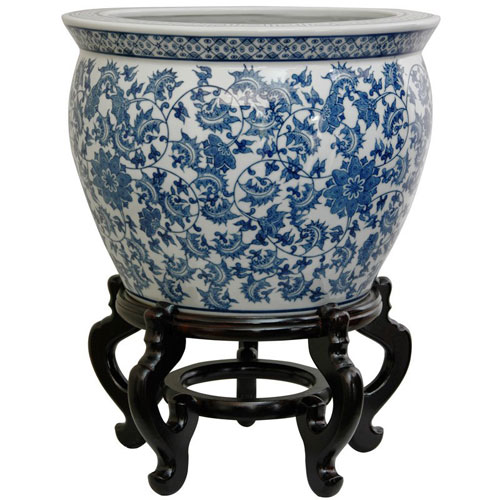 Chinese antiques can give a buyer an insight into the country's long history. China is one of the oldest civilisations in the world and, throughout history, has been at the cutting edge of technology, design and engineering. Many of the things that are taken for granted in modern times were invented in China.
The antique Chinese porcelain bowl is an example of China's innovation. Originally designed purely to hold food and drink, the porcelain bowl developed over time to become an artefact in its own right. Porcelain, with its shiny and often decorative veneers, was also an invention of the Chinese and in fact is so synonymous with the country that in many English-speaking cultures, it is known simply as 'china'.
An antique Chinese porcelain bowl is a collectable item on its own or it can make part of a set of usable tableware. For other collectors, a genuine antique Chinese porcelain bowl can be an investment that could increase in value over time.
This guide will help buyers to make their decisions by offering information about the history of antique Chinese porcelain bowls, the types of bowls they can buy and some factors to consider before making the purchase. It will also offer tips on how to search for such items on eBay.
History of the Antique Chinese Porcelain Bowl
It is widely believed that pottery was first invented by the ancient Chinese during the Neolithic period (5000-2200 BC). This invention paved the way for the production of ceramics in ancient China, usually in the form of painted or carved pottery.
During the Shang dynasty (1600–1046 BC), the Chinese were glazing ceramics to strengthen, waterproof and decorate them, although they had not yet discovered the mix of substances at the correct temperatures that would eventually make porcelain. It was during the Han Dynasty (206 BC-220 AD) that porcelain in its translucent and decorative form was finally discovered.
Porcelain is made by mixing feldspar, quartz, pottery stone and kaolin at temperatures of between 1200 and 1400 degrees. This glazing or firing was done in a kiln. Porcelain's shiny and smooth surface gives it a sense of elegance and refinement as compared to ceramics. As such, it was and still is seen as a superior material. Antique porcelain tableware became the choice of royalty and the privileged. To this day, porcelain tea sets and bowls are still commonly used in celebratory events in Chinese culture, such as tea ceremonies at weddings.
Discover the Antique Chinese Porcelain Bowl
With their discovery of porcelain, it is no wonder that the Chinese have, over time, mastered the art of using it to produce artistic and functional household items, including bowls. Chinese bowls tend to be deeper than ones used in the western world. The Chinese use bowls probably more than the British or Americans do. Nearly every meal requires a bowl as the Chinese consume broths, noodles and rice as staples – all of these soups and foods would be served in bowls. In this respect, the bowl is a more important eating utensil to the Chinese than the plate.
The size of a bowl is also an important factor in the serving of meals. Small bowls are used for rice and broths, wider and deeper ones for noodles and congee, a savoury rice porridge. In ancient China, small bowls were also used for drinking liquids. Knowing the purpose of a bowl could help to make the process of choosing an antique porcelain one a more rewarding and interesting experience.
Materials Used in Making Porcelain
The discovery of porcelain is one that changed the way that ceramics were used. It is one of the biggest advancements in the history of antiques and the production of household items.Here is a list of the substances that make up porcelain.
| Materials | Description |
| --- | --- |
| Kaolin | Kaolin is a naturally-occurring clay mineral. It gives porcelain its shiny veneer. |
| Feldspar | Feldspar is a rock-forming mineral. In the production of porcelain, it changes the thermal properties of the ceramic mix. |
| Pottery stone | This must be grounded before being added to the clay and is formed by igneous rock. |
| Quartz | It stabilises the ceramic mix and is a mineral found in the earth's crust. |
Types of Antique Chinese Porcelain Bowls
Here is a list of some of the types of antique Chinese porcelain bowl.
| Type | Description | Advantages | Considerations |
| --- | --- | --- | --- |
| Kraak | Usually blue and white in colour. Produced during the Wanli reign for export to Europe around the 1600s. | Intricately decorated. | Became renowned for their colour combination of blue and white. |
| Congee | Used for serving porridge, these bowls were usually large with looped handles. | Was very popular when first produced and is still used today. | The style and decoration of the congee bowl will vary considerably depending on where it was produced. |
| Klapmuts | A type of Kraak bowl, often used for soup. This style was also exported to Europe. | Often blue and white coloured. Sometimes with more intricate decorations. | Became widely popular in Europe. |
Factors to Consider When Buying an Antique Chinese Porcelain Bowl
As with any antique, buyers should consider several factors before deciding on a purchase of an antique Chinese porcelain bowl.
Authentication - The buyer should try as best as they can to authenticate the piece that they are going to buy. There are many fakes and replicas on the market due to the popularity of this item. The buyer should research the type of antique Chinese porcelain bowl that he or she wants to buy. This can be done with reference books in libraries or on the internet.
Condition - The condition of the antique Chinese porcelain bowl is very important. If there is a slight crack or chip, this will mean that the value of the antique Chinese porcelain bowl will decrease significantly. It is advised to ask the seller to provide more photos if the ones already offered do not reveal the antique Chinese porcelain bowl in detail.
Ask question - The buyer should always ask the seller pertinent questions. Sellers expect this and are happy to help. Asking questions gives the buyer all of the information that is required, if sometimes the description offered in the first instance is not enough.
Budget – A budget is often the deciding factor in a potential purchase and finding a hidden gem online is possible with some research and patience. Look at purchasing pieces that are of higher quality as those tend to increase in value at a more consistent rate.
How to Care for an Antique Chinese Porcelain Bowl
Antiques, by their very nature, are old and delicate. They require love and attention.
Antique Chinese porcelain bowls can sometimes be very fragile and with age, weak. They could suffer cracks and chips easily and sometimes these may not be obvious. This is why it is imperative to be extremely careful when handling an antique Chinese porcelain bowl.
If the antique Chinese porcelain bowl is being displayed at home or at an art gallery, it should be placed in a glass display case. This will prevent the chance of any cracks or breakages.
An antique Chinese porcelain bowl should be cleaned using a soft cloth or sponge. A harsh or abrasive cleaner should never be used.
Accessories for an Antique Chinese Porcelain Bowl
There are certain important accessories that a buyer should consider purchasing before buying the antique Chinese porcelain bowl.
Plate – This could add to the bowl to make a set.
Chopsticks or soup spoon – These could also add to the collection.
Box – It is important that the antique Chinese porcelain bowl is kept in a box, if they are not displayed, due to their often delicate nature.
Display case – This should be glass so that the bowl can be viewed. It will also prevent any possible damage to the antique Chinese porcelain bowl when it is being displayed.
Soft brush or cloth - Good for delicate dusting or cleaning of an antique Chinese porcelain bowl.
Finding an Antique Chinese Porcelain Bowl on eBay
Once you determine the type of antique Chinese porcelain bowl you want to purchase, visit the Antiques portal on eBay, click on 'Chinese', then 'Bowls' and start searching item listings. The Categories list on the left-hand side of the eBay page helps to narrow the search.
Searching for an Antique Chinese Porcelain Bowl on eBay
Search eBay listing titles for specific words when shopping for an antique Chinese porcelain bowl. For example, to find an eighteenth century porcelain Chinese bowl, type '18th century porcelain Chinese bowl' into the search box, and then click the Advanced button to customise the results. Also visit eBay's Search Tips page for more advice on searching for antique Chinese porcelain bowls with keywords. If you can't find the antique Chinese porcelain bowl you want, try shopping eBay Stores.
Conclusion
With thousands of years of experience in porcelain production, Chinese cultures have always made bowls to the highest of standards. Once equipped with all of the relevant information you need, you can purchase an antique Chinese porcelain bowl safely and securely on eBay.