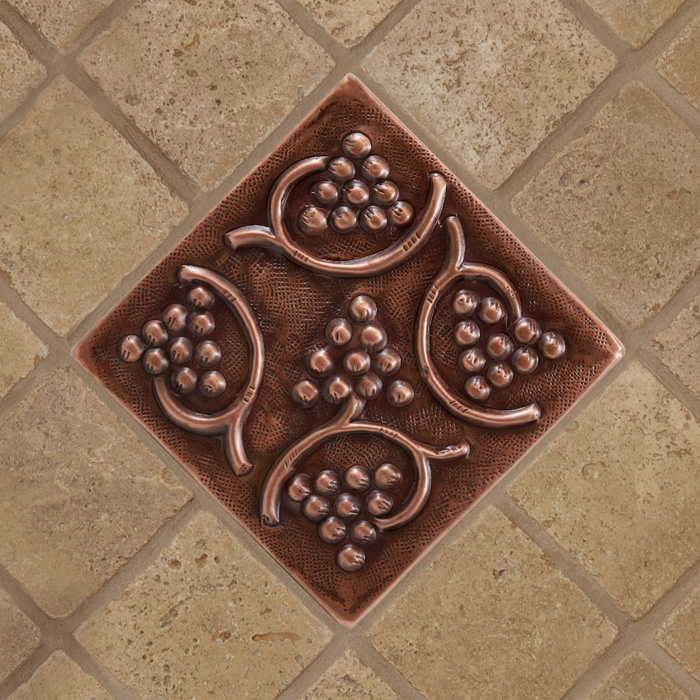 Bring the spirit of decorative arts to any fireplace, backsplash or other inventive space with an individual tile or set of antique fireplace tiles. Especially popular in the Victorian period, antique fireplace tiles were highly admired house adornments that embraced many styles and techniques. As such, bringing an antique fireplace tile to the modern home is a celebration of the art of a particular time in history. A traditional cast iron fireplace may require sets of ten or twelve antique fireplace tiles. This guide will outline some of the popular features of an antique fireplace tile, things to look for when purchasing an antique fireplace tiles, and how to properly care for this beautiful piece of decorative art.
History of Antique Fireplace Tiles
Cast iron fireplaces were introduced in the eighteenth century, and were also known as hob grates. Antique fireplace tiles were considered a decorative art in the late 19th and early 20th centuries, reaching the height of their popularity in the Victorian period. This had to do with the general cultural sentiment at the time, which encouraged a large portion of the salary to be put into the household. At this time, antique fireplace tiles were very expensive to acquire, with just one large tile costing a whole week's wage for a normal worker. Antique fireplace tiles could be made with ceramic, slate, granite or marble, although ceramic was the best way to showcase designs and artwork. There was a lot of diversity in the decorations on antique fireplace tiles during this time, embracing art styles from Art Nouveau to Japanoiserie to portraiture. Antique fireplace tiles are exceptionally well glazed and hard to replicate, as the producers used a dangerous process that is now prohibited in modern times. Indeed, after the 1900s, antique fireplace tiles were appreciated as pieces of art in themselves, and could be displayed on picture stands and frames.
Discover Antique Fireplace Tiles
There are so many ways to incorporate the decorative style of antique fireplace tiles to a home. While in the traditional sense they make beautiful accents to a fireplace, antique fireplace tiles can also make up a backsplash in the kitchen, a framed piece for a wall or shelf, or be used as a teapot stand on the kitchen table. The straight edges on antique fireplace tiles mean that they're easy to display, mount and combine. Since antique fireplace tiles were considered highly regarded works of decorative art, there are a myriad of styles and artistic periods to choose from. This is especially the case because the Victorian and Edwardian periods were fascinated with revivalism, bringing back artistic styles from earlier times, such as the Gothic and Baroque periods. Furnishing a room with antique fireplace tiles can set a place back in history, with great style and ornament.
Types of Antique Fireplace Tiles
There are many different ways to use antique fireplace tiles. This is a list of some of the most popular combinations for antique fireplace tiles.
| Types of Tiles | Description |
| --- | --- |
| Set of 10 tiles | The standard number of tiles for a traditional cast iron fireplace. |
| Set of 12 tiles | The extra 2 tiles are meant for a tiled canopy above the fireplace, if the fireplace has it. |
| Sets with mixed patterns | The same number of tiles in a standard set, although some tiles come from different manufacturers. This is because some of the tiles in the original set might have been damaged, so other tiles in a similar pattern are substituted. |
| Sets with over 12 tiles | There are some fireplaces with more tiles than 10 or 12. Unfortunately, sets rarely come with more tiles. In this case, mixing patterns of different tiles is often the only choice. |
| 6" x 6" tile | The standard size of a tile to use for fireplace sets. |
| Tile smaller than 6" x 6" | Typically used as border or filler tiles during the Edwardian period. Usually intricately designed to offset a plainer field of standard-sized tiles. |
| Tile larger than 6" by 6" | Found from the 1870s-1900s, larger tiles were often hand-painted, difficult to make and expensive. Popular dimensions were 6" x 12" and 8" x 8". |
| Panel | Although ceramic tiles had been used to face brick or stone work fireplaces in earlier times, by the mid-1880s onwards cast iron fireplaces, incorporating two vertical tile sets as an adornment, became increasingly fashionable. Many tube-lined, raised line and intricately transfer printed tile designs were produced for these panels, as well as for setting into the floor to create the hearth. |
| Potholder or trivet | Some tiles were designed specifically for use as a potholder or trivet, since they were usually made of the same ceramic material. |
Styles of Antique Fireplace Tiles
There are many styles of antique fireplace tiles available, with a few of the more popular designs listed here.
| Type | Description |
| --- | --- |
| Victorian (1837-1901) | Highly ornate, Victorian antique fireplace tiles often embraced many different styles, from Gothic to floral designs to blue and white transfer prints. Images of birds and flowers in intricate patterns were popular. |
| Edwardian (1901-1910) | Another era that embraced many different styles, Edwardian tiles often featured stylised flowers and simpler, more natural lines while over time eventually progressed towards more plain colours. |
| Art Deco (1920s-WWII) | The Art Deco movement consisted of lavish style, bright colours and geometric shapes that combined the beauty of nature with the age of industrialisation. |
| Pictures and portraits (1870s-1880s) | These tiles were often hand-painted and depicted artistic scenes or portraits of important figures. |
| Art Nouveau | A movement primarily occurring in the Edwardian period, Art Nouveau patterns make up some of the most popular tile designs ever. Blending eclectic historical designs with some qualities of modernism, it's a highly ornate style with lots of organic, natural elements. |
| Japanoiserie (from 1868) | Trade opened up with Japan in the mid-19th century, bringing popular styles from Japan to the West. Images of bamboo, flowers, fans and flying cranes are typical elements that can be found in these tile designs. |
Factors to Consider When Buying Antique Fireplace Tiles
Adhesive residue - antique fireplace tiles may have traces of previous adhesive or mortar, which may get in the way of a proper fitting. Check the back and edges of antique fireplace tiles to determine whether they should be cleaned, or bought at all.
Damaged tiles - when buying a set, it is usually preferable to buy antique fireplace tiles that were meant to pair together. However, there may be chips and other kinds of damage to the tiles. It might be better to buy a few other tiles in the same style, but made by different manufacturers. Also keep in mind that the frame of the fireplace will hide chips to the side and top edges of some of the tiles.
Dating and design registration dates - a registration number displaying the date of production for a particular design can usually be found on the tile itself. Popular designs may have been produced for a couple of decades, although most will be close to a month or two after the design went into production.
Lighting - consider the main light reflecting on the antique fireplace tiles, whether it's natural daylight, the light of the fireplace or artificial lamplight. This will impact the way that the tiles should be arranged for the most pleasing look.
Typical Features of Antique Fireplace Tiles
1. Glaze.
Antique fireplace tiles are often highly prized for their bright, shiny glazes, which use a process that is now prohibited in modern times. The glaze is most pronounced in plain coloured tiles, most typical in the Edwardian period.
2. Artistic designs.
Antique fireplace tiles often feature beautiful designs that were popular in the period of their production. Viewed as pieces of art themselves, a great array of styles such as Art Nouveau, Gothic patterns and Japanoiserie can be found on these tiles.
3. Colour variations.
While some modern buyers may look for consistent colouring in their antique fireplace tiles, colour variations within sets were viewed as a positive feature and are unavoidable.
4. Durable materials.
The most common material to work with artistically was ceramic and porcelain, although materials like slate, granite and marble have been used for simpler antique fireplace tiles.
How to Care for Antique Fireplace Tiles
The type of care required for antique fireplace tiles mostly depends on the type of material used in the tile. If it's a ceramic tile, simply vacuum the tile with a vacuum brush to remove debris and soot. Fill a bucket with warm water and add a few drops of dish soap. Gently scrub the tiles with the soapy water and a cloth to remove any built-on dirt and soot. Wipe away the excess with the same cloth rinsed in clear water.
To clean the spaces in between the tiles, using appropriate safely and protective wear, and adequately protecting surrounding areas, mix one part hydrogen peroxide to one part water. Use a toothbrush and gently scrub to remove dirt and soot. Wipe away with a damp, clean cloth.
More extensive care for damaged or chipped antique fireplace tiles may require the help of a specialist.
Popular Antique Fireplace Tiles Manufacturers
Mintons
Marsden
Josiah Wedgwood and Son
The Pilkington Tile Co.
Accessories and Add-ons for Antique Fireplace Tiles
Once antique fireplace tiles are installed by a fireplace, in a frame or backsplash, the only maintenance generally required will be periodically cleaning and gentle usage to prevent chipping.
Cloth for cleaning the tiles
Soapy cleaner
Old toothbrush for cleaning grout
Finding Antique Fireplace Tiles on eBay
Once you determine the type of antique fireplace tiles you want to purchase, visit the Antiques portal on eBay, click on 'Architectural Antiques', then 'Tiles' and start searching item listings. The Categories list on the left-hand side of the eBay page helps to narrow the search.
Searching for Antique Fireplace Tileson eBay
Search eBay listing titles for specific words when shopping for antique fireplace tiles. For example, to find Art Nouveau antique fireplace tiles, type 'Art Nouveau Antique Fireplace Tiles' into the search box, and then click the Advanced button to customise the results. Also visit eBay's Search Tips page for more advice on searching for antique fireplace tiles with keywords. If you can't find the exact antique fireplace tiles you want, try shopping eBay Stores.
Conclusion
Antique fireplace tiles come in a wide variety of styles and designs to suit the decor of most rooms. Whether they're used traditionally as a fireplace border, or more inventively as a potholder or framed piece of art, the finely made nature of antique fireplace tiles can add a touch of beauty to any space. This guide has outlined some of the most common styles, how to care for them, and the types of collection that can be acquired. Once you have collected this information, you can buy antique fireplace tiles safely and securely on eBay.