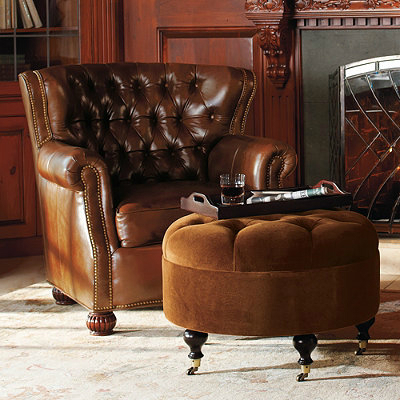 From beautiful dining chairs to leather settees, antique leather chairs are a great way to add old-world style to any home décor. Furniture that is 100 years and older is typically considered antique, as opposed to generally newer furniture that may be considered vintage. People purchase antique leather chairs for many reasons, and they can be a valuable collector's item depending on their condition and style.
There are a wide variety of antique leather chair designs that offer patterns and functions that are fashioned in the styles of the era in which they were made. Antique leather chairs also feature different detailing such as broad padding, buttons, or grooves that make them more collectable and unique. Understanding the different types of antique leather chairs and the different styles that are available are a few ways to help make the purchasing of antique leather chairs an easy and rewarding process.
History of Antique Leather Chairs
From the early days of man, leather has been a deep part of human history. Animal hides obtained from hunting were dried and transformed into clothing and tents. The sun, salting, and smoking were rudimentary ways to preserve leather in earlier times. Over the centuries, a variety of tanning processes were used to make leather soft and to keep it from breaking down. The tanning process was long and arduous, taking eight months to a year as hides were manually softened manually. Eventually, the tanning process became more efficient and practical.
The use of leather in combination with wood to upholster chairs can be dated back to around the fourteenth century. During the sixteenth and seventeenth centuries, techniques for tooling and embossing were developed and the craftsmanship of leather upholstery grew as more and more types of furniture were covered with leather. Once reserved for the upper class, leather furniture became more common in middle-class homes during the nineteenth century.
Different types of leather were used, although cattle leather tended to be a more readily-available source. Late Louis XIV chair styles typically included ox-hides and calfskin, while later chair designers such as Chippendale often used fine goat leather to accent their work.
Discover Antique Leather Chairs
A popular collector's item, antique leather chairs range in value and styles depending on the age and condition. Leather requires proper maintenance to stay looking its best, as it can dry out and crack over time if not adequately cared for. An antique leather chair will have distinguishing features that come with age, contributing to their wide appeal. Heavily restored antique leather chairs are often considered less valuable, while those in superb quality will be rarer and more difficult to find. However, a shabby or highly-repaired look could be desirable to buyers wanting this aesthetic. Antique leather chairs can be a beautiful complement to any home and taking the time to research the different parts, styles and types of chairs is important in identifying and valuing these historic furniture pieces.
Parts of Antique Leather Chairs
The following table outlines some of the important parts of antique leather chairs.
| Part | Description |
| --- | --- |
| Apron | Support strips that run between the legs and attach to the seat |
| Armrest | Arm support located on either side of the seat at elbow height |
| Corner Bracket | Offers added support at corners |
| Cresting | Decorative topping that is usually on the top of the chair-back |
| Foot | At the bottom of the leg |
| Leg | Offers support for the chair and attached to the seat |
| Manchette | Upholstery or cushioning on an armrest |
| Seat | Sitting area |
| Seat Back or Backrest | Back of the chair for leaning and support |
| Splat | Central vertical piece of the backrest |
| Stile | Outside vertical framing of the back |
| Stretcher | Horizontal supports for the legs |
| Upholstery | Antique leather chairs are upholstered with genuine leather |
Types of Antique Leather Chairs
The following list describes several types of antique chairs.
| Type | Features |
| --- | --- |
| Bergère | Upholstered armchair with closed sides originating in France around 1725 |
| Chaise Longue | A daybed –type armchair with an elongated cushioned seat to allow user to stretch out created around eighteenth century France. |
| Corner Chair | An arm chair with a diagonally placed square seat developed in early eighteenth century. |
| Fauteuil | Open-sided upholstered armchair originating in the 1600s in France. |
| Gondola Chair | Concave back with sloping sides and splayed saber back legs originating in 1760s France |
| Hitchcock Chair | Mass produced chair with rectilinear silhouette, round legs and stencil motifs originating around 1818. |
| Morris Chair | High armchair with an adjustable reclining back and back cushion originating around 1869. |
| Slipper Chair | Eighteenth century low armless upholstered chair with high back and wide seat typically siting 15 inches off the ground. |
| Windsor Chair | Wood chair with thin, turned spindles on back and sides originating approximately 1710. |
Factors to Consider When Buying Antique Leather Chairs
Before purchasing and antique leather chair, it is important to consider some key factors.
Refurbishing - Refurbished chairs are typically less valuable than those that are original. The original finish is part of the appeal of an antique leather chair, and removing it can cause the chair's worth to drop significantly.
Condition - The leather itself should have a certain amount of wear, although too much wear may depreciate the overall value of antique leather chairs.
Craftsmanship - Look for antique leather chairs that are made of solid materials and feature quality craftsmanship. Well-made furniture will better retain its value over time.
Measurements - Measurements of authentic antique leather chairs are always irregular due to shrinking of wood over time. It is also important to consider whether the chair will fit well in the space intended for use.
Joints - The way the joints have been constructed on antique leather chairs gives some indication of its age and history. Interlocking dovetail joints were used in the late 1600s and very early 1700s. In the 1860s Charles Knapp invented the Knapp joint, also known as scallop and dowel, pin and scallop, or half-moon. Antique leather chairs will feature glued joints, nails and screws indicate the item is of newer origin.
Value - Antique leather chairs range in price. It is important to research the style and age of the chair and determine its authenticity to help understand its monetary value. The fair market value of an antique leather chair is the amount agreed upon by buyer and seller. The open market value is the price an item would fetch at an auction.
How to Clean Antique Leather Chairs
It is important to properly maintain and care for antique leather chairs. Taking a moment to follow some simple precautions can help keep antique leather chairs looking their best.
Keep antique leather chairs away from direct sunlight and heating sources that can fade and dry out the leather.
Keep pets away from antique leather chairs as they can scratch and damage leather.
Chemicals such as paint, hair spray and nail polish should be kept away from antique leather chairs as they can damage and discolour leather.
Properly maintaining antique leather chairs includes apply careful cleaning techniques. To clean antique leather chairs:
1. Use a soft, dry cloth to wipe dirt off leather chairs.
2. A small paintbrush is a great way to remove dirt from corners and hard-to-reach places.
3. Avoid wet-washing leather.
4. Use water-based leather cleaner designed specifically for antique leather as opposed to cleaners designed for modern leather.
5. Apply antique leather conditioner twice a year, or as advised on the product, to keep leather supple.
Finding Antique Leather Chairs on eBay
Once you determine the type of antique leather chairs you want to purchase, visit the Antiques portal on eBay, and then click on the Chairs category and start searching item listings. The Categories list on the left-hand side of the eBay page helps to narrow the search.
Searching for Antique Leather Chairs on eBay
Search eBay listing titles for specific words when shopping for antique leather chairs. For example, to find Mahogany Edwardian Leather Dining Chairs, type 'Edwardian Leather Dining Chair' into the search box, and then click the Advanced button to customise the results. Also visit eBay's Search Tipsppage for more advice on searching for antique leather chairs with keywords. If you can't find the exact antique leather chair you want, try shopping eBay Stores..
Conclusion
Before purchasing an antique leather chair, it is important to consider a variety of factors including the type, condition, style, and age of the chair to get a better understanding of its value. A moderate amount of wear is expected with antique leather chairs, and can be considered part of their charm. However, too much distress and wear can significantly undermine an antique leather chair's value. Refurbished chairs tend to hold less value than those that are more original, however they may provide a more cost-effective and available solution for some, or even be attractive to others as an option to repair and restore. Taking the time to research and collect more information about antique leather chairs will help make the decision process much easier. Once you have collected this information, you can buy antique leather chairs safely and securely on eBay..