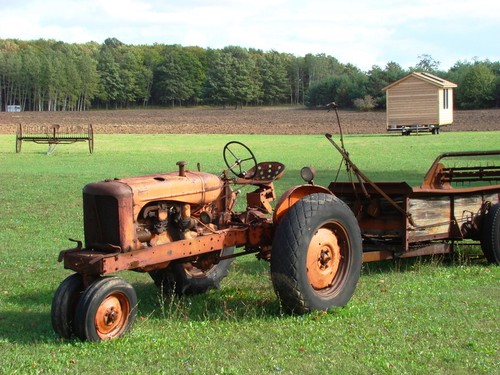 Antique farm equipment lends an air of rustic, old-world charm to a farm. Some farmers or homeowners may simply want an antique tractor to display or keep as a collector's piece. Others may find that an antique tractor in good condition can still do some effective work around a property. Antique tractors are typically less expensive than the brand-new, powerful tractors available in the present day.
For a buyer who is searching for an antique tractor, eBay is a good place to start. eBay sells a wide variety of products, including many types of farm equipment. To fully understand and appreciate all of eBay's buyer-friendly features, buyers should familiarise themselves with the way in which the site works. Search filters, seller ratings, the "save a search" feature, open communication between parties, and extra incentives can all save shoppers time and money. By utilising the website's features well, a shopper on eBay should be able to secure an antique tractor that fits the needs.
How to Find Antique Tractors on eBay
To make it simpler for users to search its vast array of products, eBay has instituted a rapid and effective search engine. Users can start on the eBay home page, click on the search bar, and type in a keyword or search query such as "antique tractors". A long list of search results appears almost instantly.
Buyers can adjust a search at any time during the shopping session. Instead of going back to the home page, they can use the search bar which appears at the top of every page on the website. Tweaking a search query or adding another descriptive word can sometimes narrow the options and make the final selection easier.
How to Use the Search Filters on eBay
With many eBay searches, there can be a large number of search results. However, antique tractors are somewhat limited in supply, so buyers are likely to see fewer listings in this product category. However, it can still be difficult to sort through many listings in a short period of time.
To simplify the search process, eBay provides convenient search filters. Buyers simply check the boxes beside options that match their preferences. Then, the search results are automatically filtered to reveal only products that fit the buyer's vision. The streamlined list makes for quicker and easier shopping.
A search for antique tractors on eBay can include options to filter by make, price, condition, item location, and seller, among others.
Filter by Make of Antique Tractor
An important search filter that buyers may want to apply is the one that allows them to search by the make of the antique tractor. Popular makes include Fordson, David Brown, Ford, John Deere, and Case. Other makes that buyers may see are Massey Fergusson, Lister, and McCormick. The variety of available brands changes daily as antique tractors are sold off and others are posted.
Filter by Condition of Antique Tractor
Not surprisingly, many antique tractors available on eBay are in used condition. However, some vintage tractors may have been kept in new condition. The "Condition" filter allows buyers to select what type of condition they prefer for an antique tractor they want to purchase. The options available on eBay and their meanings are listed in the chart below.
| Condition | Meaning |
| --- | --- |
| New | Brand-new, never used |
| New Other | New and not used, but may be missing documentation or have some flaws |
| Seller Refurbished | Used, but repaired and restored to functional condition |
| Used | Used, sold as is |
| For Parts or Not Working | Used, no longer functions due to age or damage |
An antique tractor that is 'for parts or not working' could be used as a display piece. A used, new, or seller-refurbished antique tractor is likely still useful for some farm work.
Some sellers may offer a refund or a money-back guarantee if the antique tractor is supposed to be fully functional. If the tractor does not work as expected, the buyer can return it for a full refund. If a return policy is included in a listing, then a prospective buyer should always read it carefully and be willing to abide by it. In many cases, a return policy is good for a specific time period, such as 15 days, 30 days, or 60 days.
Filter by Seller
Some buyers are very familiar with the eBay process. They shop on eBay frequently, and they may have favourite sellers from whom they purchase products regularly. eBay allows users to save their favourite sellers into a "My Saved Sellers" list. When searching for an antique tractor, a buyer can choose to see listings from the sellers in the "My Saved Sellers" list, rather than from the entire eBay community of sellers. A buyer can also look for a specific seller as long as the seller's eBay user ID is known.
The "Seller" filter also gives buyers the option to see results only from eBay ' s Top-rated sellers. These are sellers who have received overwhelmingly positive feedback from previous customers. They are known for responding quickly to customer inquiries, shipping items swiftly, and offering quality products.
Filter by Price
Whether one wants an antique tractor as a functional piece of equipment or as a collector's item, one is likely to have a specific price range in mind. eBay's price range filter allows users to choose minimum and maximum amounts that they are willing to pay for items. In the case of an antique tractor, users can set the maximum number of pounds that they want to pay, and then adjust it later if their initial estimate was too low.
Filter by Item Location
With the item location filter, users can elect to see antique tractors within the United Kingdom only, within the European Union, or worldwide. They can also enter a postcode and select a specific distance, creating a search radius that fits their needs. eBay then eliminates all search results which do not fall within that geographic circle. This is particularly helpful for buyers who want to support local eBay sellers or buyers who may be interested in picking up tractors in person and avoiding shipping costs.
Filter by Shipping Options
The postage and packing (P&P) on a large machine such as an antique tractor is extremely costly. Many listings for antique tractors include the phrase "Collection Only: Free," meaning that the buyer must come and pick up the tractor. Other sellers may be happy to ship the tractor but may have to charge heavy fees to cover that extra cost. If purchasing a part for an antique tractor, the buyer may be able to find free P&P. Otherwise, the buyer must be willing to either pay the shipping fees or collect the tractor.
How to Search eBay Shops
Some buyers may enjoy a slightly different kind of online shopping. They prefer to browse through online shops rather than searching for a specific item. For shoppers who like to take their time and browse a selection of products, eBay has created the eBay Shops area of the website. Here, buyers can conduct searches in the same way that they do on the main eBay site. The search results, however, are displayed differently. Instead of links to separate product listings, the search results appear as links to online shops created by eBay sellers. Buyers can click the link to enter a shop and look at the available items that match a search.
How to Contact eBay Sellers
On occasion, the information included in a listing may not be sufficient for a buyer to make an informed decision. One may need more photographs of the antique tractor or want more specifics about its history and condition. If buyers have questions for sellers, they can go directly to the seller's profile and initiate contact with the seller. Messages sent on eBay protect the privacy and anonymity of buyers and sellers while allowing clear communication.
How to Save a Search on eBay
While many buyers find what they need within the first shopping session, others may prefer to wait on a purchase until they have more time to consider other options. If buyers want to monitor the listings for antique tractors on eBay, they can save their original searches. Once the "Save a Search" feature is activated, eBay can email the buyer regarding new listings for antique tractors. A prospective buyer can stay current on the available products, take note of prices, and make a move once the right antique tractor is identified.
Conclusion
Antique tractors hold a unique charm for many farmers. Some antique tractors are still used in the fields to pull loads. Others have a place of honour in a shed or barn, where they are occasionally admired and cared for as collector's pieces. Still others are employed competitively in antique tractor pulls, in which these vintage machines can show their strength.
To find an antique tractor that is still in good condition and at an affordable price, a prospective buyer is well advised to explore eBay's selection. With the website's seller filters, users can opt to see results only from their favourite sellers or from eBay's Top-rated sellers. A buyer may choose the search radius for the listings, so that the results shown are within reasonable driving distance of his home. eBay's private messaging feature allow buyers and sellers to communicate key information and finalise transactions to the satisfaction of both parties. Thanks to eBay, a buyer can be a proud owner of a classic tractor from a golden era in farming.