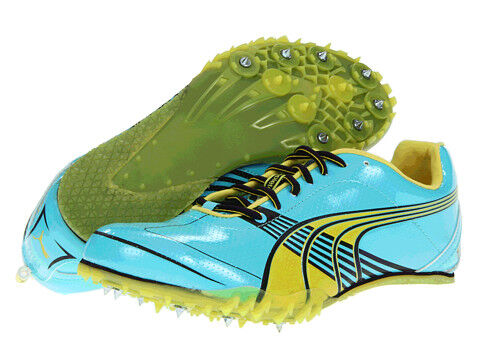 Spiked running shoes play an important role in a runner's performance, and can cut the time off a run needed to outdistance opponents. They are designed to be fast and lightweight, and can be used with several different types of spikes. Begin shopping for these shoes by considering which type of running they are used for. In addition to sprint shoes, buyers can choose general track shoes and cross country running shoes. From there, decide which type of spike to use. Keep in mind that many races regulate the types of spikes that can be used on a track.
When possible, try on a pair of sprint spikes before making a purchase. Wear the same socks used for races while trying on spikes, and try moving around in the shoes to get a feel for their comfort and support. It can also be worth taking the time to read reviews before making a purchase, especially on an expensive pair.
Sprint spikes can be purchased from sporting good stores, running shoe retailers, and online sellers like those on eBay. Shop around to find the full selection of products, and compare prices to get the best deals. Regardless of how they are used, a pair of spiked running shoes can be found to improve the comfort and performance of any runner.
About Running Spikes
Running spikes are short, metal pins that fit into the outsole of a running shoe. By extension, spiked running shoes are commonly called "spikes". Spiked running shoes are designed to have their spikes removed and replaced, and it is possible to purchase spikes in a variety of lengths to accommodate different running styles and events. Buyers should begin by choosing the most appropriate style of shoe, and then choose suitable spikes.
Choosing Spiked Running Shoes
There are three primary types of spiked running shoes: those for sprints, cross country, and track runs. These can vary greatly in their design, and even a single type of shoe can be made to suit runners with different arch heights. Learn more about each type of running spike to choose the best products available.
Sprint Shoes
Sprint spikes are designed to be as light as possible. They have a low cut design, and the upper material is made from a light, breathable material. Outsoles on these shoes are thinner than on other spikes, they have little heel support, and the uppers tend to have less cushioning. The spikes themselves are shorter, as well, and are intended to be used on well-maintained tracks. They are designed to improve traction in turns, and be responsive to quick kicks during acceleration.
Track Shoes
Track spikes fall between sprint and cross country shoes in terms of their weight, padding, and spike length. They are a good all-purpose shoe, and can be used for longer track events. They have more support in the heel than sprint spikes.
Cross Country Shoes
Of the three primary spiked shoe types, cross country models are the thickest. They are designed with padded uppers and thick soles to provide comfort and support while running long distances. The spikes are longer on these shoes to help runners dig into a variety of terrain types, including grass, loose dirt, and mud. The longer spikes also help runners on hills.
Spikeless Spikes
Spikeless spikes are a type of cross country shoe designed with short rubber studs like those found on football cleats. These are primarily used for trail running, or as practice spikes. Runners with foot injuries can also use spikeless shoes to help an injury heal while still getting in some run time.
Other Considerations
Spikes are created in several different styles to provide sufficient support for wearers with different needs. Look for cushioned shoes with extra midsole padding for feet with mid to high arches. Runners who tend to overpronate can find motion-control spikes for extra arch support and increased control in the rear of the shoe. Serious racers may also wish to invest in a pair of training shoes. These can be used during practice in order to keep a pair of racing shoes in the best condition possible for race day.
Choosing Spikes
Several types of spikes can be used in spiked running shoes. The following table lists some of the most popular ones.
| Spike Type | Description |
| --- | --- |
| Pyramid | The most common spike. These taper evenly from a wide base to a point. |
| Needle | Similar to pyramids, but taper sharply in the middle for a finer neck. |
| Christmas Tree | Built with several ridges to help gain traction with a variety of foot strikes. |
| Stud | Used on spikeless shoes. Similar to a football cleat. |
Many competitions regulate the types of spikes that can be used in a race. Be sure to verify which spikes are acceptable, and train with them prior to the race.
Replacing Spikes
The spikes on a pair of shoes wear down over time, and need to be replaced on a regular basis. Keep in mind that spikes can become more difficult to get a hold of as they wear down, so it is best to replace them early. Also, many serious racers replace their spikes at the first sign of wear to ensure the best possible performance.
Buying Shoes
There are several things to keep in mind while shopping for spiked running shoes. When possible, shop in the evening, as feet tend to expand over the course of the day. Shopping late ensures a pair of shoes remains comfortable all day long. Also, be sure to wear the same type of socks used for races while trying on shoes. Look for a pair of spikes that fit snugly, like a glove on the foot, but be sure toes are not cramped in the end of the shoe. Lace up the shoes and walk around the store to get a feel for their fit and comfort while in motion. If buying online, be sure the seller allows returns in case the shoes do not fit properly.
Read Product Reviews
It may be worth looking for reviews while shopping for spiked running shoes, especially with an expensive pair. Professional reviews can be found on running and fitness-related websites, while shopping sites have reviews and ratings from other buyers. In some cases, hundreds of ratings are available for a single product. The main thing to look for is information on a shoe's durability. Customer reviews are especially helpful in this regard, and users often provide information about any trouble they've had with the materials or design of a shoe over time. Be sure the shoes hold up well over time to ensure a positive buying experience.
How to Buy Sprint Spikes on eBay
All types of spiked running shoes can be purchased on eBay. Begin shopping from the home page by entering keywords into the search field. For example, to see listings for spikes made by Adidas, type "adidas spikes" into the field. Search result can be narrowed by introducing additional keywords, or by using eBay's category links. Look for these links in search results to narrow listings by gender, brand, size, and colour, among others.
Once you have located desirable shoes, take the time to read their full listings. Look for information about the shoe provided by the seller, as well as specifications from the manufacturer. Compare these details with all available photos to be clear on the item being sold. Note the price of the item, and include shipping charges into your estimate of the total cost. It is also important to check the seller's accepted forms of payment.
Review seller profiles to find reliable eBay users. Consider the positive feedback ratings and number of completed transactions found in item listings, and click on sellers' names to see their full profiles. Once you have received your purchase, leave feedback for the seller to inform future buyers about your experience.
Conclusion
Spiked running shoes are the most important piece of gear in a runner's collection. They are designed in three primary types, including those for sprinting, mid-range running, and cross country. Sprint shoes are the lightest shoes available, and have the shortest spikes. They have very little padding or heel support, and are meant to give runners the most speed possible. Conversely, cross country shoes have the most padding and heel support. Their spikes are long, and designed to dig into tough terrain like loose dirt, grass, and mud. Track shoes fall between the two, and provide a well-balanced shoe that can be used for many types of running. Several spike types are also available, and should be chosen based on the preferences of a runner and race regulations.
When possible, try on spiked running shoes before purchasing them. If buying online, be sure the shoes can be returned if they are the wrong size or are uncomfortable to wear. Read product reviews to find the most durable shoes on the market.
Spiked running shoes can be purchased from sporting good stores, specialty running shoe stores, and online retailers. Marketplaces like eBay have a high number of listings for all types of spikes. With a little patience, a great pair of spiked running shoes can be found to help runners improve their performance at the next event.