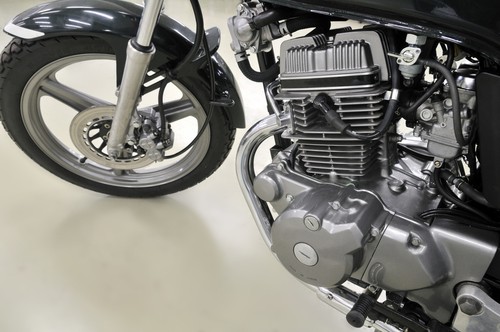 BMW entered the motorbike market in 1921, when the nascent company produced motorbike engines for other motorbike companies. The success of motorbike engine manufacturing led BMW to produce other motorbike parts until the company built its first motorbike manufacturing plant in 1923. Since then, BMW has earned the reputation for building high-quality motorbikes, as well as introducing innovative technologies that other companies use in the construction of their motorbike lines. Nonetheless, even though they are known for superior quality, BMW motorbike enthusiasts must replace most, if not all, of the important parts of their motorbikes during the lifetimes.
Finding the right BMW motorbike parts seller is as easy as clicking a few links on the leading auction site, eBay. BMW motorbike enthusiasts simply utilise eBay's numerous tools to find the right BMW motorbike parts seller. Before they venture online, consumers should learn about the different BMW motorbike lines, the most important BMW motorbike parts, and a few tips on how to buy BMW motorbike parts that provide long-lasting performance.
BMW Motorbike Lines
BMW manufactures four lines, or series, of motorbikes. The primary difference among the lines is the engine class utilised to power the motorbikes, although consumers can find nuanced differences in body frame construction and handlebar design. The first step in buying BMW motorbike parts is to understand the fundamental characteristics of each motorbike line.
F and G Series Singles
BMW introduced the G450X motorbike in 2007 as an advanced version of F series singles. The G450X incorporated a 450 cc single-cylinder engine that possesses numerous technological enhancements over previous BMW single-cylinder models. Because the G450X is a relatively new addition to the single-cylinder series, BMW motorbike enthusiasts may have some difficulty finding eBay sellers who offer parts for this BMW motorbike line.
F Series Twins
eBay buyers can find BMW F Series Twins parts, especially parts for braking and the electrical system. The F800S sports motorbike and F800ST sports tourer, which implement parallel twin engine technology, are two of BMW's most popular motorbikes. Both motorbike models feature a similar belt drive system that is more fuel efficient than previous BMW models.
R Series
BMW constructs its R series motorbikes on horizontally-opposed, flat twin engine technology. The engine mounts on a longitudinal crankshaft, where it protrudes beyond the frame sides. The original R series motorbikes include air-cooled heads, but the company now produces R series motorbikes with oil-cooled heads. This means BMW motorbike owners who refurbish their own bikes should stock up on engine pistons.
K Series
The water-cooled K series BMW motorbikes include either four- or six-cylinder engines, all of which are available for sale on eBay. BMW constructs the K series motorbikes with engines that transverse the chassis and tilt forward at an angle of 55 degrees. K series motorbike parts tend to be more expensive than the other BMW motorbike parts sold on eBay.
Important Types of BMW Motorbike Parts
Regardless of the BMW motorbike line, consumers should be aware of the most important parts that require constant monitoring. Not only are the following BMW parts crucial to smooth operation, they are also the most prevalent BMW motorbike parts found on eBay.
Drivetrain
Consider the drivetrain as the heart of a BMW motorbike. BMW drivetrains typically include an internal combustion engine that uses petrol for fuel. The carburetor integrates the petrol with air, before the mixture moves into the ending for combustion. Some high-end BMW motorbikes found on eBay utilise fuel injectors to pump the petrol-air mixture. The transmission belt attaches to the engine and a shift lever attached to one of the handlebars to control the transmission. BMW motorbike owners typically have to replace the transmission belt before replacing any other BMW engine part.
Wheels and Tyres
BMW motorbike wheels feature anodised steel spokes, although do-it-yourselfers can find eBay sellers who offer aluminium BMW spokes. The rear wheel may be wider than the front wheel, which is an important aspect for eBay buyers looking to replace one of their motorbike wheels. BMW motorbikes invariably possess pneumatic tyres that inflate when air is added to an interior rubber tube. eBay buyers need to pay close attention to tread patterns, which are produced to accommodate riders who drive on varied road surfaces and under different weather conditions.
Frame
BMW employs several chassis configurations that form the foundation of the company's motorbikes. consumers should look for BMW frames sold on eBay that are constructed with either steel or aluminium. The frame also integrates the front fork with the handlebars. Some eBay sellers offer entire BMW motorbike frames, while other sellers offer individual frame components. Most BMW frame styles feature front and rear suspensions that include shock absorbers placed inside of the fork or barely above the wheels. Off-road BMW motorbikes possess much more rugged suspension systems.
Electrical System
Contemporary BMW motorbikes are made with increasingly intricate electrical systems. Consumers make frequent electrical system part purchases, such as batteries, headlights, directionals, signals, and brake lights. Another important electrical system feature are the gauge lights that alert riders when there is a part malfunction or failure. Most BMW motorbikes include computerised data centres that monitor tyre pressures, engine temperature, and motorbike speed. Moreover, eBay buyers can find a plethora of sellers who offer the latest GPS navigation systems. Spark plugs are perhaps the most readily available BMW electrical system part sold on eBay.
What to Consider before Buying BMW Motorbike Parts
BMW motorbike enthusiasts are increasingly turning to spare parts to refurbish their bikes, instead of purchasing a new motorbike. This means do-it-yourselfers can either rely on their local mechanic or take measures to perform motorbike part replacement on their own. Most experts agree that it is imperative to purchase motorbike parts from the original equipment manufacturer, which in the case of BMW, the parts are universally considered some of the highest quality in the industry. However, BMW motorbike part buyers need to consider three additional factors before they buy BMW motorbike parts.
Condition
BMW motorbike do-it-yourselfers should always shop for new motorbike parts. Used parts, especially for the engine, brakes, and electrical system, can cause a BMW motorbike to perform below BMW standards. In addition, older BMW parts may not be compatible with new parts. Check with prospective sellers to ascertain the condition of any BMW part under consideration.
Motorbike Enthusiasts
Motorbike enthusiasts are noted for their camaraderie, as evident by the large groups of motorcyclists who traverse the English countryside and urban roads. Fellow motorbike enthusiasts can be an excellent source of information about BMW motorbike parts, especially those who have experience replacing the parts. Tap into the knowledge of fellow motorcyclists to gauge the authenticity and quality of a BMW motorbike part.
Online
While some motorbike experts recommend shopping for parts in person, the most extensive inventory of BMW motorbike parts can be found online. Internet shopping is a convenient way to shop for BMW motorbike parts, since consumers do not have to fight traffic as they surf the Internet from inside of their homes. BMW motorbike enthusiasts have myriad options when it comes to shopping for parts online, but only one ecommerce site provides all of the tools a buyer needs to find the right seller, as well as host BMW motorbike part sellers who offer generous shipping terms. After a few clicks, BMW motorbike part buyers can find the right seller on eBay.
Buying BMW Motorbike Parts on eBay
eBay operates a virtual marketplace that connects BMW motorbike part sellers with buyers who are looking to enhance the performance of their motorbikes. While eBay provides several ways for buyers to find the right seller, the best way to connect with an eBay buyer is to search for eBay's top-rated motorbike parts sellers. eBay Top-Rated Sellers have earned reputations for selling high-quality products and providing buyers with more than enough information to make a purchasing decision. Some of the information you should review includes an enlarged photograph of the BMW motorbike part, delivery terms, and customer feedback.
After you find eBay's top-rated motorbike parts sellers, you can then utilise eBay's powerful search engine to find the top-rated BMW motorbike parts sellers. The search results should further reduce the list of seller candidates. Next, you should specify which part, or parts, you want to buy on eBay. For instance, type "top-rated BMW motorbike filters sellers" into the search engine. From this page, you can select oil, air, or fuel filters. Just remember that an eBay BMW motorbike parts seller search begins by honing in on the top-rated sellers, who receive an electronic ribbon from eBay that appears next to their product photographs.
Conclusion
The romanticism of riding a motorbike on an open road, coupled with soaring fuel costs, have helped increase the sales of motorbikes within the United Kingdom. BMW, a company that first constructed engines for other motorbike companies, has immensely benefited from the renewed interest in motorbikes. Sales for the company continue to climb, as motorbike enthusiasts understand that BMW produces high-quality, long-lasting bikes. At the core of BMW's devotion to quality is the numerous parts that comprise their motorbikes.
BMW manufactures four different lines of motorbike, with each line requiring different parts specifications. Once a BMW motorbike enthusiasts learns about the different bike series, they should spend some time researching the importance of BMW motorbike parts, such as the components in the engine and electrical system. BMW motorbike part buyers should search for sellers on eBay. While on the leading auction site, buyers can find BMW motorbike parts in mint condition from eBay's Top-Rated Sellers. Any eBay buyer who gets cold feet before a sale can always confer with a fellow BMW motorbike enthusiast to verify the quality of a motorbike part.