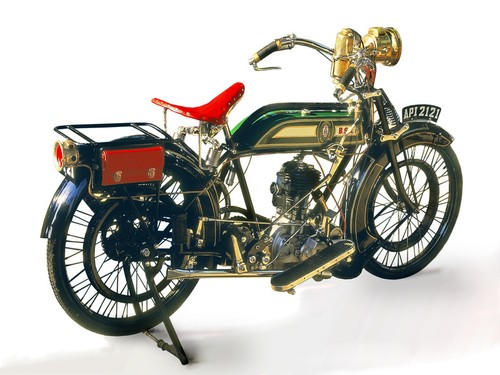 For a consumer who own a classic BSA motorcycle, replacing old parts with genuine BSA parts is the best way to maintain the bike and guarantee that it continues to run properly. Parts for a BSA cycle can be costly, and one way to alleviate the cost of these parts is to purchase them for a lower cost on eBay. From small parts such as new mirrors or blinkers, to large, important BSA parts such as tyres, wheels, and engines, there are many BSA parts available to fit a wide range of bike styles and models.
For consumers who work on their own bikes, this is a cost-effective solution to paying a mechanic to find and replace BSA parts. Buyers can save even more money in the long run by purchasing parts for their BSA bikes on eBay. Select the necessary parts such as covers, batteries, or body parts from a wide variety of thousands of BSA motorcycle parts.. Parts are available in various price ranges according to what shape they are in and the type of part they are, so there is a wide range to work from for buyers purchasing BSA parts on a budget.
Shop for Parts by Bike Model
Some of the most common BSA bikes offer many replacement parts online. For the consumer who is not sure how to go about purchasing a part for his or her BSA bike, an easy place to start is to search by the model of the bike.
Selecting the model brings up parts that are only compatible with that particular bike model, and this simplifies the buying process quite a bit for the buyer who does not want to spend time looking through pages of parts that may or may not fit the specific bike. Once a specific bike model is figured out, the search can be narrowed according to part type. There are a few popular models of BSA bikes which parts can be found for.
Thunderbolt
The Thunderbolt is a BSA bike model that was manufactured in the late 60s and early 70s. This bike is also called a touring motorcycle, because it was made for road cruising at normal speeds. It is still a popular model for lovers of vintage bikes, and consumers are able to find many parts for their BSA Thunderbolt cycles, such as filters,, tyres, and engine parts.
Royal Star
The BSA Royal Star bike was also made in the 60s, and it was designed to be a sporty style of cycle. It not only sold well in its native country of Britain, but in the United States as well. A motorcycle that is great for long rides on the open road, owners of Royal Stars are able to find parts for this bike, such as body parts, lights, and batteries..
Lightning
A heavy-duty but still sporty motorcycle, the BSA Lightning was featured in a James Bond film in the 60s, and it received acclaim for its quiet engine, high speed, and overall great rideability. For owners of Lightning classic motorcycles, parts that are either new or used can be found such as brakes and tyres. Keep a vintage bike such as the Lightning in good shape by replacing parts that do not work or are broken or damaged.
Rocket
The BSA Rocket was created to look fairly identical to the Triumph Trident, and it is a high-speed bike that offers riders a lot of power. Buyers are able to search for parts to replace and keep up their BSA Rockets properly, such as engine parts, cables, or body and frame parts.
Shop by Part and Part Number
Buyers can easily shop by a specific part for their BSA bikes by selecting the part and then browsing the options. For instance, if buyers are looking for electrical parts, the search can be narrowed to only see those options. Buyers can look at many types of BSA parts such as filters and exhaust system parts..
For consumers who are searching by part, there is an easy way to see whether or not the part is compatible with their BSA bikes. Each part has a model number on it, and the listing should include which model of bike the part works best for, along with the model number, so buyers can look at the existing part and match the numbers to make sure the part is compatible.
Purchase Parts by Condition
When purchasing BSA parts, consumers have the choice to buy new parts, which have not been used, parts that are used, or parts that do not work but can be refurbished, if buyers so desire. Once buyers select the part style or part model, they can choose to look at only new or used parts, or parts that are not in working order. Another option is remanufactured parts.
Remanufactured Parts
Remanufactured parts mean that the parts have been rebuilt to work almost identical to new parts. However, these parts are put together from existing used parts, so it is up to buyers whether or not these are good options when it comes to purchasing parts for BSA cycles. The good thing about remanufactured parts is that they are a good way to recycle old parts and continue to use them.
Comparing Part Prices
Looking at the BSA parts is an overwhelming experience, and for buyers on a budget, it helps to know what the price ranges of some of the most common BSA parts are. Consumers are able to save money by purchasing used or remanufactured parts, but for buyers who are not sure if they are actually cost-effective options, it is wise to compare the various parts and their prices before making final buying decisions on BSA cycle parts.
Part

New

Used

Remanufactured or New Other

Filters

££

£

££

Engine parts

££-££

££-£££

Vintage engine parts are sometimes more costly if kept in good condition

££-££££

Body parts

£-£££

price depends on part

££

££

Brakes

£-££

££-£££

£

Electrical parts

£-££

££

£-££

Tyres and wheels

££

££-£££

£-££

£-££

£-£££

£
Buyers may find that perhaps old vintage items are more costly than new items. Original items from vintage bikes that have been well maintained and taken care of are rare and cost more, but they may work well for the aesthetics of bikes and to maintain the integrity of the bikes.
For an item that is labelled as new other, that simply means that the item has not been used on a bike, but for some reason or another, the seller cannot label the part as new because it may not be in the original package or sealed box, or it may be dusty or rusted due to its lack of use or from storage. A new other item may also be a factory second, or have a minor defect or flaw that the seller does note in the listing of the item, so buyers should ask the seller any questions about the item as desired.
How to Buy BSA Parts on eBay
Buying BSA parts on eBay for vintage and classic BSA cycles is the best and most affordable way to maintain your motorcycle. Navigate to "BSA motorcycle parts&" from the home page,, and select the categories that best fit the types of parts you are looking for, or the bike model you are looking to replace parts for. Decide whether or not you want to purchase new or used parts for your BSA bike, and if you are buying used parts, only purchase parts from merchants who are Top-rated sellers,, and perhaps have dealt in used motorcycle parts for an extended period of time.
Purchasing from sellers who know their parts is a good way to ensure you are getting a good deal from knowledgeable sellers, and make sure any used or remanufactured parts are in great condition by looking at a lot of images of the parts. Ask the sellers any questions you might have about the parts. Pick up the parts in person from local sellers and create personal, one-on-one buying experiences when you are getting your BSA motorcycle parts.
Conclusion
BSA bikes have been around for almost a century, and any consumer lucky enough to have a BSA bike owns a piece of quality machinery from one of the all-time most successful motorcycle manufacturers in Britain's history. Consumers can replace broken or worn out parts with original or refurbished BSA parts bought for affordable prices on eBay. Maintaining the bike is integral for keeping it running smoothly for years to come, and that means replacing parts that are broken or simply worn out.
Some of the bike models are very rare and considered vintage or classic, so buyers should purchase the proper parts to keep these priceless bikes running and looking as they should. Getting BSA parts from retailers can be tricky and costly, so an easy solution for buyers looking for the right BSA parts for their special cycles is to search for the necessary parts and other accessories on eBay. Buyers can also find fun accessories like BSA decals when shopping for parts.