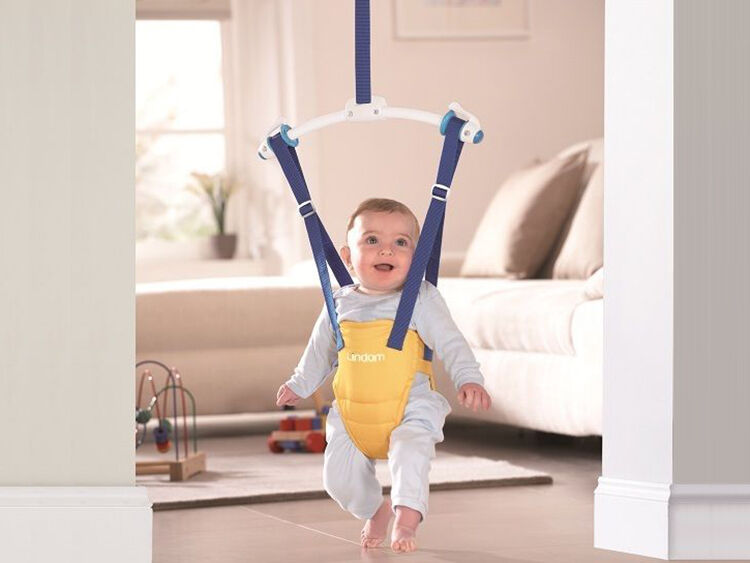 A door-mounted baby bouncer allows a baby to use his or her own legs to move the seat and bounce around without danger of injury. The baby door bouncers available on eBay come with fabric or moulded plastic seats. Choose a model with features that keep babies safe while they enjoy their new-found freedom. Buy a baby door bouncer with features that make it easy and fun to use.
Baby Door Bouncers with Fabric Seats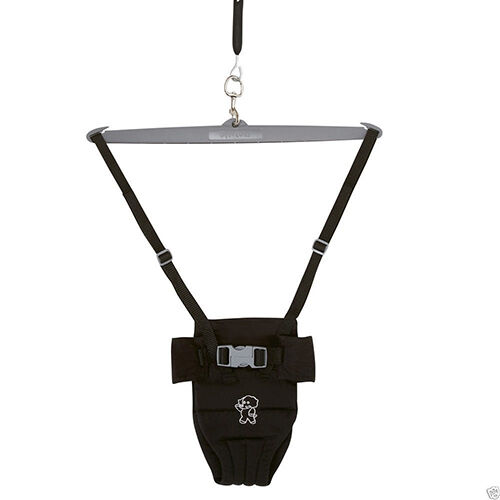 Brands such as Lindam, Mothercare, and Tippitoes offer baby door bouncers with fabric seats that are practical and affordable. Soft baby bouncers are lightweight and easy to fold and store. They are cheaper than bouncers with plastic seats, and the smaller fabric seat allows greater freedom of movement. However, this type of bouncer may leave your baby feeling vulnerable and it provides less protection against bumps and knocks. Look for bouncers with washable seats for easy cleaning and adjustable straps that allow for growth.
Baby Door Bouncers with Plastic Seats
Baby door bouncers with plastic seats are available from manufacturers such as Mamas and Papas, Lindam, and Bright Starts. They are sturdier than bouncers with fabric seats and offer more protection. In addition, these bouncers are easy to clean with a damp cloth. However, they take up more storage and usage space. Because they are more constricting than fabric seats, they are less fun to use. Look for colourful, interesting seat shapes, colours, and designs for added fun.
Baby Door Bouncer Safety Features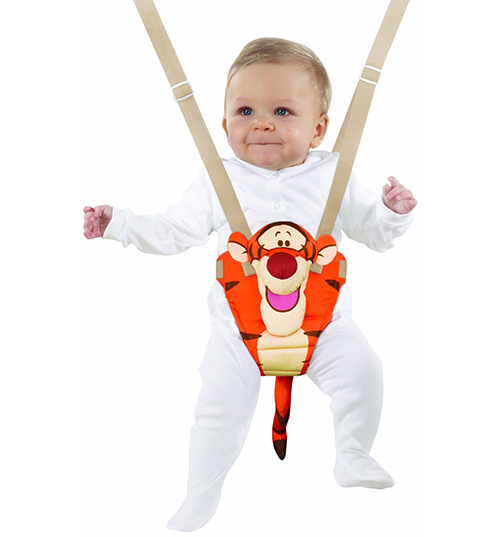 Baby bouncers are suitable for little ones who can support their heads, usually from around four months of age. Before you buy a bouncer, check whether the doorframes and doorways in your home are suitable for installing one. The doorframe must be sturdy, solid, and perfectly straight, with a gap between the wall and frame that can accommodate the bouncer clamp. The clamping mechanism must be secure and the bounce spring must be sturdy. Look for a bouncer with the BS EN 14036:2003 safety mark that confirms that the system complies with safety requirements. It should not have small parts little hands can reach.
Features to Look For in Baby Door Bouncers
Search for a bouncer that is easy to assemble and has height adjustable for different doorways. The seat should be easy to clean whether it consists of fabric or moulded plastic. Look for a lightweight product if you want to use it in several locations. Consider the storage space available and use these constraints to select a seat type. Some baby bouncers come with plastic play trays for toys.