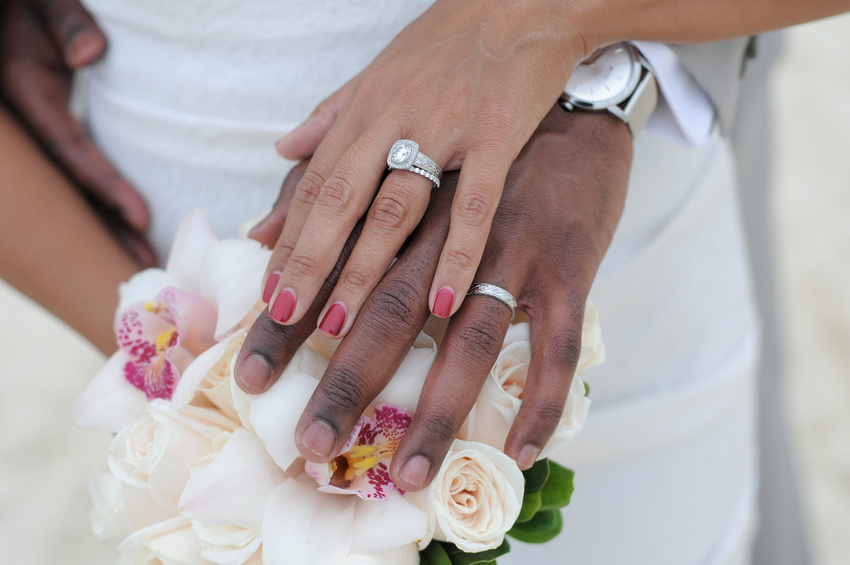 The baguette is one of many stone cuts developed during the creative days of the Art Deco movement. This linear cut creates dramatic sunbursts with unbroken fiery channels of light and powerful geometric designs. Baguette cut rings for men and women often include diamonds, cubic zirconia (CZ), and colourful semi-precious gems with gold, silver, and platinum settings to complement any style.
Baguette Diamond and CZ Rings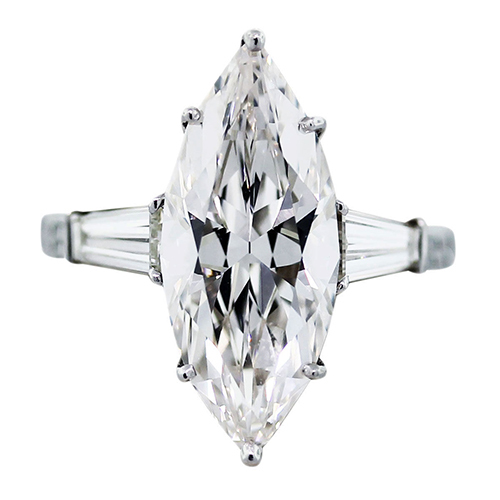 In a baguette cut diamond ring, the baguettes usually create dramatic top designs, elaborate geometric patterns, or full round patterns on eternity or wedding rings. A man's ring may include a wide band with inset baguettes or a heavy ring in thick gold or silver with a lot of diamond bling. A diamond eternity ring with baguettes requires precise sizing because the gems around the band prevent resizing. A baguette diamond ring with gems only on the top is a better choice when the size is uncertain. CZ baguette rings are usually available in styles similar to popular diamond styles. The lower price of the synthetic stones also makes additional designs possible that include much larger stones.
Art Deco Baguette Rings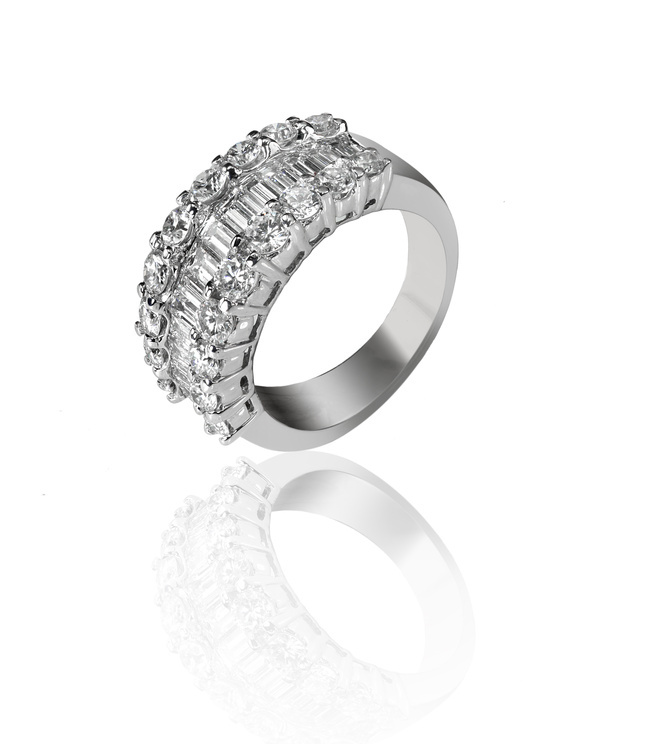 Women's Art Deco rings often use baguette cut stones to create geometric effects popular during this period. Graduated baguettes form high-contrast frameworks for central stones. Short baguettes may radiate from the corners of an emerald-cut stone to form the basis of a square or rectangular frame filled with other stones. Baguettes may appear in a line, or graduated baguettes may surround the centre stone. Art Deco rings generally have white gold or platinum settings.
Gemstone Baguette Rings
Baguette gemstones sometimes appear as spectacular sunbursts in contemporary cocktail rings, or they fit precisely together to create bands of fire and light. In cocktail rings, bands of gemstone baguettes may intertwine or alternate with bands of diamonds or CZ. Almost every kind of semi-precious gem looks great as a baguette or set with baguettes.
Emeralds
Rubies
Blue, pink, and yellow sapphires
Purple and pink amethysts
Red and pink garnets
Blue, yellow, pink, and green topaz
Blue and yellow aquamarines
Gemstones often mix with diamonds on eternity bands to form sapphire and diamond eternity rings, emerald and diamond eternity rings, and ruby and diamond eternity rings. Baguettes rarely appear as solitaires because other cuts have more fire. However, as framing stones, baguettes' strong lines give a centre stone definition, and they create the perfect frame for square and emerald cut stones.