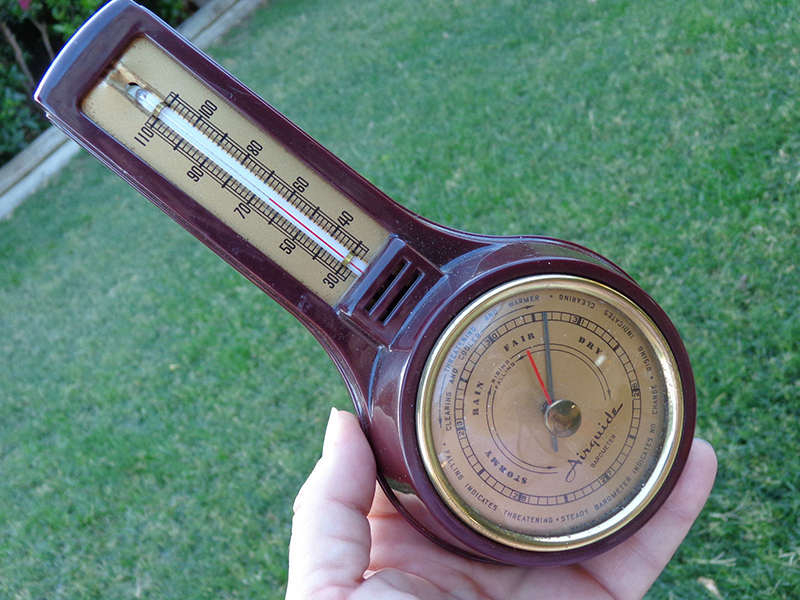 Banjo barometers are attractive, decorative devices that measure atmospheric pressure and temperature. The banjo barometers available on eBay include antique, vintage, and contemporary devices. To make a good purchase, choose a barometer with quality movements and components for increased durability and precision. Moreover, keep calibration in mind, and know what features improve the instrument's accuracy.
Banjo Barometer Features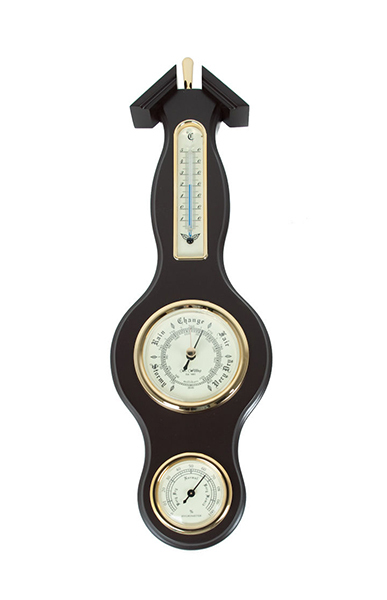 The banjo barometer takes its name from its distinctive shape, resembling a banjo. It is an aneroid barometer that does not require mercury to measure atmospheric pressure. This compact device, often found in pocket barometers, features a circular dial that indicates barometric pressure, set in the lower part of the body. A thermometer in the thin neck of the device measures and displays atmospheric temperature. This type of barometer acts as a miniature hanging weather station. The movement that controls the barometer's pointer on its dial is similar to a watch movement. For quality movements, look for devices that features the same jewels you would find in the movement of a quality watch. Ensure that the barometer capsule has a uniform thickness, and a durable, high-quality seal. Capsule thickness affects accuracy and the barometer stops working if the seal breaks. Choose a design that suits your home or boat decor. Wood bodies and brass or metal dials are popular choices. If you need a water-resistant device, opt for a plastic case.
Banjo Barometer Accuracy and Calibration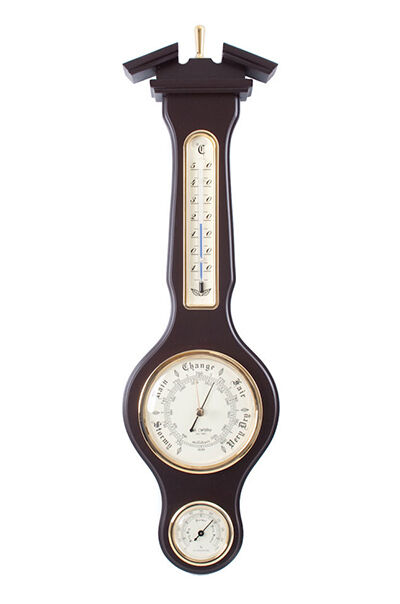 Ensure that the banjo barometer you choose is calibrated for the elevation at which you live. Barometers suitable for home use typically come calibrated for 1 to 1,070 metres, while those that require greater accuracy are suitable for elevations of 0 to 460 metres. Some manufacturers offer barometers calibrated to multiple altitude ranges. If you require an accurate barometer, look for a temperature compensated barometer. Finally, barometers with large dials are easier to read and tend to be more accurate than those with small dials are.
Collecting Banjo Barometers
If you want to collect banjo barometers, consider searching for examples decorated with the names of towns or areas, the names of ships, or specific makers' marks. Alternatively, focus on examples from a particular era, such as antique barometers, vintage barometers, or contemporary barometers. Early antique barometers can cost several thousand pounds, but later models are more affordable. Antique mercury barometers tend to be older and more expensive than aneroid devices are. Veneer and decoration such as line inlay, outline stringing, and crossbanding demand higher prices. Look for restored, working items and devices in display condition to make the most of your collection. If you are not looking for an investment piece, consider a reproduction.