Big game fishing is an appealing hobby with plenty of opportunities to satisfy an inner sportsman. With the right lures, a fisherman can reel in game that packs impressive weights. Modern lures feature some innovative movements and mimic the fish big game eat. Learning about the different types of lures helps adventure fishermen choose the right fishing lures each and every time.
Popper Lures for Deep Sea Fishing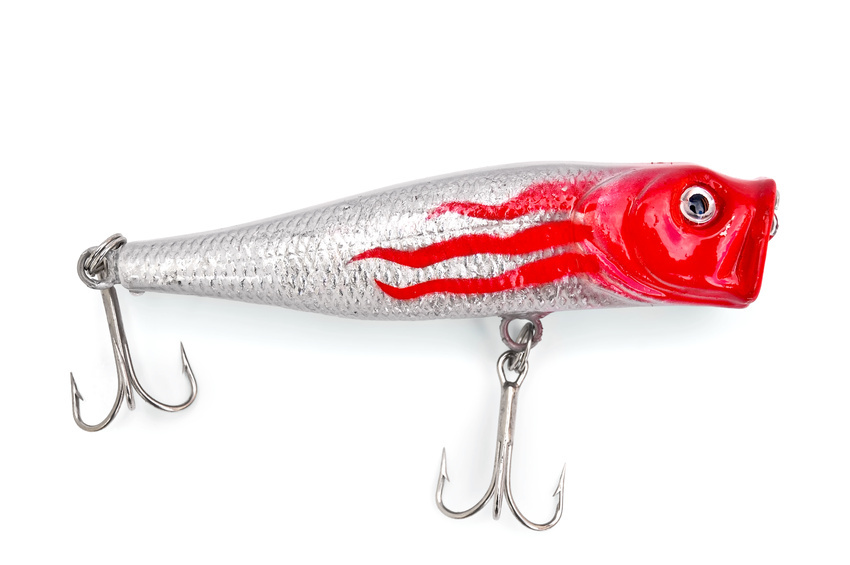 When it comes to saltwater fishing, popper lures rarely let fishermen down. Utilising a popping action that mimics the behaviour of small fish, popper lures convince big game fish they are about to enjoy a feast. In some conditions, it is even possible to see the fish moving through the water toward the lure. As sea fishing lures, poppers are not easy for beginners to control. They often require small jerking movements to maintain the illusion of swimming fish, but they are highly effective in experienced hands.
Stick Bait Lures for Beginners

Popper lures have a learning curve for beginners, but stick bait lures are much easier to manipulate. Unlike popper lures, stick baits do not create much of a splash on the surface, but they are easier for fishermen to retract. Moving smoothly from side-to-side across the water's surface, they require little twitching and allow for a faster, more controlled retraction than poppers. The Slug-Go brand is the initiator of the stick bait lure approach. Other topwater lures in stick bait form come in funky and innovative designs, including bright fish, fetching frogs, and other types of pond life. When searching for these lures, 'Walk the dog' is a casual nickname that may appear for these baits.
Lures Based on Favourite Foods
Although fancy mechanisms that mimic prey are innovative, sometimes the basic concept of simply looking like a fish's favourite food does the trick. For example, a crayfish lure is perfect for large bass, and it also works with parrot fish and nurse sharks. When choosing species-specific lures, such as prawn lures or crayfish lures, the material is important. The closer the lure is to the animal in question, the better. When it comes to prawn lures, for example, that means choosing lures that are soft and slightly translucent.
Bucktail Jigs for All-in-One Lure Solutions
Although choosing a lure according to a fish's favourite type of food is effective, it narrows the scope a little. Bucktail jigs are so effective, they are often in fishing survival kits. They lack the innovative nature of stick baits and poppers, but it is possible to tinker with these lures to enhance their effectiveness. When a fisherman adds pork dressing, for example, these lures have the potential to catch better quality fish.