As the cold months come around, parents have to update their boy's wardrobe with appropriate outerwear for the lower temperatures or perhaps a coat for school. Shopping for kids' coats might seem straightforward, but important considerations include features, warmth, and durability. Some boys' coats are multi-purpose and adjust according to the weather, while others are only meant for extreme temperatures.
Get the Correct Fit

Boys grow rapidly, so sizing their apparel gets tricky. Coats require even more forethought because they must accommodate extra layers underneath. Consider the average temperatures and how many layers the boy typically wears. Have the boy put on those clothes and then measure to find his size. However, also keep in mind that some manufacturers automatically make their coats a bit bigger to allow for layers underneath. Lastly, avoid purchasing a size bigger to accommodate for future growth, as this affects how warm the boys' coat is.
Three-season Boys' Coats
Children get the most out of three-season boys' coats because the outerwear offers varying degrees of warmth. Basically, they have two different layers, the exterior and the interior. The former is usually lightweight and waterproof, while the inside is soft and warm. Together, the layers are warm in the winter time. Separately, they serve as a windcheater for the summer or a light, soft jacket for the cooler months.
Boy's Coat Features
Small features like a hoodie can have a big impact on warmth and comfort. The hood protects the head, conserves warmth, and eliminates the need for a cap. Some coats even have removable hoods or hoods with fur lining for extra warmth. Outerwear with extra pockets make great boys' school coats because children can keep supplies and keepsakes with them throughout the day. Most boys' duffle coats, in particular, feature large cargo pockets on the front and sometimes two additional pockets on the chest. Elastic enclosures around the neck, seam, and wrists are also important to have because they cinch up around the body and prevent cold air from entering.
Boys' Insulated Coats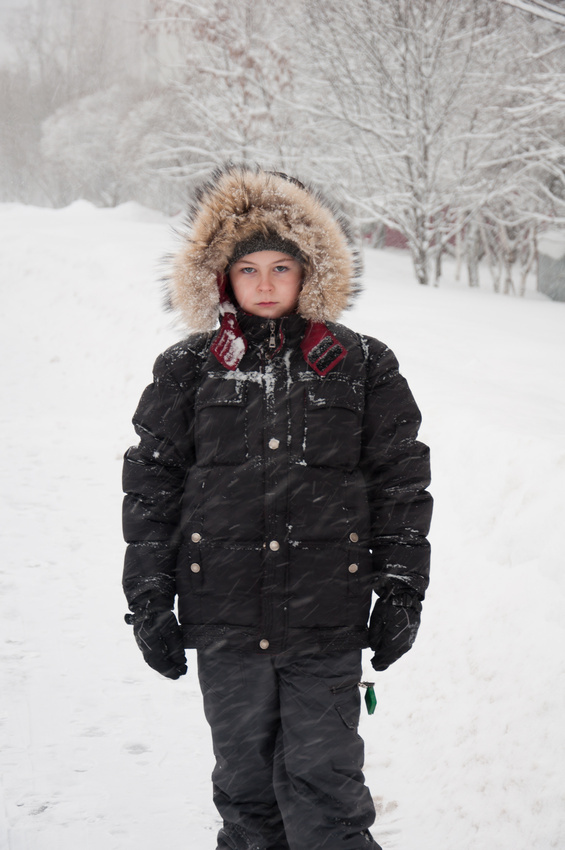 For the maximum amount of protection, look for insulated coats, such as boys' down coats with goose feather insulation. These coats have an exterior that blocks out the cold and an interior that traps in body heat. They generally have a temperature rating indicated that shows how low the temperatures can get before the coat starts losing heat. Boys' fur coats are another option for staying warm in extreme temperatures. However, look for a coat entirely lined in fur because many only have fur around the openings.ß