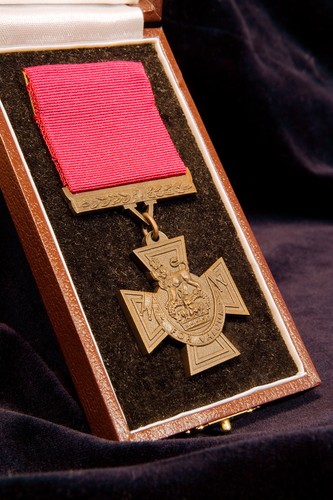 The collection of British militaria is an extremely popular hobby. Due to the fact that British military history spans at least five centuries, the choice for collection is vast and options available for purchase are broad.
The most widely collected militaria from British forces history are pieces of clothing from uniforms, badges and medals, as well as selections of photography giving an insider's view into the nature of conflict.
These collectables can be acquired from most periods of British History. Conflicts from which British militaria can be acquired reach all the way back to the Early Modern Period, with photography being an obvious exclusion.
eBay is home to large amounts of British military paraphernalia from a number of conflicts. The aim of this guide is to take impending buyers through the options available on the market so as to make sure that a worthwhile and secure deal is found on British militaria.
Types of British Militaria on eBay
There are a number of different types of British militaria available for collection on eBay. This section of the guide looks to take buyers through the most collectable and widely available types in order to make the buying process as stress-free and accurate as possible.
Uniform and Clothing
Uniform and clothing are commonly acquired by the likes of collectors and re-enactors who wish the experience the clothing conditions that soldiers faced throughout British military history. The following items of clothing were worn by soldiers in the British forces and are the most widely collected pieces available on eBay:
- Jackets: The jackets and coats that have been used in British military history are very collectable items of clothing. One of the most popular military dress jackets worn by British soldiers are the 'red coats' that were worn by those who fought in the likes of the Napoleonic War in France and the Civil Wars in America. Tunics and jackets from both the First World War and the Second World War are also popular amongst collectors, and original were made of thick woollen khaki. However, both these styles of jacket have been worn as fashion items so reproductions are often circulated on eBay. Most sellers will be honest about the condition of a British military jacket but be aware that imitations are commonly sold as fashion pieces.
- Boots: Again, military boots have been worn as fashion items. They are renowned for their sturdiness and the fact that they are all weather, so there are replicas on the market. On the other hand, eBay is home to a selection of military boots that are original from the likes of World War I and World War II. Whilst they may not be in good condition, they are extremely collectable.
- Helmets and Hats: Original helmets from any conflict in British military history are prized amongst British militaria collectors. The likes of the cork helmets that were used at the beginning of World War I are extremely rare as steel helmets quickly replaced them. Even helmets that are not in great condition are of high value as dents or any other damage is proof that they were used in warfare.
Medals
Photography
Condition of British Militaria
When buying British militaria the factor that plays the biggest role in determining its value, other than its originality, is the condition that it is in.
Be aware of things to look out for when buying military paraphernalia, such as:
- Signs of wear on medals and badges
- Tears or damage on items of uniform and clothing
- Perforations in photographs
Buying British Militaria Online
Buying British Militaria on eBay
When buying off eBay make sure to check a number of things before following through with a purchase:
The Seller:
Thoroughly check the seller's previous transaction history and feedback rating so as to ensure that the seller is reputable and honourable in their intentions to sell British militaria. Having a history of selling similar products is a bonus, especially if the star rating of the seller is positive. It is always possible to contact the seller directly for any further enquiries.
The Product:
Make sure that the seller provides clear images of the product in question. Also, be wary that the images provided match up directly to the product description. The description of the product should also be thorough and should extensive knowledge of the product at hand.
The Buying Option(s):
Do not jump straight into purchasing a product just because there is a Buy It Now option. It may be wiser to place a sensible Bid, meaning that the product may be able to be purchased at a cheaper price than that set by the seller.
eBay offers a Buyer Protection Program alongside PayPal to ensure that the majority of deals reached on the site are safe and easy transactions.
Conclusion