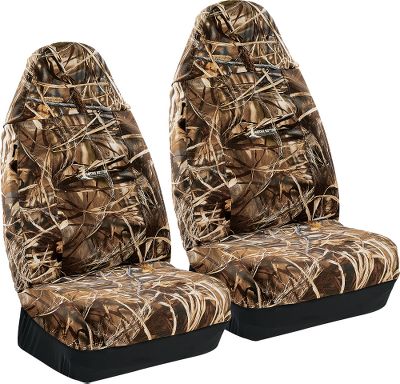 Car seat covers serve several purposes. They protect the seats of an automobile from spills, stains, or pet hair. They also keep vehicle car seats from getting worn out over time. Car seat covers protect upholstery from tears and rips, along with exposure to sunlight, water damage, and simple everyday wear and tear. A bonus of car seat covers is that they come in a variety of designs and styles to create a personalised look for an automobile and add some trendiness to it.
Car seat covers are made to fit certain, specific models of cars, so choose covers with the model of a certain type of car in mind. Alternately, custom fit car seat covers are also available for a perfect fit. Car seat covers come with various features which are appealing too, such as water resistance or soft, comfortable fabrics along with airbag-friendly options. From the wide selection of car seat covers on eBay,, select the right car seat covers for the budget available, style and model of car, and the buyer's personality, as well as any added options that are helpful
Search for Car Seat Covers by Car Model on eBay
To ensure the fit for new car seat covers, shop by car model. First, navigate to car seat covers using any internal page or the eBay home page. Type in "car seat covers&" from the search bar to bring up all of the various seat covers. Once the options are available to look at, simply browse by car model to see what is available to fit a particular car, such as Toyota,, Nissan, or Audi. Browse items which are listed by merchants who are Top-rated sellers on eBay. This ensures a high-quality purchasing process.
Another option is to look at custom fit seat covers on eBay for perfect fitting seat covers. Read the seller's description carefully to see what the custom fit car seat covers involve, because most custom fit car seat covers are simply made to fit one model and brand of vehicle, so ensure that the covers the consumer is purchasing fit the specific model of car it is being purchased for.
Select a Style and Material
There are many styles when it comes to car seat covers. Different materials are available, which offer various features that a buyer may like. There are a few materials which are most common when it comes to car seat covers, and a consumer can choose the right material desired based on comfort, price, style, and other features that each style offers. When a buyer is browsing seat covers on eBay, he or she should select the type of material from the list of options to only look at seat covers made with the material desired, once a consumer has selected a brand or made the choice between standard and custom seat covers.
Leather
Leather car seat covers look elegant, and not only that, they are also great when it comes to spills. Since leather does not absorb liquids, leather car seat covers are naturally water resistant. Even for a consumer who does not drive an expensive car, leather car seat covers add that luxurious feel even to a more affordable automobile.
There are a couple of options that a buyer can pick, which is either real leather or imitation leather. The only downside to leather is that it can get quite hot during the warmer months, and it does show wear faster than other materials. There are many available types of leather seat covers on eBay to fit a wide array of vehicle brands and styles.
Suede
Suede car seat covers are soft and durable, and they do not show wear as much as leather does. However, for a buyer who is concerned about spills or water, suede car seat covers are not the best option unless they are treated with a water-resistant chemical. If they have not, they can become easily stained.
Suede has a luxurious look and feel, and suede car covers look like they cost a lot more than they actually do. They give any automobile a high-end feel, but without a high-end price tag. Quality suede has a velvet look and feel, and can be treated with a special chemical to make the seat covers more water resistant, if that is a concern.
Neoprene
Neoprene seat covers are a good option for the buyer who wants something totally waterproof. If a consumer is a little more adventurous with a vehicle and there is the chance of mud or water getting inside, neoprene is the material that the buyer should choose.
Neoprene is made from rubber and the materials that scuba diving suits are created from, so a buyer knows that they are durable. Neoprene car seat covers are also a good option for a consumer who has kids and a lot of spills. They are also weather resistant and do not fade in the sunlight.
Velour
Velour seat covers are soft and comfortable, and they are made from plush material. For a consumer who does not have to worry about wet weather or a lot of spills, velour is the utmost in comfort. However, it is not water resistant. It also looks elegant and adds a stylish look to every type of car interior.
Velour car seat covers look almost like standard car upholstery, so they do not have the look of car seat covers exactly; they blend in with the car and look like the factory seats. The great thing about velour covers is that they are easy to care for and can be washed in the washing machine.
Sheepskin
Sheepskin car seat covers are the softest seat covers a buyer can purchase. Fluffy, plush sheepskin makes any car cosy and comfortable. They also keep seats warm in the winter and cool in the summer, helping regulate the temperature so a user does not sit down on a miserably hot car seat in the warmer months.
Sheepskin covers are breathable and durable, and the only downside is that they may have to be professionally cleaned. But for a buyer who travels frequently and needs a comfortable car seat, it is a good option. The seats can be spot cleaned if stains occur, and dirt and debris can be vacuumed with a hand held vacuum if necessary.
Select a Colour
A consumer can truly customise a car with the look of car seat covers, because they come in a wide variety of colours, patterns, and styles. Browse various colours of car seat covers by selecting the option for the colours desired on eBay, or scroll through all of the styles to see which one is the most eye catching. From black or blue to green or red, there is an array of various colours available, and there are even patterned car seat covers which have fun designs such as cow prints, faux fur, or sporty stripes.
Some car seat covers offer more than one colour, and some have embroidered designs or car emblems. When it comes to shopping for car seat covers on eBay, there is a wide selection to pick from.
Additional Features of Car Seat Covers
Some car seat covers offer interesting features and amenities, such as heated car seat covers or special covers to protect the backs of the seats. There are also car seat covers that are specifically meant to help repel pet hair if pets ride in the car frequently and shed fur and hair onto the seats. There are also massaging car seat covers which are made with small beads that can help ease back pain while travelling.
Some sellers may offer a special deal that includes matching floor mats or a steering wheel cover. Click "Ask A Question&" on the seller's page to ask the seller what other items he or she is offering to accessorise a car that may be of interest.
Buying Car Seat Covers on eBay
When you are looking for the perfect car seat covers on eBay,, you can find all types including various colours, and styles made of many different materials. Navigate to "car seat covers&" from the home page, or use the simple search bar to type in "car seat covers". If you are looking for something in particular, such as cow print car seat covers,, do a specific keyword search to bring up the most relevant results.
Purchase car seat covers along with matching accessories easily on eBay, and guarantee satisfaction when you are shopping from a Top-rated seller.. If the seller is local, drive over and get your car seat covers without having to wait for them to be shipped. Talk to the seller in person about the covers and ask any questions you might have. If you finish the transaction and it has been quite successful, remember to stop back by the seller's page once you receive your seat covers and leave the seller some great feedback.
Conclusion
Car seat covers not only look cool and stylish, but they protect a car's upholstery from spills, tears, and harsh UV rays. Keep car seats looking new and any type of car looking luxurious with some deluxe car seat covers from eBay. When a buyer is shopping for car seat covers, the most important thing to remember is that the seat covers must fit properly; so ensure that the seat covers are made to fit the specific car model and brand of vehicle for a perfect fit. In most cases, car seat covers that fit well look like part of the car's original upholstery and blend in seamlessly. Car seat covers range in price due to the materials they are made from, so once a buyer has picked out which material is right, then he or she can set a budget and find a great deal on car seat covers when shopping for them on eBay.