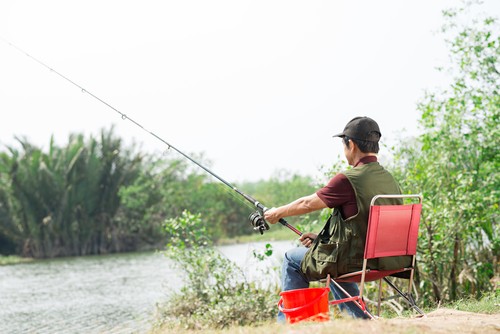 Anglers have not always used bite alarms.
The angler will know soon enough when a big fish has taken even if the rod is lying on the ground and the line simply starts to run out. But bite alarms have added a huge amount of security and enjoyment to angling particularly when it comes to carp fishing.
The modern bite alarm is an electronic device that can be very simple and relatively cost effective. A good value, basic alarm can be as little as £10 but more features and benefits can be acquired and some of the most technical and advanced alarms can be as much as a £100.
Why do carp and specialist fisherman invest in these alarms and what do they get for their money?
The reason that the bite alarm has become so popular is that it offers the angler the quickest possible indication that his bait is being taken.
Budget
When buying a bite alarm budget will usually be a key consideration. Try, however to buy the best quality brand within that budget and pay particular attention to the alarm's strength and build.
The most important requirement of any bite alarm is reliability. If rainwater can get into the equipment and damage it any way then this can affect the reliability of the alarm. This problem arises in the lower cost end of the market. Most good brands understand that weather-proofing and the ability to withstand the worst weather conditions is fundamental to any piece of tackle.
Low cost alarms are sometimes a false economy although there are some very good, low priced models out there. Alarms manufactured with lower cost components and assembled badly:
Likely to fall to bits
May not fit comfortably onto the rig
May keep falling off.
Bite alarms, or 'buzzers' as they are sometimes called, do present a problem to the carp angler. Buy a low cost option and there is a chance that the weather may damage it and a fish may be missed. Buy expensive and the buzzer gets stood on it the dark or broken and it is a bitter pill to swallow.
Many professionals buy mid ranged assemblies for about £40 -£50 and expect them to last a couple of seasons at the most. This seems to be a sensible option especially when all the other financial considerations of diesel, tackle, food and fishing are taken into account.
Getting into the more technical aspects of buzzers and what they involve is becoming increasingly complicated. New ideas and developments are evolving with every new season.
Volume and tone
When fishing with multiple rods the alarm will alert the angler as to which rig is being taken.
As a result, the most basic feature of a bite alarm is a volume control or tone variation.
So it is in the sensitivity, especially in fisheries that are heavily fished, that is so important. Just knowing that there is a small bit of interest in the bait set-up is reassuring; it gives the angler some encouragement to persevere.
LEDs on Carp Bite Alarms
From the basic volume control the next feature is an LED. This will light up with any movement on the bait. It may latch for 10 or so seconds so that the angler can easily establish which bait has had the interest.
More expensive features include sealed proofed electronic circuitry, which provides a good sense of security particularly in very wet conditions. The circuits and electronics can be digital rather than analogue, which adds to the expense but is more reliable.
Low battery indicator
A feature, which, understandably, is very highly rated in all the carp forums, is the low battery warning light. For obvious reasons this really can prevent a fish being missed as a dead buzzer is a useless buzzer.
On the more technical side certain alarms offer features such as tone differences for the line movement backwards or forwards. With this feature the angler can get a better understanding of what the fish movements are around his bait.
Which features do you need?
When choosing what to buy and importantly what features you will need, take the time to look at these five main aspects and the extent to which they are offered.
Battery Requirement

and Life

Know what battery is required. The general rule is that it will be a 9 volt battery, this should last several months and it should be coded PP3. In some cases a smaller 1.5 volt option in pairs can be found. Make sure there is plenty of life in the battery and carry a spare.

Remote Sounders

Allows the angler to be warned of any movement even when tucked up in the bivvy or bivouac. Transmits signal to buzzer head and then on to a sounder about the size of a mobile phone placed close to the angler. Even lightly sleeping fishermen can miss an alarm going off 10 or 15 feet away. With a remote sounder, the alarm goes off very close by and will definitely wake you up.

Variable Sensitivity

More expensive buzzers allow an adjustment of the alarm's sensitivity. This is great for an angler fishing in a big venue or on very wild water. The sensitivity is adjusted by changing the amount of line movement required to set off the alarm. These are not aids to catching more carp but they do reduce the frustration of constantly picking up false alarms in choppy conditions.

Jack Plug Sockets

Useful if the bivvy is a long way from the rods. Allows the angler to add an extension to the sounder. These are useful when using a lower cost buzzer set-ups that are not remote.

Screw Threads

More of a 'watch out' than a feature but can save you hassle. Make sure the alarm has a long aluminium thread. This is to attach the alarm to the bank stick or buzzer bar. Most visual indicators are positioned under the alarm and attach with a simple collar that is pushed over the alarm's metal thread. If that thread is too short it makes the whole rig very much less secure and can be a very fiddly job to assemble.
Brands to look out for
Buying any fishing tackle is greatly helped if the equipment is made by a well-known and reliable manufacturer. All the major carp tackle brands such as Chub, Wychwood, Fox, Solar and Osprey produce a wide range of options in terms of features and prices for buzzers and accessories.
How to buy carp bite alarms on eBay
Now that you've worked out which carp bite alarm you want, find them quickly on eBay. While you shop, don't forget Line, and tackle. Click the Sporting Goods portal and click fishing.
Categories: The Categories list on the left side of each page will help you narrow down your listings by item type. You'll find links for Clothing & Footwear, Coarse Fishing, DVDs, Fly Fishing, Sea Fishing, Tackle Boxes, Universal Accessories, Videos and Trophies As you refine your search you'll be able to narrow down your choice by subcategory.
Product Finder: Use the carp bite alarm finder to quickly narrow down item listings by brand, model and condition. (new or used)
Keyword search: Search eBay listing titles for specific words. For example, if you want to find carp bite alarms, type the keywords "carp bite alarm" (without quotation marks) into the Search box. Click "Search title and description" to expand your results. Visit eBay's Search Tips page for more tips on searching with keywords.
If you can't find exactly what you want, try browsing eBay Stores or tell the eBay Community what you're looking for by creating a post on Want It Now, or save a search on My eBay and eBay will email you when a matching item becomes available.
Buy Carp Bite Alarms with Confidence
Make sure that you know exactly what you're buying and understand how eBay and PayPal protect you.
Know your item
Read the details in the item listing carefully.
Remember to add delivery costs to your final price. If you're buying a high value item, check that the seller will insure it until it is delivered to you.
If you want more information, click the "Ask seller a question" button on the seller's profile or the "Ask a question" link at the bottom of the item listing page.
Always complete your transaction on eBay (with a bid, Buy it Now or Best Offer) otherwise you will not be covered by eBay Buyer Protection.
Never pay for your eBay item using an instant cash wire transfer service like Western Union or Moneygram. These are not safe ways of paying someone you do not know.
Know your seller
Research your seller so that you feel safe and positive about every transaction.
What is the seller's Feedback rating?
How many transactions have they completed?
How many positive responses do they have?
What do buyers say in their Feedback?
Are they positive about the seller?
Most top eBay sellers operate like retail shops and have a returns policy.
Do they offer a money-back guarantee?
What are their terms and conditions?
Buyer protection
In the very unlikely event that you do not receive your item or it is not as described, eBay Buyer Protection your purchase price plus original delivery cost.