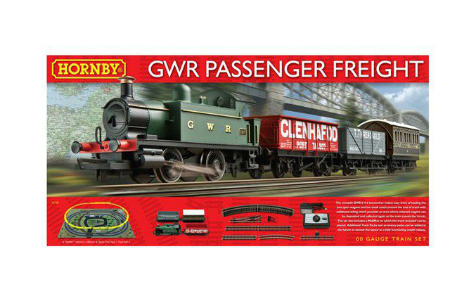 eBay is a great place to buy collectable Hornby Locomotives.. Whether the buyer is looking to purchase the1927 No.3 Flying Scotsman or a LMS locomotive,, eBay sells a vast range of collectable Hornby locomotives to suit every kind of collector.
The aim of this guide is to inform the buyer about collectable Hornby locomotives and how to purchase them from eBay.
Renowned for its competitive pricing, great customer service and user experience, eBay is the perfect place to buy collectable Hornby locomotives. eBay offers its customers a choice over purchasing; to buy immediately or to bid for an item in an auction format.
Rail Transport Hobbying
Rail transport hobbying is the official term that describes owning rail transport systems that are modelled at a reduced scale. The scale model sets include locomotives,, rolling stock,, tracks, signalling,, street cars and general scenery components (roads, people, vehicles, mountains, rivers and so on).
Model trains have been popular since their introduction in the early 20th century and this popularity is met with an equally healthy supply of model trains and accessories. Thanks to ecommerce websites like eBay, there is now a large range of collectable Hornby locomotives to purchase online.
Although the history of this hobby dates back to the 1840s with 'carpet railways', it was not until the early 20th century that the first electric models similar to today's would appear. Today's model train sets are a lot more detailed, efficient and versatile than the first model train sets.
Model trains come in a variety of sizes and styles. There are four most popular methods of powering model train sets:
Clockwork
Electricity
Live Steam
Internal Combustion
Model train sets can be anything from a small and simple oval track to large windy tracks that depict popular train routes around real locations. Model trains are based on the scaled-down size of real trains and are available in six different sizes:
Z scale (1:220) Smallest size
N scale (1:160)
HO scale (1:87)
S scale (1:64)
O scale (1:48)
G scale (1:22.5) Largest size
A locomotive scale of 1:22.5 means that the model is 22.5 times smaller than its life-size counterpart.
The History of Hornby Locomotives
In 1901 Frank Hornby introduced 'Mechanics Made Easy'- which would shortly after become 'Meccano'. After World War I, Hornby extended the range to include model railways and simple trains that like Meccano could be assembled and disassembled. These models weren't popular as toys but Hornby persisted and created a range of 0-gauge clockwork trains including the infamous 1927 No.3 Flying Scotsman. Regardless of its dangerous mechanism, the first electric train was introduced in 1925.
In the 1930s, Hornby scaled down its trains to cater for smaller homes introducing the popular Dublo OO range. These models were diecast and the carriages were often made from tinplate.
The Dublo OO range successfully consolidated 12 V DC as the standard for OO scale and lead to the embracing of OO as a broadly accepted modelling standard in Britain, whereas much of the rest of the world adopted HO scale. Both OO and HO use the same track gauge, but the proportions are different.
Types of Hornby Locomotives
Hornby produced the epitome of British miniature train sets even though it was not his own concept originally. Famous examples of popular Hornby models include the 1937 Princess Elizabeth locomotive, the Hornby-Dublo Deltic and the Flying Scotsman which was so vastly popular that there were 18 different versions produced.
As such an authoritative name in the model train world, Hornby released many model train sets in a variety of different series:
Hornby Series: (also known as O or 0 gauges) These trains are made from tinplate and feature a flat profile with printed detail. Manufactured between 1927-58 featuring Meccano trademarks. Electric and clockwork powered. Crude track measuring 1.25 inches between the inside face of the rails.
Hornby Dublo 2 rail:Very realistic track with separate plastic sleepers, locomotives and rolling stock (often plastic). Tinplate track measuring 5/8 of an inch between the inside faces of the rails. Manufactured between 1952 and 1964 with both Meccano and Hornby Dublo trademarks
Hornby Dublo 3 rail: (also called OO or 00 gauges) Diecast locomotive bodies and tinplate rolling stock on a tinplate track with raised third rail in the middle (similar track dimensions as Hornby Dublo 2 rail). This series was manufactured between 1939 and 1964 and carries both Meccano and Hornby Dublo trademarks.
Tri-ang Hornby: This series followed the acquisition of Hornby by Tri-ang in 1964. The Hornby Dublo ranged merged with the Tri-ang range to produce predominantly plastic models under the name 'Tri-ang Hornby'. Models were manufactured between1965-79.
Hornby Railways: The Hornby Railways series was produced between 1972 and 1980 following the disbandment of the Tri-ang group and as such branded only Hornby and Hornby Railways. Models were electric and steam-powered and some included the 16 channel command control system Zero 1.
How to Buy Collectable Hornby Locomotives on eBay
eBay is fantastic place to buy collectable Hornby locomotives. Whether the buyer is seeking to purchase a rare Eton Southern Railways locomotive or one of the first locomotives from the 1930s, eBay is the best place to buy collectable Hornby locomotives.
Finding the sought-after collectable Hornby locomotive is easy and can be done in two ways; through browsing eBay's categories or using the search functions.
To browse collectable Hornby locomotives using eBay's categories simply click on All Categories from the homepage. Then click on Collectables followed by clicking on subcategory Trains/ Railway Models. From here the buyer will be greeted with a set of search results to browse through before clicking on the appropriate search result to be taken to that products individual listings page.
To find collectable Hornby locomotives using eBay's search function, simply click on the search toolbar or the advanced search tool and enter the name, model or year of the Hornby locomotive. The buyer can then scroll through the search results until they find the suitable result. Once located, the buyer can then click on the suitable search result to be taken to that items individual listings page.
Each product has its own listings page which hosts a wealth of information surrounding that product including: a detailed specification, product analysis, comments about the items condition and photographs displaying the item.
When searching for collectable Hornby locomotives on eBay, be aware that some sellers will list items with letters (i.e. O gauge) and some with numerals (i.e. 0 gauge) so try both variations to gain a full set of search results. Also, Hornby-Dublo and Tri-ang are hyphenated as company trading names however on eBay they aren't always hyphenated so again try both versions to see a full set of search results.
As such a respected member of the ecommerce industry, eBay also provides information specifically about the items seller. This information often includes the sellers: eBay rating, selling history and their location. Disclosing the location of the seller helps the buyer decide whether it is worth visiting them to collect the item or if it's better to have the item delivered.
Should the buyer require more information about a product that is not disclosed or they wish to ask the seller a question, they can contact the seller directly and ensure that they are suitably informed before they purchase an item.
Once the buyer has found their desired collectable Hornby locomotive, they have two options regarding payment; to buy the item immediately (simply click Buy Now) or to bid for the item in an auction format (simply click Bid Now and enter a bid) seeking out the best price available.
eBay has one of the best help services online should its customers need it. In its help section, customers can browse through eBay's Frequently Asked Questions (FAQs), search for their answer using the help's toolbar or email eBay directly with any specific queries.
All transactions made on eBay are safe and secure thanks to payment authority PayPal. The third party payment scheme enables the buyer to pay the seller without sharing any important bank details or information. The secure payment method protects buyers 100% against unauthorised payments from their accounts providing complete peace of mind for all eBay customers.
In the unlikely event that any buyer has a problem with a seller that cannot be resolved between the two of them, eBay's administration team are more than happy to help and will aid in resolving the issue as quickly as possible.
Conclusion
There are many factors to take into consideration when purchasing collectable Hornby Locomotives.. However with the important information outlined in this guide, buying collectable Hornby locomotives on eBay is easy. A good collectable Hornby locomotive won't just be a good investment for your future; it will be a fantastic model to start off or add to your existing collection.
This guide has provided some invaluable hints, tips, and information on how to purchase collectable Hornby locomotives on eBay and what to look for when buying these collectables.