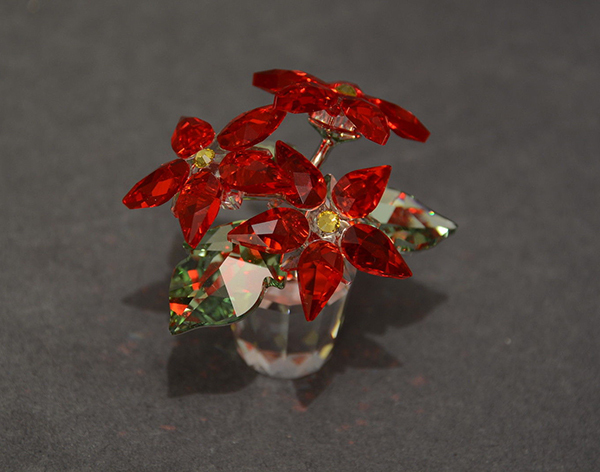 The Swarovski company is well-known for the beautiful high-end costume jewellery, decorative figurines featuring shimmering cut glass crystal, and collectible holiday ornaments . The Swarovski line of annual Christmas ornaments is especially prized because each year brings a unique design that is never going to be used again. Some people appreciate Swarovski ornaments simply for their delicate beauty, while others have sentimental attachments to ornaments received years earlier as gifts from friends or family. Still others buy them for the thrill of creating a complete collection. Since the Swarovski company has been producing collectible Christmas ornaments for decades now, a complete collection could easily dominate even a large Christmas tree.
eBay offers a simple and convenient way to get into collecting, but the new collector should still learn a little about the history of the Swarovski ornament line, how these ornaments are valued, and how they should be cared for. This way, collecting is simpler and more enjoyable, and the ornaments in the collection can continue to brighten the home for many decades to come.
About Swarovski Ornaments
So what exactly are the collectible Swarovski ornaments and what about them is important to so many collectors? A related question is what is the history of these ornaments? Collecting something that is issued in unique annual editions is, in part, about history, so it is important for collectors to understand the history of the ornaments so that they can place each individual ornament within the context of the larger story.
What Are Swarovski Ornaments?
The Swarovski company produces several different lines, including jewellery, candle holders, decorative boxes, jewelled pens, stemware, figurines, and jewelled decorative sculptures, all out of clear or coloured crystal and, sometimes, brilliant precious metals. Sculpture subjects include insects, birds, mammals, marine mammals, sail ships, and also more abstract shapes. Their other offerings include several holiday ornament lines, including Valentine's Day figurines and Christmas ornaments. Swarovski Christmas ornaments include both holiday themed figurines and hanging ornaments. The company also sells elegant silver stands for the purpose of displaying hanging ornaments year round.
Among the Christmas decorations are the annual ornaments, a distinct series that is very popular. New issues sometimes sell out even before Christmas. The annual Christmas ornament designs have changed over the years from stars to snowflakes to more abstract designs with similarities to both stars and snowflakes. Each collectible ornament also features the year of its creation. Because these Christmas ornaments are each specific to a year, ornaments from previous years are said to be retired. While many of the different Swarovski ornaments are considered highly collectible, the retired annual Christmas ornaments are particularly sought after.
The History of Swarovski Ornaments
The Swarovski company is based in Austria and was founded in the late 1800s by Daniel Swarovski. Daniel Swarovski was the son of a factory owner in what was, at the time, North Bohemia and is now the Czech Republic, and the younger Swarovski worked as a glass cutter there. In 1892 Daniel Swarovski invented a new machine for cutting and polishing high-quality glass or gems, and shortly thereafter opened his own business. The Swarovski Company has specialised in jewellery and ornaments but also participates in other markets, such as optics.
The collectible Christmas ornaments line itself is relatively new, however, debuting in 1980 in the United States with annual ornaments of various shapes. Each ornament was marked with its year of manufacture and was only produced for a single year. In 1991, these variable American offerings were replaced with a pair of international lines of ornaments of either star or snowflake shapes, again each marked with its single year of manufacture. The star ornaments were produced every other year, beginning in 1991, while the snowflake ornaments were produced in alternate years, beginning in 1992. In 1999, the two ornament lines merged, resulting in somewhat abstract, star- or snowflake-like designs. A number of private collectors' organisations now exist that specialise in the so-called retired Swarovski ornaments.
Buying and Collecting Swarovski Ornaments
A beginner to the world of Swarovski ornament collecting needs to know how collectors assign value to the different pieces, because that way the buyer knows which pieces can be expected to sell for more and what prices count as good deals. The collector also has to know how to care for the pieces purchased and how to arrange for any necessary repairs. Of course, all buyers should check the condition of a piece before finalising the purchase, something that is difficult to do when buying online through eBay. Fortunately, there is a good way around this difficulty.
The Value of Collectible Swarovski Ornaments Found on eBay
Collectors pay attention not just to the intrinsic beauty of a particular piece but also the year it was made, its condition, and sometimes also which of several variations the piece belongs to. The 1991 star ornaments came in two different variations, one for European markets and one for the American market, although the two versions are not very different from each other. Both variations are extremely popular among collectors and so they often sell for very high prices.
Over the years that the annual Christmas ornaments have been being produced, the colour of the hanging ribbon and the colour and style of the box have also changed every few years, variation that adds more interest for collectors. The most valuable ornaments for collectors are those from particularly desirable years, such as 1991, and that are in mint condition with their original box and original paperwork. Note that while the ornaments sold in 2002 and afterwards came with certificates, while ornaments made in earlier years did not.
Checking the Condition of Swarovski Ornaments Sold on eBay
Swarovski ornaments are very delicate. They are easily damaged and difficult, or sometimes impossible, to repair. Therefore, when buying it is important to check the condition of the ornament carefully. Make sure there are no cracks or chips, especially near the attachment point for the hanging ribbon. Any scratches substantially lowers the price. Since buying online through eBay generally makes it impossible to examine the piece in person before buying, be sure to ask the seller detailed questions about condition and ask to see clear pictures from multiple angles. As long as this questioning is done in a tactful and respectful way, the seller should not object. Try to work with a seller who has a good return policy so that if the ornament arrives not as described it can easily be returned.
Caring for Swarovski Ornaments
Be sure to handle Swarovski ornaments carefully; they can break if dropped. They also tend to pick up fingerprints, so it is a good idea to handle them only by the hanging ribbon or only when wearing cotton gloves. Store the ornament in its original package, if possible. If the original package is not available, store the ornament in a soft cloth bag to prevent scratching, inside an appropriate protective box. To polish, use a soft, lint-free cloth; do not use glass cleaner or any similar harsh chemical product. Wash only with lukewarm water, and wash by hand. Do not soak in water. Dry with a lint-free cloth. Alternatively, buy and use a special Swarovski cleaning kit.
If the ornament does get damaged, the Swarovski company itself will not repair it as they only repair ornaments recently purchased from them. Fortunately, there are a number of other companies that do repair Swarovski crystal, and some actually specialise in doing so. While some forms of damage are unrepairable, it is a good idea to get a second opinion, because some repair places can fix damage that others cannot. Do not give up.
How to Buy Swarovski Ornaments on eBay
Buying Swarovski ornaments , or any other type of Swarovski product, through eBay is fairly simple, but buyers might like a few tips on finding what they want quickly. While a quick way to find anything on eBay is to use the Advanced Search feature, a simple search starting on the home page of the website is a great way to browse and maybe find unexpected treasures. Type a fairly general phrase into the search box, such as 'Swarovski Christmas ornaments', or simply 'Swarovski ornaments', and then use the menu options to narrow the results.
Smooth the buying process by rereading the ornament's listing, in order to lower the chance of mistakenly buying the wrong thing. Address questions to sellers. There is a contact link on the seller's profile page, along with the seller's return policy and feedback score. Ask the seller to insure shipping, given the Swarovski ornaments' fragility.
Conclusion
The Swarovski Company's annual Christmas ornaments have become collector's favourites, based on their delicate intrinsic beauty and because of the fun of collecting a series of special editions, each unique to its year of manufacture. Snowflakes, stars, abstract shapes, and, in some very early American examples, animal themes, each carry the year of their manufacture and each are part of the overall story the Swarovski line.
eBay's wide selections makes getting into hobby of collecting easy. However, collecting involves familiarity with the subject matter, so a good place to begin is to learn something about the history of the annual Christmas ornaments, so as to know what designs belong to which years. Some years are considered more valuable than others. An ornament in the right condition, from the right year, in its original packaging, can be worth a lot of money. No matter how valuable an ornament is to other collectors, its central value is always its original one; a Swarovski ornament is a very pretty object.