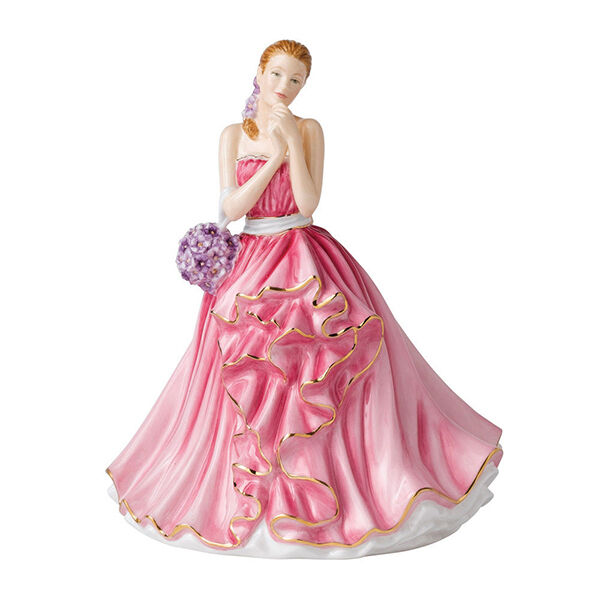 Royal Doulton figurines are highly collectible decorative items that buyers can purchase to enjoy, trade, or resell. First introduced to the public at the Chicago Exposition in 1893, Royal Doulton figurines did not generate much interest from the public. Creating figurines was viewed by Royal Doulton and other ceramics manufacturers as a way to expand their product lines, but the transition into this product class met with little success. It was not until 1908 that Royal Doulton asked well-known, outside sculptors to design a number of figurines the company could produce. After three years of development, the first sculptors' line of figurines was unveiled at an event attended by King George V and Queen Mary at the Royal Doulton studio in Burslem, Staffordshire. At this event, the seeds of success for Royal Doulton's figurines were sown and came to fruition after the close of World War I in 1918.
Buyers interested in purchasing their own collectible Royal Doulton figurines can use eBay as a great source to find figurines made in different styles and time periods. Before purchasing Royal Doulton figurines on eBay, buyers should know why Royal Doulton figurines are unique, which types of figurines are available, how condition affects a collectible's worth, and how to care for their figurines once they are purchased.
Creating a Royal Doulton Figurine
To create the durable material needed to fashion three-dimensional figurines, Royal Doulton uses a proprietary blend of Cornish stone, china clay, and bone ash which has been calcined into a fine powder. After a figurine is formed, the figurine is painted and a glaze is applied to the figurine's surface. The figurine is then fired to set the paint and glaze permanently. The firing process is also utilised to harden the material used to fashion the figurine's form.
Naming a Royal Doulton Figurine
A Royal Doulton figurine has both a personalised title and a number which is used to catalogue the figurine. The numbers used to list a Royal Doulton figurine always start with "HN" in reference to Harry Nixon, who ran the Royal Doulton figure painting department when figurines were reintroduced to the public in 1913. Since the numbering system was established, over 4,000 HN numbers have been issued. When purchasing a collectible Royal Doulton figurine on eBay, buyers can check the bottom of a figurine to find its HN number. This number is included alongside Royal Doulton hallmarks and can be used to authenticate a Royal Doulton piece.
Royal Doulton Hallmarks
Hallmarks are used by ceramic manufacturers to distinguish their work from the work of other ceramic makers. When searching for collectible Royal Doulton figurines on eBay, buyers can check hallmarks to learn a lot about a figurine's provenance.
| | |
| --- | --- |
| Royal Doulton Hallmarks Used on Figurines | Description |
| A circle containing four intersecting Ds and the Doulton name | A hallmark first introduced in 1872 to signify a ceramic object was manufactured by Doulton. |
| A hallmark design including a simple coronet | A hallmark applied to Doulton objects created between 1886 and 1902 when the company had received its appointment as the official Potter to HRH The Prince of Wales. |
| A hallmark containing a detailed crown and a lion | A hallmark used since 1902 when Royal Doulton received the Royal Warrant as Potter to the Crown. |
Buyers on eBay can also date their prospective Royal Doulton figurine purchases if they can see the faint number that Royal Doulton has applied to the right of its main hallmark stamp, a practice in use since 1928. Buyers simply need to add the number to 1927 to determine the year the figurine was manufactured. For example, if a figurine contains the number 15, the figurine was manufactured in the year 1942. If a number is not included on a figurine, the figurine could have been manufactured in 1927 or earlier. eBay buyers can also use the HN number of a Royal Doulton figurine to determine if it is possible that a figurine was made prior to 1928.
Popular Types of Royal Doulton Figurines
Through the years, Royal Doulton has released a number of figurines that can be classified by their themes. These figurines are desirable for Royal Doulton collectors as well as collectors of other types of memorabilia. Before purchasing a Royal Doulton figurine on eBay, buyers should consider how the popularity of a figurine's theme may impact the figurine's value. Often, thematic memorabilia items rise in price based on the anniversary of a theme's subject matter.
Disney Figurines
Royal Doulton's Disney figurines include popular characters from Disney films. These figurines should include an authentic Walt Disney hallmark in addition to Royal Doulton hallmarks on the bottom of the figurine.
Bunnykins Figurines
Bunnykins figurines are proprietary characters created for Royal Doulton. These figurines feature a family of anthropomorphic bunnies who dress in a range of fashions. Made popular by being the playthings enjoyed by Queen Elizabeth when she was a child, Bunnykin figurines have adapted to changing tastes and can reflect modern fashion trends.
Brambly Hedge Figurines
Like Bunnykins figurines, Brambly Hedge figurines focus on nursery themes. Based on a series of children's books by author Jill Barklem, Brambly Hedge figurines feature a family of mice living in an idyllic setting in the English countryside. Buyers searching on eBay for Royal Doulton Brambly Hedge figurines often have the choice between purchasing standalone figurines or figurines incorporating a scene from Jill Barklem's books.
Royal Doulton Figurine Condition Issues
When searching for collectible Royal Doulton figurines on eBay, buyers should be mindful of how condition issues can affect a figure's value. Buyers should avoid purchasing any figurines that contain cracks or chips when possible. The paint colours of a figurine should also be vibrant. Any faded paint on a Royal Doulton figurine could be a sign that the figurine was placed in direct sunlight for a long period of time.
Original Packaging
When browsing through eBay's selection of Royal Doulton figurines, collectors should remember the resale value of figurines that include their original box. On the collector's market, original packaging is associated with higher value appraisals, so purchasing a figurine with its original packaging in pristine condition affects the figurine's worth.
Caring for Collectible Royal Doulton Figurines
Since Royal Doulton figurines are made to be enjoyed for years, buyers should learn how to care for their figurines properly. Protecting Royal Doulton figurines entails keeping a figurine clean and displaying the figurine suitably. Part of purchasing a collectible Royal Doulton figurine on eBay can entail purchasing cleaning products or display items, so buyers should think about how they plan to care for their figurines before making a purchase.
Cleaning Collectible Royal Doulton Figurines
In most cases, buyers can simply establish a regular dusting routine to keep their Royal Doulton figurines clean after they purchase them on eBay. The surface of a figurine can be scratched by abrasive brushes or rags, however, so buyers should use a soft paintbrush made with natural fibres to dust the figurine. For sections of a figurine that include intricate carvings or hard-to-reach spaces, a hair dryer can be utilised. Buyers can also use the rubber dust blowers that photographers employ to clean their cameras to blow dust off of a figurine's surfaces.
If a Royal Doulton figurine needs to be cleaned further, buyers can apply gentle cleaning methods and products to eliminate any dirt from the figurine's surface. Using lukewarm water and a mild detergent, buyers should gently wash their figurines by hand in a sink or plastic tub. Buyers should allow the figurine to air-dry to minimise any scratching that can occur when drying a ceramic piece with a towel.
Displaying Collectible Royal Doulton Figurines
Once a collectible Royal Doulton figurine is in pristine condition, buyers can use a couple of methods to make sure their figurines stay safe. Because the paint applied to a figurine can fade over time, buyers should place their figurines in an area that does not receive direct sunlight. The intricate carvings of figurines can also be protected from dust and airbourne pollutants by keeping a figurine in a glass or plastic display case.
Buying Collectible Royal Doulton Figurines on eBay
eBay has a wide selection of Royal Doulton figurines available for serious collectors or buyers who are simply interested in purchasing a figurine to decorate their personal spaces. Buyers can easily search for figurines by typing descriptive keywords, like "Royal Doulton dog figurine", into the search field found on every eBay page. Once a results list is generated, buyers can browse the results that eBay supplies or use eBay's search filter options to narrow the search results based on price, date of manufacture, item location, and more.
When shopping for collectible Royal Doulton figurines on eBay, buyers should remember to assess a figurine's condition closely to look for any signs of damage that may negatively impact a figurine's worth. Buyers should also look for supplemental items included in a sale, like certificates of authenticity or original packaging, which help a figurine retain its value. By taking these steps, buyers can purchase Royal Doulton figurines from eBay that provide personal satisfaction and worth as potential offerings on the collector's market.
Conclusion
Royal Doulton figurines are highly valued for their construction quality and aesthetic appeal. Because of the proprietary materials Royal Doulton uses and the craftsmanship of its wares, Royal Doulton has been a supplier of fine pottery to the British monarchy since 1902. Royal Doulton was one of the first pottery manufacturers to successfully market ceramic figurines and has released over 4,000 separate figurines since it established its figurine product category. Buyers collecting Royal Doulton figurines can use the company's hallmarks and unique number cataloguing system to authenticate their figurines before purchase. Like all collectible items, condition impacts a Royal Doulton figurine's worth so buyers should check a figurine carefully for any defects. Royal Doulton releases figurines independently and in partnership with the makers of popular books and films, which can diversify a figurine's value on the collector's market. Once buyers determine which type of figurine they would like to purchase, they can visit eBay to find a wide array of collectible Royal Doulton figurines and care products to keep their figurines in pristine condition.