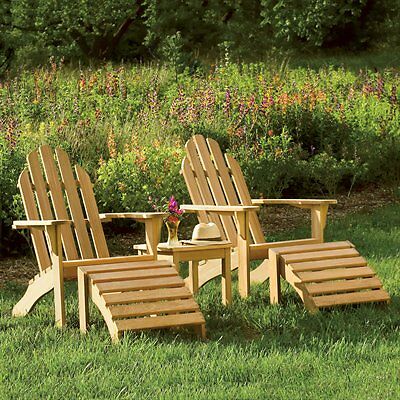 The advent of warm weather can mean many things; the sight of people in less layers of clothing, long walks in the outdoors, and relaxing in one's own garden. The latter is a pastime that can be enjoyed by anyone, young or old, as long as they have the right equipment. Many people choose to have a complete set of furniture in their garden, including a table and some garden chairs. Others simply opt for the chairs themselves. Either way, it is important to find garden chairs that are comfortable enough not just to sit on, but to lounge upon and idle away the summer hours. Finding the most comfortable garden chairs involves understanding the comfort that can be offered by the various materials that chairs can be made from, along with ways to increase comfort by adding cushions or pads. Upon evaluating all of the possibilities, a potential buyer can find what they need, either in an outdoors store or online by shopping online using eBay.
Garden Chair Materials
The materials that a garden chair is made from are important to consider for two main reasons, both involving the weather. First, chairs that are left outdoors will most likely be exposed to rain, snow, hail, or other damp conditions. Some materials may be better suited for damper conditions than others, which will ultimately impact how long they last. The second reason to evaluate materials is because chairs that are very lightweight, may in fact blow away during a potential windstorm. Retrieving lost furniture may be difficult or embarrassing, depending on how far it has travelled. Aside from weather considerations, the material that a chair is made from is important in terms of aesthetics, style, and of course, comfort.
Wooden Chairs
Chairs that are made of wood are both elegant and traditional. Wood is a durable material that can last for many years, if it is properly treated. If one is not careful the wood can deteriorate until it loses any lustre and becomes a dull grey colour. At the same time, wood that becomes dry may start to splinter, which can cause injuries and make the chair less comfortable.
Treating and Restoring Wooden Chairs
Properly treating a wooden garden chair involves applying the proper oil or stain to the wood on a regular basis. Oils and stains may vary depending on the type of wood used for the chairs. There are other means to treat and restore wood, including using paint with a UV filtre or a preservative such as varnish. Even if wood furniture fades, the original colour can be restored with the right oil and brightener. Wood chairs can be comfortable, but they often need cushions to reach their maximum potential.
There are several varieties of wood that are very popular for use in garden chairs. The differences lie mainly in the hardness of the wood and its colour. Most high quality wooden garden chairs are made from the heartwood, the wood at the centre of a tree.
| Type of Wood | Unique Qualities | Colour |
| --- | --- | --- |
| Teak | Teak is highly durable and can last for a long time, which makes it more expensive than other woods. | Reddish-Brown |
| Cedar | Cedar is softer than some woods, but it capable of lasting for a long time if properly treated. | Light Brown |
| Mahogany | Mahogany is highly prized as garden furniture. It is very strong and stable, capable of carrying a lot of weight. | Reddish; Can becomes darker |
| Eucalyptus | Eucalyptus has some natural insect repelling qualities and is water resistant. It does not last as long as other woods. | Pale Brown to Dark Red |
| | Some pine furniture has been pressure-treated in order to better withstand the elements. | Light Brown to Medium Brown |
There are other wooden options for garden furniture, each having their own strengths and weaknesses. Finding the proper garden chair will certainly involve a great deal of personal preference as well.
Metal Chairs
Metal furniture may not be the most comfortable seating material by itself, but it is very sturdy and can last for a long time, especially when it is made from metals that do not rust easily. Popular metals that make up garden chairs include: steel, wrought iron, and aluminium. Metal is usually heavy enough that it will not be tossed about by the elements, but at the same time, it may be so heavy that it is difficult to move or rearrange. Aluminium chairs are light enough that they can often be stacked on top of each other to save space and to store them properly.
Maintaining Metal Chairs
Unlike wooden garden chairs,
metal garden chairs
do not usually require regular maintenance, although cax wax or mineral oil can be used to help keep the surface protected. The exception is with chairs made of steel or wrought iron, which will rust if they are not treated with rust protection. Metal chairs can be restored to their original appearance with the help of paint.
Wicker Chairs
Wicker has a very distinct look and is a very popular option amongst garden chair seekers. Wicker is lightweight and easy to move around, although it can be blown around by a heavy wind. Wicker does not refer to a certain type of material, rather it is a reference to the way the material is woven together. Popular materials used to make wicker furniture include: bamboo, straw, willow, rush, and rattan. It is important to determine if an individual piece of wicker furniture is regular wicker, or if it is all-weather wicker. All-weather wicker is actually made out of strips of plastic woven together, and can be left outside during nearly any weather conditions. Regular wicker must be kept relatively safe from water. A good way to keep a wicker basket from being exposed to weather is to place them under an umbrella or an awning.
Rattan Chairs
Since rattan can also be used to make wicker furniture, the two are often confused with one another. Rattan is a type of vine that grows in South America, and is known for extreme durability. Rattan can be made into furniture using a number of different methods, including being woven together as wicker. Rattan is generally more durable and can be made into more shapes than other materials used in wicker furniture. While rattan can be used outdoors, it does not respond well to sunlight and the colour might tend to fade over time, which prompts some people to only use them indoors.
Plastic Furniture
Plastic garden chairs can be quite comfortable and are relatively inexpensive. However, they are not the strongest chairs available and once broken, it could be difficult to repair them. Plastic is usually very lightweight, and plastic garden chairs can usually be stacked together to make storage easier. Plastic chairs may be so lightweight, however, that they are susceptible to wind, although they are waterproof and will not be affected by rain.
Resin Chairs
Resin is a popular alternative to traditional plastic and has many of the same qualities. The main difference between plastic and resin is that resin is made from recycled materials. It is durable, lightweight and very easy to clean. While resin usually refers to a substance secreted by plants that can be made into many materials, furniture resin is synthetic. Resin chairs are just as lightweight and comfortable as regular plastic.
Making Garden Chairs More Comfortable
While many garden chairs are comfortable on their own, some require a pad or cushion in order to truly become a place where one can spend hours at a time. This is particularly true of wooden and metal garden chairs, although most chairs can benefit from added softness. Some garden chairs come with attached cushions, while others can be used with cushions that are sold separately. Buyers are therefore able to fully customise their garden furniture with cushions featuring unique designs, colours, and fabrics.
Some cushions are made from weather resistant materials and can be left out to the elements. Others must be stored away during times of rain or other inclement weather. For this reason, some buyers may wish to add some kind of storage device to their purchase. Many of these storage devices are actually made to complement garden chairs and tables and are often made from the same material.
Buying Garden Chairs on eBay
For anyone who is interested in buying a garden chair, eBay can be a very useful option. There, buyers can find individual chairs as well as sets of chairs, along with other matching furniture. The garden chairs available on eBay are made from many different materials and may come with cushions, or without them. In many cases, the prices on eBay are lower than they would be otherwise, allowing buyers to make a complete set more efficiently. In order to find the best options for garden chairs on eBay, a potential buyer can simply enter a search term such as "Garden Chair" into the search bar on the eBay home page. There are, of course, other keywords that can work just the same, and any keywords can be modified or amended to include more descriptive words pertaining to material, colour, or style. One proper search may provide a list of everything that a buyer is looking for, making the search much simpler and faster.
Conclusion
Garden chairs are a very useful tool for enjoying the ambiance of one's garden. If they are comfortable enough, they can be an ideal place to rest and relax, but not every chair is equally comfortable. In most cases, it is a matter of how well the chair is padded, but the material that a chair is made from is just as important. Garden chairs are made out a number of different materials, including many different varieties of wood, along with metal, and plastic. Some lighter materials are woven together as wicker for comfortable, lightweight chairs. All garden chairs can be made more comfortable with the help of cushions, which come in many varieties and styles. With the right cushions, anyone can not only sit comfortably, they can match their chairs to other decor as well. Once a buyer knows what kind of garden chair they are looking for, finding the perfect, most comfortable chair is made easy by using eBay.